All you need to know about the Vatican Dress code. A practical guide to help you decide what to wear to visit the Vatican to be appropriate in all seasons.
If you are reading this guide about what to wear to visit the Vatican, chances are you already know a Vatican dress code exists and need to figure out precisely what it entails.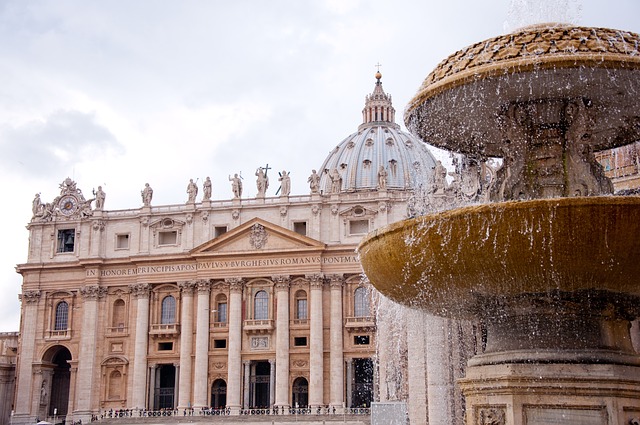 The Vatican Dress code worries many and horror stories of people being refused entrance based on their clothing choices have probably scared you however, respecting the Vatican dress code is not as hard as you may have come to believe.
While you need to abide by it, you won't have to buy a new wardrobe to enter the Vatican nor wear your Sunday best. You also do not need to worry about the Vatican dress code unless you are visiting some parts of the State.
This is our no-nonsense guide to what to wear at the Vatican – I hope it will help you demystify the Vatican dress code conundrum!
Why a dress code for the Vatican
Before we get stuck in with clothing advice, it is good to put the Vatican Dress code in context.
Vatican City is an independent State and the seat of the Pope, the head of the Catholic Church. It is a religious state, with many scared environments, and the dress code it enforces to show respect to the sacrality of the place.
The dress code applies to all indoor areas in Vatican city and this includes St Peter's Basilica, the Sistine Chapel and the Vatican Museums.
If you are sticking to outdoor areas such as St peter's basilica, no dress code applies however, it is essential to be aware of the people around you.
While many will be curious tourists, many visitors to Vatican city come here for religious reasons so modest attire is to be preferred.
Good to know: the Vatican does not provide cover-ups on entering and there are no shops at the entrance to make a quick purchase. Make sure you are appropriately dressed before you get here to avoid disappointment.
What is the Vatican Dress code – what you cannot wear at the Vatican
The dress code of Vatican city calls for modest clothing, in particular(this is for men and women):
No strapless tops, spaghetti straps, tank tops, sleeveless tops that reveal shoulders and armpits
No mini-skirts (not even with tights, your knees need to be covered)
No shorts
No see through clothing
No revealing necklines or barebacks
No offensive slogans on clothing or tattoos
No shape revealing outfits such as tight jumpsuits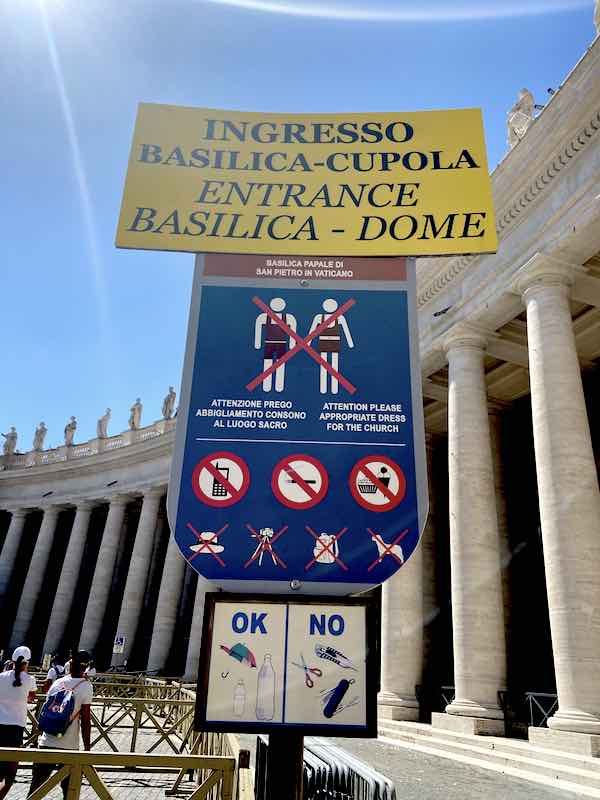 What you can wear at the Vatican
The above list of no-nos leaves a lot of room for things you can wear at the Vatican
Below the knee skirts
Long pants/ trousers – in summer, linen trousers are perfect as they keep you cool yet covered up
T-shirts
Sandals (see below our note about flip-flops)
What shoes to wear at the Vatican
There are no special rules about shoes at the Vatican and you can wear closed shoes or sandals.
While there is no specific rule about wearing flip flops at the Vatican, it is good practice not to.
Flip flopr are impractical for the location, often noisy and considered too casual. You may not be turned away becasue of your fliflops, but wearing is something you can get away with more than recommended attire.
Top tip: we have a handy guide about the best shoes to pack for Rome here. It includes info about wearing flip-flops in Rome and recommended alternatives.
How strict is the Vatican Dress Code: is the Vatican dress code enforced?
When it comes to enforcing the Vatican dress code, it is helpful to look at it from a couple of different perspectives:
What the code says.
What you can get away with.
What is the most respectful thing to do.
In terms of the rules outlines above yes, the Vatican Dress code is enforced and people regularly get turned away because they are wearing code-breaking outfits and are not appropriately dressed.
This doesn't mean that you can never get away with a pair of shorts: I have seen girls entering St Peter's Basilica with super short shorts and a sweater around their waist to partially cover their legs however, the fact that you can possibly get away with it doesn't mean you should chance it.
As well as running a risk of being turned away, revealing clothing can be offensive to the people who are in Vatican City for religious reasons so dressing appropriately is a way to show respect to them and to the spirit of the place.
Is there a dress code for kids?
The Vatican dress code applies to all genders and ages but it is very lax for kids.
You wouldn't want your kids in a swimsuit to visit the Vatican in summer but a tasteful summer dress of shorts on a toddler will pose no issues. Older tweens and teenagers should follow the rules set out for adults.
Additional useful resources to visit the Vatican
If you are planning a visit to the Vatican and Rome in general, I recommend you also read the following free guides:
What to pack for Rome in summer – a handy guide on how to be comfortable, appropriate and stylish in Rome's heat
How to visit the Vatican – our complete guide to planning a day at the Vatican recommended tickets, tours, need to know, etc.
Pin this!