Wondering what to pack for Rome in summer to beat the heat, enter churches and stay stylish? We can help with this full packing list and style guide for your summer vacation to Rome.
Packing for Rome in summer is a bit of a headache.
The city seems set to put contradictory demands on the traveler and if you add to this the conflicting advice you find on the web, it is no surprise that the question 'what to pack for Rome in summer' pops up often, in travelers' groups.
Since I grew up in Rome, knowing what to wear in the city in summer is second nature to me but to newcomers deciding what to wear in Rome in the summer months, I always recommend to to take into account three main things:
Because Rome in summer is hot, you want to have summer dressed and light materials to avoid becoming a sweaty mess.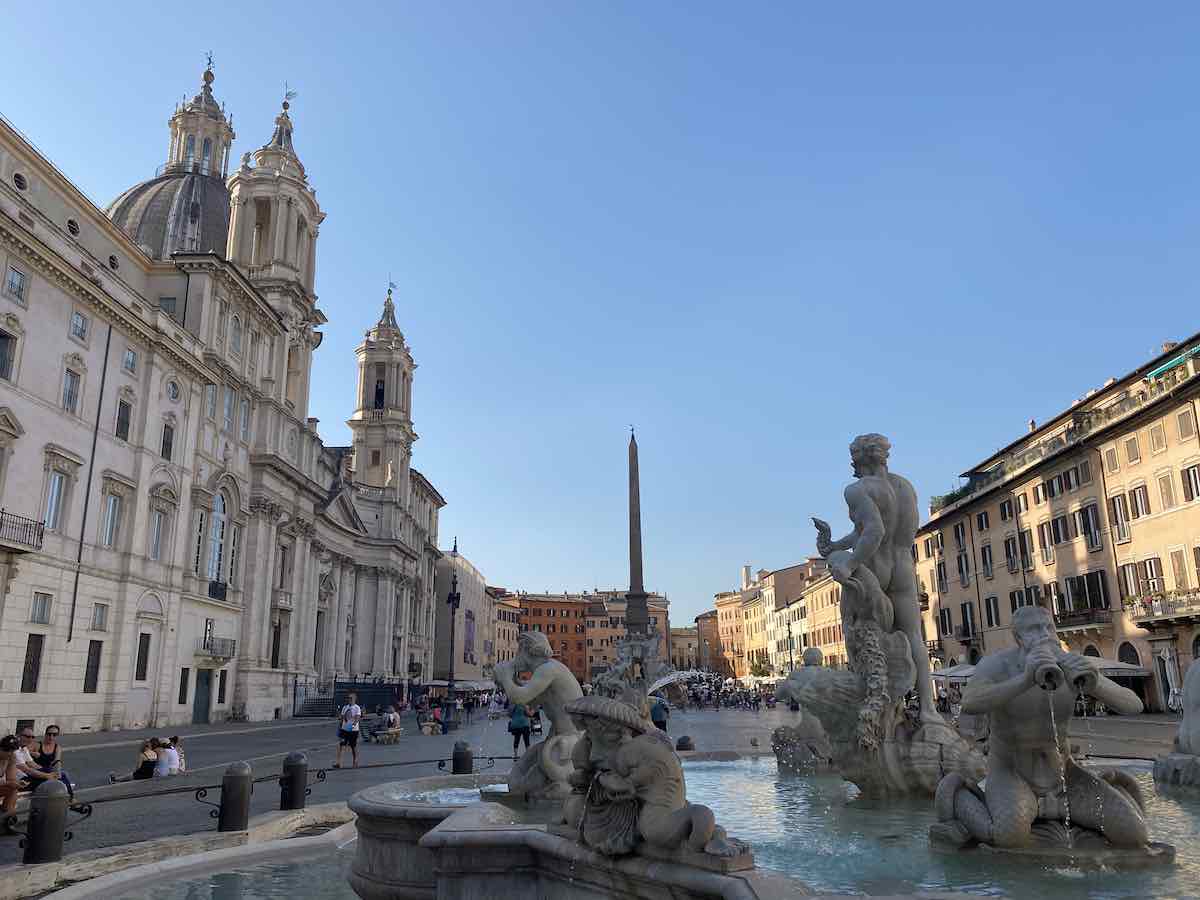 Because its churches have strict dress codes, you want clothes that are not too reveling or could be perceived as disrespectful.
Lastly, because Rome is fashion conscious, you want to look nice and avoid standing out for all the wrong reasons (blending in with the locals is useful to discourage pickpockets too).
In this article, I am going to share my best tips for packing for Rome in summer so that you can be comfortable, stylish and dress code appropriate at all times!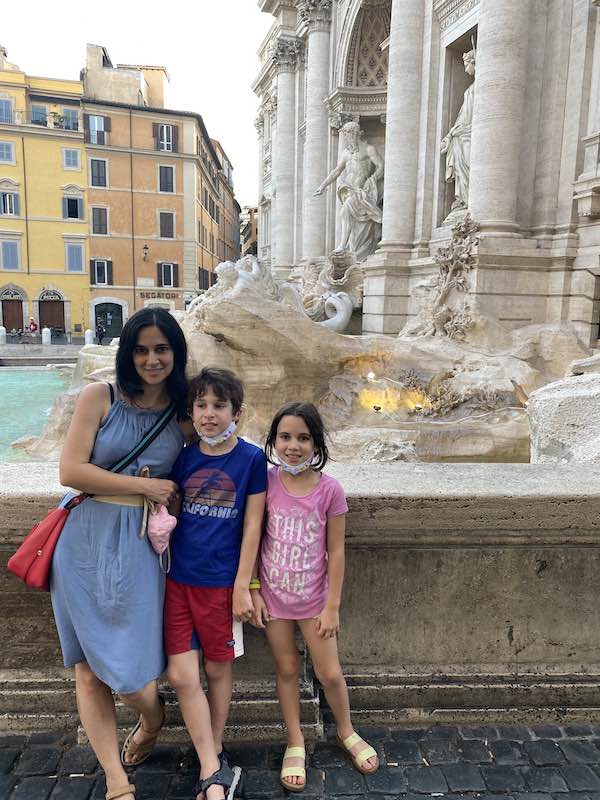 What to pack for Rome in summer: how hot is summer in Rome?
Summer in Rome is hot and humid.
June sees average temperatures between 17 and 28 degrees Celsius (about 82F) and they grow steady during July and August when weather measurements report temperatures between as high as 38C (100F)
This may not seem much and it is indeed a lot less hot than you may experience in the California desert, the Emirates or even Florence.
However, don't let the temperatures fool you into thinking Rome in summer is a pleasant and mild: Rome is very humid and these tame summer temperatures often translate into very unpleasant and sticky days.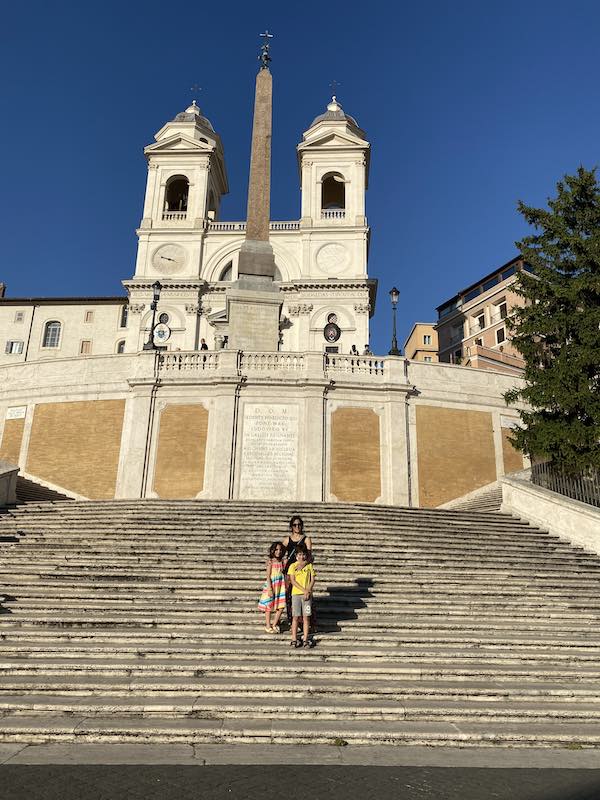 During summer in Rome you need to always remember to:
Avoid sightseeing in the middle of the day, when sunstroke is a common occurrence (the Forum and the Colosseum, in particular, should not be visited in the height of summer)
Always have water with you and a reusable bottle so you can stock up at the nearest fountain
Wear breathable clothing made of natural fibers that do not trap the heat on your body
Wear breathable shoes or, even better, sandals: the temperature of your feet is important to regulate that of the rest of your body and a good pair of sandals will help you not just tame the cobbles but the Rome summer heat too!
Please note that it is currently compulsory to wear face masks indoors: don't forget to carry one.
What to pack for Rome in summer to beat the heath:
Short sleeve tops in natural materials
Summer skirt /dresses
Sandals
Sun hat
Sun glasses
Sandals
Dress code for Rome churches: how strict is it?
You may have heard that Rome churches and religious sites in Rome in general have a dress code that goes a little beyond the 'dress respectfully' principle.
Indeed, Rome churches and more specifically the big basilicas like St Peter, apply specific rules to what visitors should and should not wear and these sometimes result in well meaning visitors carrying tickets being denied entry due to the length of their shorts.
However, getting the Rome churches dress code right is easy and all it takes is to know the rules before hand and dress for the day.
The first things to know is that now all churches apply the rules as strictly and dressing for the Vatican requires a little more thought than hopping into the occasional small church you may encounter while strolling in Rome city center.
What to pack for visiting Rome churches
When it comes to smaller churches the rules for appropriate clothing is Rome are pretty straightforward.
Very short skirts of shorts are a no go and bare shoulder strapless tops or tops with spaghetti straps are considered not appropriate. The same applies to tops that leave you back or belly bare or that have very deep front V necks.
You are unlikely to get people to stop you from going in if wearing shorts however, I believe it is important to know about this to be respectful to church goers who may find it not suitable for the place
Some churches are equipped with shawls you can borrow and consider enough to have them wrapped around you to cover up. This is not very common but it is worth keeping an eye out for them when entering a church as they make things super easy!
Summarizing, to visit Rome smaller churches you usually do not need any special attire although you want to avoid very revealing clothes if you have church sightseeing plans.
For church visits in Rome in summer pack:
Short sleeve tops that cover your shoulders (this applies to men and women)
Knee length skirts or long linen trousers for women so you can have covered legs but survive the heat
Long trousers for men
Be advised that this applies to teenagers too
What to wear for visiting the Vatican in summer: dress code
The Vatican has a strict dress code that applies in all seasons but that becomes exceptionally important in summer.
The best place to start to figure out what to wear for visiting the Vatican is summer is the site of the Vatican itself but I also made a detailed >>> list of clothing dos and don'ts for the Vatican <<<
The main things to remember when dressing for Vatican City are:
No low cut tops
No sleeveless clothing (t-shirts are ok)
No shorts (women and men)
No miniskirts (this means anything above the knee)
No super tights clothing or see through
No hats
Please be advised: a shawl to cover legs or bare shoulders is not enough at the Vatican.
These rules are on the site of the Vatican itself and apply both to the museums and the basilica.
To visit St Peter's square only there is no special dress code required: the square is technically part of Vatican State but there is no border control and you will not be stopped when entering.
However, due to the special religious significance of the place for many, I always find it is advisable to respect the dress code on the square too.
To be sure not to cause offense, I always recommend to simply plan for a day at the Vatican in advance and wear suitable clothing.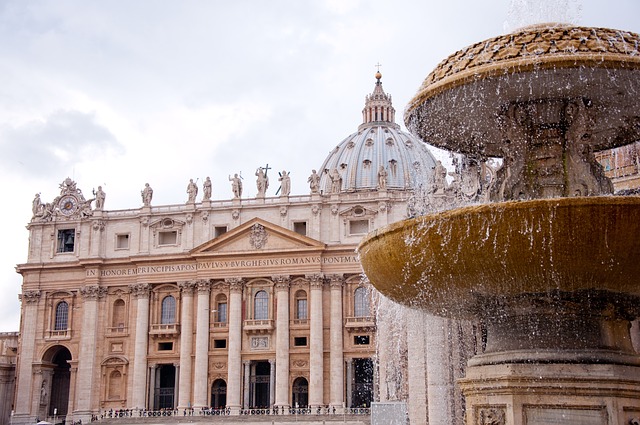 Some ideas on what to wear to visit the Vatican in summer
Long linen or cotton trousers (linen ones are very common with locals too, you will blend in!)
Knee length, midi or long skirts or summer dresses
Shirt and chinos for men
Teenagers should follow the same dress code as adults and avoid very tight clothing or tops/ shorts that reveal the belly or legs
What to wear in Rome in summer: essentials
Churches aside, your packing list for Rome should have some summer essentials and a few. My essentials for Rome in summer are:
Short sleeve tops
Linen / cotton trousers
Not excessively short skirts and summer dresses
Underwear, socks etc
Nightwear
A nicer outfit for a more elegant dinner out
necklaces for add a dash of color to your outfit
A light scarf to cover shoulders in smaller churches
Toiletries
Swimsuit (if planning in a day at the local pool or a day trip to the sea)
Great walking shoes / sandals (see below)
Other things to pack for Rome in summer
Great walking shoes
In Rome you will walk, a lot! It is absolutely normal for visitors to clock in well over 20k steps a day so good walking shoes are a must. I highly recommend fashion sneakers (summer, breathable models) and sandals with rubber soles and good cushioning for tackling those cobbles!
Find her >>> my list of recommended shoes for Rome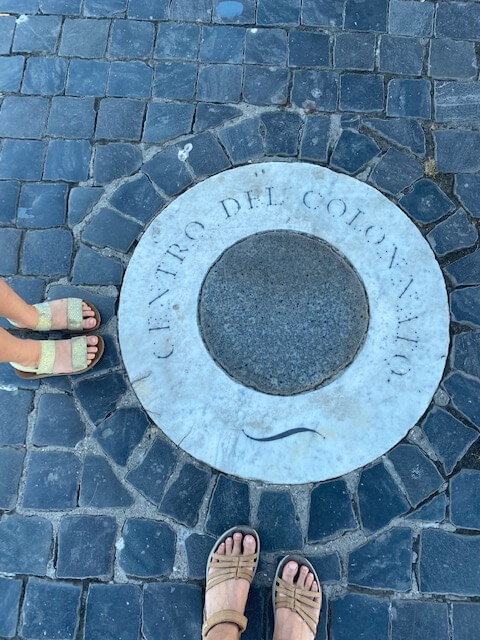 A cross body bag
Crossbody bags are your best friend in Rome. They stay close to the body, making it hard for pickpockets to get in, they come in many styles often suitable for going day to night and they are the most popular style among locals, meaning you won't stick out for the wrong reasons.
You do not need an anti theft bag in Rome but do opt for a cross body bag that zips up and, ideally, had internal pockets.
Don't go too big when it comes to size: remember you will have to lug it around for long hours!
A refillable water bottle
Rome gets very hot in summer and staying hydrated is a must.
Rome tap water is delicious and you can make the most of the city's many drinkable fountains carrying around your won bottle.
The city has a massive problem with waste so with your won bottle you will help the environment too!
A sun hat
Sun hats are a little touristy but the sun in Rome is so strong in this case you should go for sun safety ahead of look. If you pick a nice straw one (there are good models for men and women) you may strike a good balance between not getting a sun stroke and looking nice
Sunglasses
Italians have a love affair with sunglasses in all seasons and summer is of course prime time for them!
Phone charger
You are likely to use your phone a lot in Rome, either to take photo,check the map or show entrance tickets at attractions.
My battery always gets drained fast when sightseeing in Rome so getting a good spare portable power bank is paramount
Sunscreen
Even if you avoid sightseeing in the hottest hours of the day, the Rome sun will gt to your skin so sunscreen in Rome is, for many, a must.
You can buy it in the city (in supermarkets, 'profumerie' shops and pharmacies) but the brands are often different from what you may find abroad – I know when in the US I don't recognize any! if you have a favorite one or have very sensitive skin, I recommend you bring your own
Mosquito repellent
Rome has many mosquitoes and they are voracious beasts! At present they are not known for carrying diseases but their bites are itchy: do bring mosquito repellent for your skin and for your room (unless your hotel has A/C, not all do)
Italian phrase book
You don't need to speak Italian to travel to Rome but some Italian goes a long way. I love small pocket books that you can carry in your bag: worse case, you can open them an point to the sentence you want!
Travel adapter
Rome has 2 pins European sockets and if you come from outside of Europe chances are you will need a travel adapter for your appliances to work. I like those that can be used in several parts of the world so you can have one item for all your travels.
What not to pack for Rome
As well as things to pack for Rome in summer I find it useful to know also what not to pack! Specifically, items that will bulk up your luggage and will have little or no use in Rome:
Flip flops: unless you use them in the hotel or are planning on going to the pool, flip flops are not considered city footwear in Italy. Opt for sandals instead.
Stilettos or very high heels: you will hurt yourselves on cobbles and absolutely do not need to blend in with locals, not even in elegant restaurants. Nice shoes, either flat of with smaller heel, will be more appropriate
Very short shorts or skirts: this goes with what we said above about visiting churches but it is a good rule also not to stand out. Very short shorts are usually worn by tourists only and might make you feel out of place in restaurants too.
What to wear in Rome in summer: style notes
A few questions seem to come up often when discussing what to pack for Rome and I hope I can help you get clarity on what to wear and what locals do with the following points.
How dressy is Rome?
Not as much as you may think! Italians are known for being stylish but our style is more smart casual than full on elegant.
When deciding what to pack for Rome, opt for quality over quantity: a good cut that suits your shape will go a long way to make you feel appropriate at all times.
Is it true people don't wear sneakers in Rome?
No! This is absolute nonsense.
In Italy in general and in Rome in particular we do not wear sneakers to go to work or to go out at night (unless you are very young or want to dress very young). However, we do wear them when walking and at weekends, so if you go sightseeing, absolutely wear sneakers!!
What we do not wear as day wear in Rome are sneakers that are meant for running or the gym (you know the ones: high sole, flashy colors). If you opt for fashion sneakers like new balance etc, you will have no problems blending in.
Can I wear shorts in Rome?
Unless you are visiting churches you can indeed wear shorts in Rome.
Just be advised that they are not common for adults and are usually considered an item of clothing for kids and teenagers (and tourists!)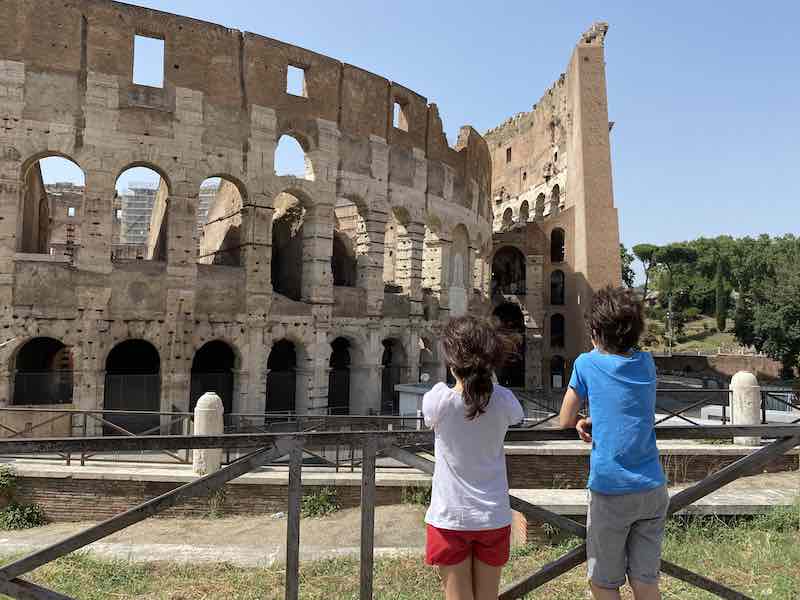 Can I wear flip flops in Rome?
You can but I discourage you to do so on a couple of accounts. Flip flops are awful on cobbles and you are likely to damage your ankles very quick without the support of good shoes. Also, Rome is dirty and you don't want your feet as close and as exposed.
Last but not least, as I sad above flip flops are not rally considered urban shoes and will give you away as a tourist, which is nothing to be ashamed of, but may make you more appealing to pickpockets
I hope you found this overview of what to wear I Rome in summer useful and it helped to answer the question
What to pack for Rome in the summer?
Safe travels!
How to pack for Rome in summer
Full packing list for Rome in summer in an easy to print format to be comfortable, stylish and appropriate at all times (Includes Vatican dress code)
Tools
- Main bag (either carry on size or for checking in)
- Packing cubes
- Toiletry bag
Instructions
Short sleeve tops
Light shoulder wrap
Summer skirts
Summer dress
Linen trousers
Comfortable walking sandals
Underwear / bras
Sun hat
Sunglasses
Crossbody bag
Reusable water bottle
Sunscreen
Toiletries
Make up
Cell phone
Camera
Extra batter pack for your phone/tech
Travel adapter
Documents (and a copy of each)
Cash
Credit card
Italian phrasebook
Printed copy of all your bookings
Swimsuit (for pool / day trips)
Flip Flops
Notes
if Visiting the Vatican, be aware that you need to abide by a strict dress code (this applies to both St Peter basilica and museums). Prohibited items of clothing are: shorts (men and women), short skirts, strappy tops, strapless tops, anything that leaves cleavage, you back or stomach exposes, see though clothing, hats, large bags.
Updated summer 2021