Inspiration for great day trips from Rome for families. Beach, lake, country or city ideas for a short getaway near Rome
Rome is wonderful, however sometimes you may feel like you need a break from its urban vibe and dream of an escape to quieter places, even just for a day.
Luckily, taking day trips out of Rome is easy.
Rome is located close to lakes, the sea and the Italian countryside and you have a vast selection of destinations to choose from, all within a couple of hours from Rome.
Out of the many, these are the day trips from Rome we enjoy the most as a family.
Please note: this post contains affiliate links and, should you make a purchase through them, we might make a small commission.
The best day trips from Rome for families with children
Destination
Type of trip
Time needed
Mean of transport
Ostia Lido
Beach
Half Day
Train / Car
Ostia Antica
Archaeological park
Half day
Train
Orvieto
Hilltop Town
Full day
Train
Saturnia
Thermal baths
Half day
Car
Civita di Bagnoregio
Historic town
One day
Car
Sperlonga
Beach
One day
Train+bus
Bracciano area
Lake
One day
Car
Florence
City
One day
Train
Villa d'Este
Manor House
Half day
Train
Villa Adriana
Archaeological site
Half day
Train
Bomarzo
Sculpture Park
One day
Car
Cerveteri
Town + historical site
One day
Car
As you can see even just from the table above, the choice of family day trips from Rome is quite wide when it comes to the type of experiences.
Some of these localities offer small town charm and an opportunity to immerse yourself in Italian history, getting a taste of the same type of vibe you may expect to get in Tuscany.
Other places are perfect for a relaxed day on the water and work well for families especially in good weather, when proximity to water might be important to beat the Roman heat.
This is an overview on what to expect in each of these localities.
Ostia Lido: Rome's beach
Ostia Lido or Lido di Ostia is Rome's beach.
Easy to reach from Rome city center by car or urban train, Ostia is a pleasant beach for a day on the sand or a meal on the shore – several restaurants and beach clubs make it a good option for families, who can find changing cabins, rental of loungers, umbrellas etc.
Top tip! Bring a magnet: the sand in Ostia is rich in iron and kids can collect it with a small magnet – almost magic!
You can find more info about Ostia Lido and why we consider it one of the best beaches near Rome here.
Ostia Antica: best family day trip from Rome for history lovers
Ostia Antica is one of my favorite places in the Rome area and a real pleasure to visit with kids (and without!).
Located a short train ride from Rome, Ostia Antica has two main areas of interest for visitors: the archaeological park, one of the most beautiful in Italy, and the medieval borgo, with its castle and charming square.
You can find detailed info on how to get to Ostia Antica and what to expect here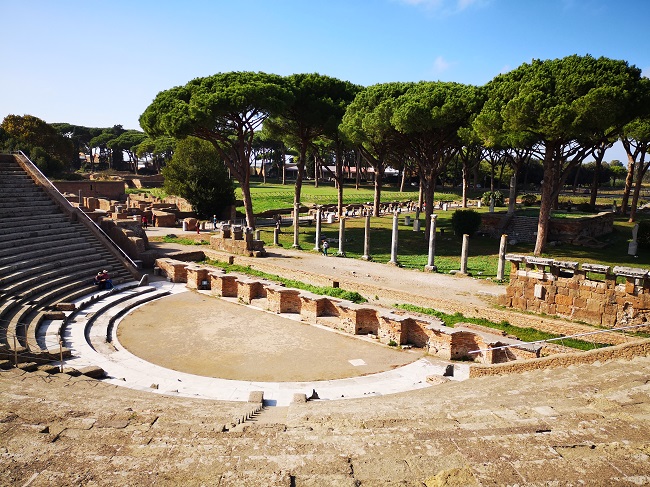 Ostia Antica is the perfect day trip from Rome for families who want to explore a large and beautiful Roman city but do not want to stretch to far and crowded Pompeii.
Ostia Antica is great to visit with kids of all ages.
Older kids can enjoy learning about the life that used to make these ancient houses buzz and younger ones can just enjoy the beautiful nature and open spaces of this beautiful archaeological park.
Older kids can enjoy learning about the life that used to make these ancient houses buzz and younger ones can just enjoy the beautiful nature and open spaces of this beautiful archaeological park.
You can visit Ostia Antica on your own or book a guided tour like this one, which allow you to learn about the place under the expert guidance of an archaeologist.
Orvieto: best day trip from Rome for hilltop village charm
Italy is famous for charming hilltop villages and many associate that type of landscape with Tuscany. Indeed, Tuscany is generous of this type of locations but you can also see a wonderful example of this type of destination catching a train from Rome and heading to gorgeous Orvieto (Umbria).
Orvieto is a small town with a unique characteristic: it is perched on the tops of a rock of tufo, a type of rock that is typical of this area and has a long history that gave this town a gorgeous duomo, an impressive well and stunning medieval streets.
Oriveto is a pleasure to visit at all ages. Its peculiar position and the presence of a cable car to get up is usually a hit with kids and the streets have limited or no traffic, making the town safe and easy to discover on foot. The city has several green areas and playgrounds too which make for a pleasant break.
Read all you need to know about visiting Orvieto here.
Saturnia thermal baths: best for fun and relaxation
Photos of the 'Cascate del Mulino', the free thermal baths of Saturnia, have taken the web by storm lately but have been a family favorite for me (and many other Romans) for decades.
The thermal area is about 2 hours from Rome and is great fun to visit with kids. The baths are free and the area is equipped with a basic but functional parking area and a cafe selling drinks, sandwiches, crisps and that type of snack.
The cascate (Lit. waterfalls) fall over a series of steps that form small pools of hot water. The temperature is high but pleasant, especially in winter, and varies slightly depending where exactly on the falls you are.
No special equipment is needed to visit Saturnia but I do recommend you bring water shoes for the kids as it is pretty slippery and of course bathing suits and towels.
The best time to go is outside of summer when you can still enjoy the falls but might find the whole experience too hot (you don't get relief from the heat in that water!)
Read how to visit Saturnia here.
Civita di Bagnoregio: stunning 'dying city' near Rome
Civita di Bagnoregio is a very special place and one of the best day trips from Rome for families.
Located about 2 hours north of Rome, Civita di Bagnoregio is an ancient village perched on top of a tufa rock, in the middle of a wild valley.
The town is accessible by a long and scene footbridge, and it is a little gem of small piazzas, flowery balconies and pretty alleys.
This is a fantastic place to visit with kids: the bridge is safe, yet scenic enough leave quite an impression on kids of all ages and the town is car free and full of hidden corners children can explore and there is also an interesting museum that explains the peculiar sroty of this city and the challenged posed but its crumbling location.
You can read all about Civita here >>> practical guide to visiting Civita di Bagnoregio
Sperlonga: best day trip from Rome for sea and whitewashed village charm
For a day at the beach while in Rome, my top pick is the gorgeous whitewashed town of Sperlonga. Located to the South of the city, Sperlonga is a village perched on top of a rock overlooking the Mediterranean and at its bottom it is blessed by a large sandy beach.
Sperlonga is amazing with kids and the best beach day trip from Rome you can hope for. Here the water is shallow and safe, the beach vast and sandy and there are several cafes, restaurants and shops catering for all you needs.
The village is a little gem too although if you are traveling with toddlers, make sure you bring a carrier: the climb up the stairs is not stroller friendly.
You can red all about visiting Sperlonga and why I recommend it to families here
Bracciano, Anguillara, Martignano: best day trip from Rome for a day on the lake
Rome is close to several lakes that are perfect for a quick escape from the city.
The biggest and best equipped for visitors is beautiful Lake Bracciano.
Depending on what you are looking for, you can choose between several localities, all in the same area and within easy reach from Rome.
If you are looking for a day on the lake and a visit to a beautiful castle, head to Bracciano.
This is a lovely village with the impressive Odescalchi castle and the lake offers many opportunities to bathe, paddle and use pedal boats, making it a fun place for kids.
In Trevignano Romano, one of the lake side villages, in summer you even find a water park with inflatables and water games – at the time of writing entrance costs 8 Euro for 2 hours.
If going to the area, make sure you also check out the small town of Anguillara Sabazia, which is gorgeous and has a nice lungolago too.
If you want to escape from it all, I recommend instead you go a little off the beaten track and head to the nearby lake of Martignano.
Depending on location on this small lake you can wither go to an agriturismo for lunch and access the lake from their shores or bring a picnic and enjoy the uber local vibe of this corner of Lazio.
Day trip Rome to Florence: best for Italy highlight
Florence doesn't need introductions but I still want to talk about it here as many may not realize how incredibly easy it is to enjoy Florence as a day trip from Rome.
Rome and Florence are connected by high speed train and you get from one to the other in less than two hours.
The train station in Florence is right in the city center and you can walk everywhere from there, making the city manageable even with young kids.
Florence has world class art, parks and several museums that are of interest to children too.
You can find here >> how to plan a day trip from Rome to Florence with kids, based on my last trip there with my son
Our you can find my favorite itinerary for a day in Florence with little children here.
Villa D'Este: best for manor house visit with stunning gardens
Villa D'este is a wonderful manor house with stunning Italian gardens in Tivoli, just outside Rome.
The Villa is a UNESCO World Heritage Site and is a wonderful day trip from Rome if you want to mix culture and time outdoors – the villa has gorgeous gardens that make it appealing for kids too.
The highlight of the visit for children are usually the beautiful fountains of the Villa and the incredible water organ that plays at regular intervals during the day.
You can visit Villa D'Este on your own or you can combine a visit here with a trip to nearby Villa Adriana by joining a tour such as this one.
This solution would be especially suited to families with older kids who are happy to plan a longer day of sightseeing.
Villa Adriana: best for history lovers
As the name suggests Villa Adriana was the villa of Emperor Hadrian, the wise Roman Emperor that ruled over Rome in the II century AD (if you have seen Castel Sant'Angelo, you may have already learned a lot about him!).
The villa is now an archaeological site and is so beautiful and of such historical relevance to be listed a UNESCO site too.
With kids, the appeal of the villa is a mix of outdoor space and beautiful ruins among which they can run free.
You can visit the Villa on its own or you can combine a visit of Villa Adriana with one to Villa D'Este nearby, by joining a day tour from Rome like this one.
Bomarzo Monster Park: best for monster lovers
Best day trip from Rome for what?!
Ok I maybe presented it in an unusual way but Bomarzo is an unusual place: a sculpture park with impressive sculpture of monsters!
The park is great to visit with kids who can walk (it is not stroller friendly) and love monsters and magical creatures.
The atmosphere here is very different from that of the Villa D'Este gardens: while those are grand and manicured, the garden of Bomarzo is more reminiscent of a magical forest with nooks, crannies and hiding places.
Cerveteri: best day tips for discovering Etruscan history
The history of the Roman empire is usually the one most people connect it, while visiting Rome, but many other populations lived in Italy well before the Romans arrived and one of the most interesting ones is that of the Etruscans.
The Etruscans are an ancient population who lived in the area we now identify with Northern Lazio and Southern Tuscany and vestiges of their history can be found in the impressive necropolises that have left in this area.
One of the most interesting ones is in Cerveteri, which is a lovely location to visit as a day trip from Rome.
Here you have the small town of Cerveteri, which is nice to visit itself and has several nice churches that make for easy sightseeing and the Etruscan archaeological of Cerveteri and Tarquinia, park.
This one is interesting with kids as, like other attractions in this article, allows them to mix time outdoors with cultural exploration.
This day trip is exceptionally good if you visited the Valle Giulia Etruscan museum while in Rome, so kids can get first hand experience of what they saw in the museum setting.
I hope you enjoyed this selection of family friendly day trips from Rome and helped you answer the question: what area easy gateways from Rome suitable for families? Safe travels!