Looking for a family tour of Rome to see Rome's highlights in a child-friendly way? I've found one! This is our review of Tapsy Tours Rome guided tour.
Rome is an easy enough city to visit on your own (especially with our family itinerary!).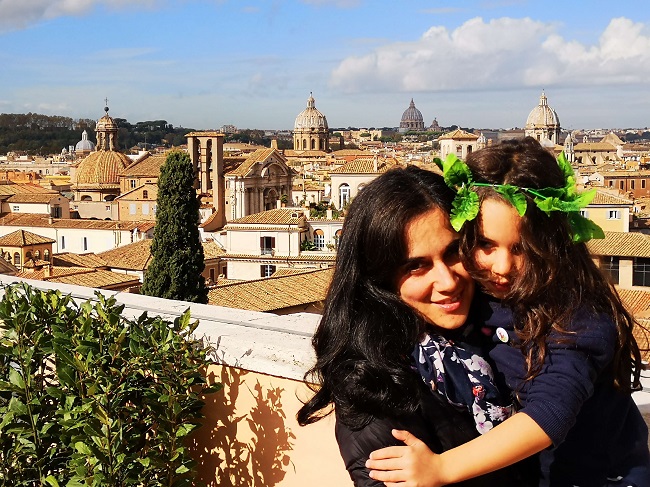 However, sometimes having a guide to give you a whistle-stop tour of the main sites can come in handy, especially if you have a short time in the city or are with kids.
I get asked often if I can recommend a family tour of Rome city center and for the longest time, I didn't know where to turn.
One day eventually I came across an agency called Tapsy Tours offering just that type of experience and I decided to give it a shot: I booked a tour with them and explored my hometown with a guide, playing first time visitors!
How did it go? Have a read!
Please note: this post contains affiliate links and, should you make a purchase through them, we might make a small commission.
What is Tapsy Family Tours of Rome?
Tapsy Tours is a company specializing in family tours in Rome and other cities and attractions in Italy and Europe.
Their name comes from Taspy the Mole, their mascotte, and with their Rome tours they cater to the first time traveler to the city who have limited time but still wish to experience the best of Rome with their kids.
The tours are designed for kids between 6 and 12 years of age and we took one when our children were 6 and 8, which was an excellent age (albeit the tour was a little long for them, see below).
The Tapsy Rome walking tour
Tapsy offers several types of tours and the one we chose was a walking + car tour of Rome city center.
The tour promised to get us to see most of Rome's most famous sites and we arranged to meet our guide in front of the most impressive of all: the Colosseum!
The tour started being fun for the kids from the very first moment.
We quickly spotted our guide thanks to the Tapsy sign but, beside her, there was a surprise: a second character dressed up in ancient Roman clothes and holding an hourglass!
This second character introduced herself as Rhea Silvia (the mother of Romulus and Remus) and told us that her hourglass would be our time machine to visit ancient Rome, the time she was from.
Before we stepped into ancient times, she got us to pick suitable names from a long list of Roman names for boys and ancient Roman names for girls: equipped with our new identities, off we went!
Good to know: if you want to prep your kids for the meeting with Rhea Silvia, you can tell them >>> the story of the foundation of Rome <<<
First stop: the Colosseum
The kids liked the idea and we soon started the actual tour. The first stop was the Colosseum.
This specific tour is a whistle stop around Rome's main sights and this means it did not include a visit inside the Colosseum as this alone would take over an hour (they have a different tour for that: find info here).
However, this didn't mean we didn't have a fun learning experience here.
The guide got us to stop in between the Colosseum and the forum, just in front, and with the aid of drawings and pictures helped the kids imagine what the Colosseum would have looked like at the time of its glory and what its use for.
My kids enjoyed the then-and-now books and Mr M gt particularly taken by the idea that gladiators had different types of weapons, depending on their skills.
I am never mad about kids learning about the gladiators (there are much more interesting and less bloody aspects of ancient Rome to learn about!) but I was happy to see the guide didn't indulge much on the most gory aspects of gladiator games and focused mostly on the history of the place.
Second stop: a walk along the forum and Campidoglio Hill
After learning about the Colosseum we followed our guide along the outside of the Roman forum, peeked in as he explained about it, and then climbed up the Campidoglio hill, just beside it.
The walk to Campidoglio is only a few minute long but the attention of the kids was slipping fast and so the guide came up with a game for them.
Their task was to be detectives and go on a scavenger hunt to find Rome's she wolf and the twins!
The diversion worked: the kids dashed ahead up the hill and soon found the wolf, perched on top of a column!
As a reward, we got to take a rest on top of the hill, take some photos and then moved on to the highlight of the kids' day: an encounter with Tapsy itself.
The Capitoline Hill is one of the seven hills of Rome: click on the link for a list with their names.
Meeting Tapsy
The next part of the tour was a real treat for our kids. At the bottom of the Campidoglio hill a van was waiting for us (no more walking for the day!) and beside it stood Tapsy itself!
The kids were beyond themselves with excitement: they hugged him over and over again and asked to be sat beside him in the van.
This last request wasn't possible to match as Tapsy is kind of a large type of fellow, but he did come in the car with us and he stayed with us until we got to Piazza Navona, our next stop.
Piazza Navona and La Pimpaccia
Piazza Navona is one of the most beautiful and important piazzas in Rome and here Tapsy left us in the capable hands of another character: La Pimpaccia.
La Pimpaccia had the same sand-watch as Rhea Silvia and got us to move in time until we reached the Baroque era, the time that shaped Piazza Navona into the way it looks now.
Piazza Navona is fun to visit with kids: there are a few stories connected with it and it is an easy place for children to enjoy thanks to its large space and impressive fountains, some of the most beautiful fountains in Rome.
My two were starting to get really tired at this point and we asked for a quick snack stop which the guide kindly agreed to.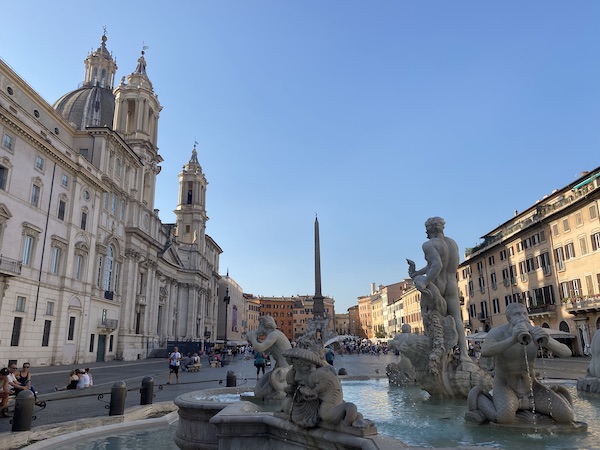 A stop at the Pantheon
After Piazza Navona and a quick sandwich, we headed to our next stop: the Pantheon.
We had brought the children to the Pantheon before but the guide really made it come to life for them and for the first time, they really enjoyed it!
They started the visit hugging the massive columns outside (how many people do you need to hug them?), then their marveled at the oculos and at the engineering that means the Pantheon doesn't get flooded when it rains despite having a hole on the roof and they even tried to close the door – failing of course, since it takes more than one adult to move it, being remarkably heavy!
Last stop: Campo de Fiori
The very last stop of this family walking tour of Rome brought us to Campo de Fiori, another important Rome square just beside the Pantheon and Piazza Navona.
The kids were exhausted at this point but the stop was well thought out as it finished with one more Rome character offering them pizza!
This was a lovely way to finish the tour and one both us and the kids enjoyed!
Rome tour for families: conclusion
We had a lovely morning with Tapsy and I am happy to recommend this tour to families with young kids who want to have a family tour of Rome main sites at a kid friendly pace.
Tapsy has several tours in the city and you can book them easily from Tapsy website.
Disclaimer: Tapsy had us as their guests on this tour in exchange for an honest review on our family travel website Learning Escapes. This additional review is unsolicited and unbiased and reflects our experience of the tour only.