Where to find the best gelato in Rome center? This is our handpicked, tried and tested selection of the best places for real gelato in Rome (and some tips on how to spot a good shop).
Gelato in Rome – how to resist?
A stroll around the gorgeous streets of the Eternal City is even more perfect if accompanied by artisan gelato.
Still, you may be wondering: gelato places everywhere , can I pick any or do I need a list of the best gelato places in Rome to be sure I taste the real thing?
The answer to this for me is: a bit of both!
If you know how to spot real gelato (see below) you don't need to stick rigidly to a list of tried and tested addresses.
However, if you are new to the wonderful world of real gelato, are not familiar with what makes it different from ice-cream and you want to make sure you taste the best of the best, then knowing where to go helps!
I am from Rome and I have two kids; so, as you can imagine, I know a lot about gelato in Rome!
Today I share this knowledge with you.
Each of these gelato addresses has been tried and tested by our reliable team of tasters: Mama (creams), Dada (fruit), Mr M (stracciatella connoisseur) and Little Ms E (Chocolate fanatic).
We have chosen these places based on taste and texture and we have been strict about only getting gelato artigianale (see below), so you can be sure that when you are tasting gelato in Rome, you are having the real thing!
I hope you enjoy this selection and test and taste many of these while strolling around Rome!
This list is based on our experience only and we always pay for our gelato, this list is based on our favorite spots!
Our top gelaterie in Rome city center – Map
Where to find the best gelato in Rome
Gelato is ubiquitous in Rome.
You find gelaterie (gelato shops) everywhere and very much in all seasons, the weather in Rome hardly ever being cold or bad enough to dissuade anyone, local or visitor, from a gelato stop.
However, not all gelato is created equal and you can very well come across disappointing shops and well as amazing ones.
I am not usually a food snob but on some things I am fussy and gelato is one of them (coffee is another one).
Gelato needs to be smooth, not overly cold, made with genuine ingredients, fresh and not overly sweet. On this page, you find my favorite gelato addresses and some tips to spot the best one if you feel adventurous and want to explore addresses not included here!
Best gelato in Rome: top picks
Our top picks for gelato in Rome historical centre are:
Gelateria in Gracchi, best gelato in Rome for me!
Gelateria I Gracchi is an institution in Rome.
They made a name for themselves years ago for genuine ingredients and amazing taste and, since then, they have kept up their good reputation with gelato that is made with fresh, seasonal ingredients and attention to special dietary requirements such as lactose-free flavors.
They are in several locations in Rome and their shops are bare but efficient: you go, you eat (at the bar or on the small benches available), you pay, you go.
My favorite flavor here is Orange Infused Chocolate, Cubano and Zabajone.
However, they have many more flavors and cater to customers with food intolerances with a good list of allergens in Italian and English and lactose-free flavors.
I invite you to taste many so you can pick yours.
Address >> Via di Ripetta 261 (near Piazza del Popolo)
Also in: Address >> Via dei Gracchi 272 (Prati) and Viale Regina Margherita (Trieste area)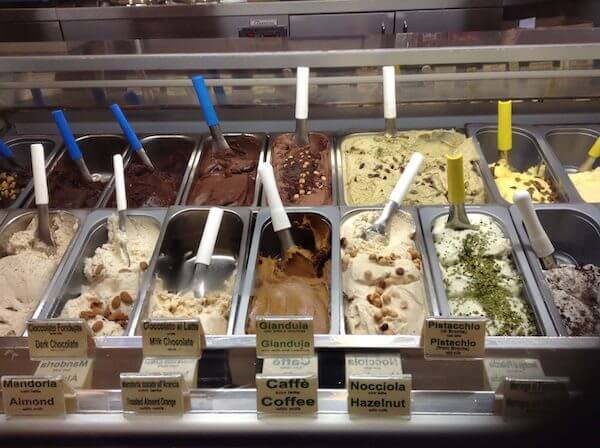 Gunther, great gelato near the Pantheon
Gunther has several gelato shops in Rome, including one in the stellar location of Piazza Sant'Eustachio.
I first came across this Gelateria during an expresso and gelato tour I took out of curiosity (as a local, I wanted to spy what tour guides recommended to visitors!!).
It was love at first taste!
Gunther, as the name suggests, is from the Dolomites and stays true to his roots only using Plose water from that area. He also has some special flavors such as pine which recall the beautiful landscapes of the Alps, as well as all the traditional ones.
We love Gunther's gelato.
Gunther has many flavors, all creamy and delicious, fresh and never too sweet.
You can have them in coni or coppette, with or with our whipped cream and they come with a crunchy biscuit on top.
As well as delicious gelato, Gunther also has very pleasant staff and a fraction of the lines of better known but, in my opinion, less worthy gelato places in Rome city center.
I hope you try it and love it as much as we do! In the city center, this is one of our favorite addresses, especially their lemon cream!
Address: Piazza Sant'Eustachio (near the Pantheon)
Gelateria del teatro, best gelato near Piazza Navona
In the area of Piazza Navona you have several good addresses, one of which is the above mentioned 'I Gracchi'. Another one is gelateria del teatro.
Gelateria del teatro, makes this list for the quality of their gelato but also for their scenic location.
Piazza del teatro and, specifically, the corner this gelateria sits on, is one of the most charming of Rome and one that graces many instagram accounts. In summer, try their fruit flavors for a refreshing bust of gelato pleasure!
If you are here, make sure you get adventurous and try some of their more unusual flavors such as pear and ginger.
They are not for everyone and somewhat heavy on the spices but some are delicious: most of the staff is open to give you a small mini taste of the most unusual flavors before you commit to buying.
A nice touch.
Address>>> Via dei Coronari, 65/66
La Strega Nocciola, near Piazza di Spagna
La Strega Nocciola is a a gret gelato place close to Piazza di Spagna, an area otherwise tricky for quality gelato.
This gelateria has a good selection of flavors with both classics and more adventurous ones (lavender gelato anyone?).
The line tends to be long but usually moves fast. Make sure you queue properly to pay and then for gelato.
Address >>> Via della Vite 100 Piazza Di Spagna, 00187 Rome Italy
Fata Morgana, great gelato in Monti
Gelateria fata Morgana made a name of itself a few years ago for imaginative and innovative flavors and is now a well known and respected address for good quality gelato.
The one we are most familiar with is the shop in Trastevere but they also have addresses in Monti, which is a lovely area and convenient if you are visiting the Colosseum and the Roman Forum.
If you are adventurous, this is the place to be although you can safely come here with fussy eating kids too as they do have classic flavors too and they are every bit as delicious as the creative one
Address>>> Piazza degli Zingari, 5 (Monti)
Come il Latte
Gelateria Come il Latte is on the edges of Rome city center, close to famous Via Veneto but in a quiet and residential area.
This gelateria is the one you see in the photo above and it is lovely, in my opinion, especially for cream flavours that are well made, creamy and not too sweet.
Address>>> Via Silvio Spaventa, 24/26, 00187 Roma RM
Best known gelato in Rome: Giolitti
Maybe the best known of all gelato places in Rome in Giolitti, a historical address in the city centre, just being the parliament.
Giolitti makes nice gelato and, in the past, it was a place I would go to on purpose just to get a nice 'coppetta'.
Nowadays, I feel their gelato is still nice, yet not worth the incredibly long queue you often have to endure to get one (it's actually two queues, one to pay and one to be served!).
However, if you are in the area and you happen not to have to queue for too long do drop in. This is proper gelato and you can rest assured it will be made with good, genuine ingredients.
Address: Via degli Uffici del Vicario 40, 00144 Rome
Cremilla – delicious gelato near Castel Sant'Angelo
Cremilla is a gelato place near castle Sant'Angelo that I rarely see mentioned online but is delicious and worth a stop!
They offer many flavors, some always available some using seasonal ingredients and therefore only available at certain times, and they have flavors suitable for gluten free and lactose free clients.
Address >>> Via di Porta Castello 39, 00193 Rome Italy
Frigidarium
I am going to be honest, my children and I are divided on this one as I find Frigidarium to be a touch too sweet for me but my children adore it!
Despite this, I believe it makes the list of the best gelato places in Rome city center as the gelato they make is fresh, made with genuine ingredients and they are also very aware of allergies and dietary needs, which is definitely a plus.
My kids' favorite flavor is 'Frigidarium' which comes with a pan di Stella biscuit but they have several other options, both creams and fruit based.
Address >>> Via del Governo Vecchio 112, 00186 Rome Italy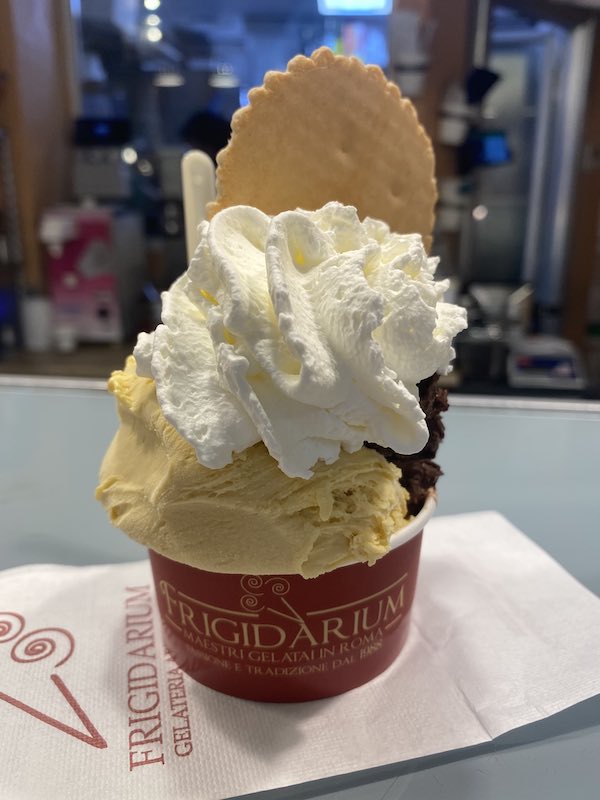 How to spot a good gelato in Rome
Having addresses for gelato is handy but what happens if you are nowhere near the places I recommend? No worries, you can yourself learn some of the signs to spot what is likely to be good place and what should be avoided.
Real gelato is identified by the words 'gelato ARTIGIANALE'. When looking for real gelato, do not fall for words such as 'authentic', 'traditional', 'typical', 'classic' etc – the word you want is Artigianale.
Gelato must be made with seasonal ingredients: peaches, strawberries and other summer fruits do not grow in Rome in winter so a place that sells those flavors in the wrong season is using frozen fruit or food coloring and flavorings.
Gelato is better made fresh and this is easier to achieve if you only have a few flavors on offer. Like on restaurant menus, a huge choice often means huge waste or not so fresh ingredients: this applies to gelato too so go for small but high quality rather than big and industrial
Natural ingredients tend to have natural colors so crazy gelato flavor that are neon blue or green are unlikely to be genuine.
Mountains of gelato overflowing from their containers without melting are a sign of a product that is too cold and too fatty. Real gelato melts very quickly and this is why the best places tend to have containers of it that are half empty rather than half fool: to guarantee it stays at the right temperature. This is the main difference between gelato and industrial ice cream!
Gelato is smooth and doesn't contain ice crystals. Real gelato is closer to a cream that to the industrial ice creams you get in supermarkets. You can spot this creamy texture in the shop before it is even served and you will definitely feel it once if your mouth: anything crunchy means the gelato is at too low a temperature and therefore not in its ideal state.
I hope you enjoyed this article and it helped you answer the question: where can I get the best gelato in Rome city centre?