5 days in Rome: perfect itinerary by a local to the best of the Eternal City
Every time someone asks me for a 5 day itinerary of Rome, I feel a rush of joy.
Rome is my hometown and I love helping people make the most of their time in the city no matter how long or how little time they have (even one day in Rome can be a wonderful experience).
However, what to do with 5 days in Rome is my favorite request as I feel this time allows you to slow down a little, see Rome's main sites, some hidden gems and take time to actually enjoy the city rather than rushing from one place to the next.
I believe it is easy to fill five days in Rome and make each of them count. I hope this Rome itinerary will persuade Rome is worth the time, even if it may look a long time for just one destination.
Please note: this post contains affiliate links and, should you make a purchase through them, we might make a small commission.
Where to stay with 5 days in Rome
The best area to stay in Rome for sightseeing is the city center.
The area around the Pantheon and Piazza Navona is stunning, atmospheric and convenient and also has a wide range of hotels.
However, since you are staying a little longer, you may also want to look farther afield.
Staying away from Rome center is cheaper and, with 5 days in Rome, the time spent on public transport won't interfere too much with your plans.
The areas I recommend looking into are:
Transport options for 5 day in Rome
How much you will use public transport in Rome will depend on the location of your hotel and exact itinerary followed.
The two best options to consider are:
BIT, single ticket (1.50 Euro, valid 100 minutes)
CIS weekly tickets (24 Euro), possibly not worth for a 5 day stay but a good option if planning on using buses, trams and metro extensively.
If you prefer to travel by taxi, you can download the app 'free now'. Please do check the estimated cost of the ride before committing as taxis can be very expensive in Rome, especially at night.
Rome 5 day itinerary: Day 1
This day will show you some of Rome most famous attractions: the Colosseum and the Roman Forum, Piazza Venezia and Campidoglio hill and Romes' charming Jewish quarter
Morning: visit the Colosseum, the Roman Forum and the Palatine hill
I love to start my Rome itineraries with a visit to ancient Rome and in particular the Colosseum and the Roman forum.
Sitting beside each other, they are an incredible sight and a must see in Rome and not just if you love history.
The best way to visit the Colosseum is buying tickets in advance.
I like booking them from the Colosseum itself: their tours are of excellent quality, come with reserved entrance so you don't have to queue for ages and they are a fraction of the price of those offered by external providers.
The tickets include a visit to the Roman Forum that you can take on the same day or the following one.
I recommend you visit both in the same morning as they complement each other beautifully.
In all seasons except the depth of winter, I recommend you also take the time to climb atop the Palatine hill (il Palatino). The hill itself, its stunning ruins and the view from it is unique and breathtaking.
Lunch near Piazza Venezia
After a dive into ancient Rome, have a lunch break near Piazza Venezia.
You have several options here and some of my favorite are Birreria Peroni (informal) and Trinity College: yes, this is an Irish pub but it has lovely salads and it is lovely for lunch albeit surely not very 'Roman'!
Early afternoon: Piazza Venezia and Campidoglio
After lunch, make sure you take the time to visit Piazza Venezia and in particular two areas: the Vittoriano monument and the Campidoglio hill.
The Vittoriano has wonderful terraces from which you get stunning views over Rome (the first two are free, the third and highest has a 10 Euro admission).
The Campidoglio has a breathtaking piazza designed by Michelangelo and a wonderful view, from the back, over the forum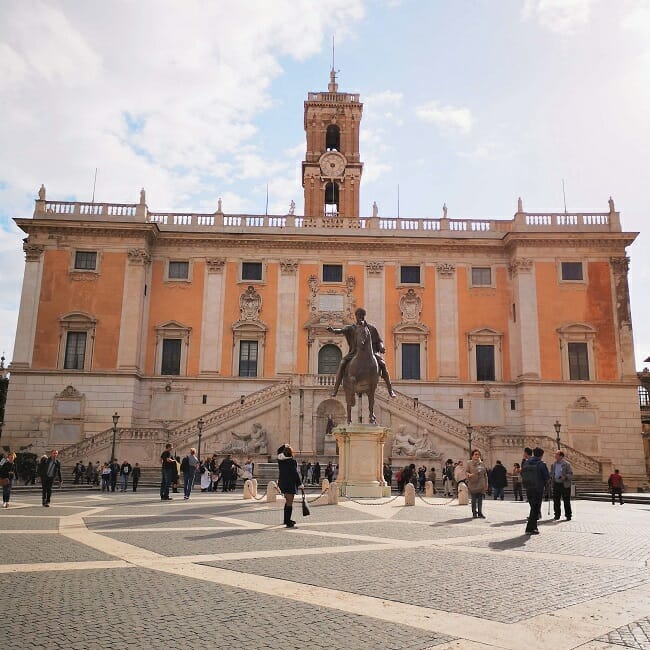 Afternoon: walk around Rome's Jewish Ghetto
After 'grand' Rome, the Rome of the Colosseum and the empire, I suggest you tap into a very different side of the city, Rome's ghetto.
Only a short walk downhill from the Campidoglio, this is an area of small streets, charming corners, important history and some of the best food in the whole of Rome.
Stay for dinner for the best experience.
Rome day 2: Pantheon, Piazza Navona, Trastevere
On your second day, you will explore Romes' famous cobbled streets and piazzas.
Morning
Start your morning in the area of the Pantheon.
This is a gorgeous atmospheric area and the best way to visit is to allow yourself to get lost and take in the view.
Places to seek out here are Piazza del Pantheon itself, Piazza di Pietra (no one talks about it but it has stunning ruins and local feel), Piazza della Minerva and Piazza Sant'Eustachio, famous among other things for having one of the best cafes in Rome.
You can find all you need to know about visiting the Pantheon in my guide here.
Lunch near Piazza Navona
For lunch, head towards Piazza Pasquino and Via del Governo Vecchio.
Here you have lovely places for lunch (I love the one called Cul de sac – informal, delicious Roman food) and many cute shops too.
In this area you also love the wonderful 'La Ciambella', which is stylish wine bar with some of the best food in Rome.
The best way to get here from the Pantheon is to follow the backstreets between the two: make sure you enter the church of San Luigi dei Francesi on the way to see its incredible Caravaggio.
Early afternoon
After lunch, take in the glorious view of Piazza Navona. This is one of the most famous piazzas in the whole of Italy and has stunning art by Bernini and Borromini as well as some of Rome's most beautiful fountains.
You can simply walk around it and enjoy the view or you can decide to use this opportunity to visit Palazzo Braschi, the museum of Rome that has, among other things, a stunning view over the piazza from its third floor windows!
Late afternoon / dinner
After Piazza Navona and surrounding are, cross Viale Vittorio Veneto and head to Campo de' fiori, an interesting medieval square with the statue of Giordano Bruno and, nowadays, many cafes and aperitivo places.
You can take a rest here and relax people watching but then I recommend you go across the river to Trastevere to tap into Rome's nightlife and some of the city's best food
Rome day 3: Vatican city, shopping, the Spanish Steps and Fontana di Trevi
On day 3 I recommend you cross the river and spend the day around Vatican city.
Depending on what you want to see, this can be a reasonably short activity or one that takes up the best part of the morning.
The square and basilica are free and won't take too long while the Vatican museum and Sistine chapel will occupy at least 3 hours if not more (for the visit, if you need to queue, much more).
The best way to visit the Vatican museums is booking tickets well in advance from the museum official website. They have timed entrance so you will skip the majority of the line.
The museums are stunning but very crowded. Should this be too much to take, I highly recommend you visit nearby castle Sant'Angelo instead which is wonderful and blissfully crowd- free.
Lunch in Borgo
For lunch I recommend you eat in Borgo, the area just around Vatican city. My favorite place here is the small pastificio, a tiny, informal place with lovely pasta dishes and great desserts.
Afternoon
After a morning at the Vatican, I recommend you go to Via del Corso. Here you can shop till you drop (both high street and designer) but also have good opportunities for sightseeing: Piazza del Popolo, Piazza di Spagna with the Spanish steps and the Trevi fountains are all here.
I recommend you finish your day with aperitivo at the top of the Rinascente (department store) before you go for dinner near Fontana di Trevi.

Day 4 in Rome: Borghese Gallery and Rome hidden neighborhoods
Morning
On the morning of day 4, I recommend you head to Villa Borghese, a large and beautiful garden famous for its beauty and home of the even more famous Borghese Gallery, hosted in its grounds.
The gallery is stunning and operates with a booking system that means you buy tickets in advance with times entrance.
Lunch
With or without a gallery visit, Villa Borghese is worth a stop and can be a lovely place for coffee or lunch. Head to the small cafe near the pond for the most relaxing atmosphere.
From here, you can also head to the nearby GNAM, the National Gallery for Modern Art which has interesting exhibitions (and a nice restaurant)
Afternoon
In the afternoon, I recommend you head to a small hidden area of Rome not far from Villa Borghese, quartiere Coppede
This is a lovely, local area with incredible architecture.
A stroll here won't take more than 30 minutes but will leave you with an unforgettable impression and the knowledge of a part of Rome many tourists still ignore.
This is also a lovely area for coffee (head to Piazza Caprera and enjoy the little terrace: unlike in the city center, you won't break the bank here!)
Dinner in Monti
For dinner, I recommend you head to Rione Monti, back in the city center. This is a lovely, charming area with many restaurants, cafes and wine bars and it also has some incredible churches such as Santa Prassede, worth seeing for its stunning mosaics, among the best in Rome.
Rome day 5: Ostia Antica, Aventine hill, Testaccio
Morning
On day 5 I recommend you get away from Rome city center and head to Ostia antica, a wonderful archaeological site on the outskirts of the city.
Getting there takes about 30 minutes on the city train and once arrived you are a world away from the city's bustling life. This is a wonderful morning out on a sunny day. If the weather is against you, I recommend a trip to Centrale Montemartini instead (museum)
Lunch
Have lunch in the borgo of Ostia antica or in the Ostiense, near the museum (many options)
Afternoon
After lunch, I recommend you head to Piazzale Ostiense (handy both from Ostia Antica and the Centrale) and seek out the so-called protestant cemetery of Rome.
This is a fantastic charming corner of the city, it has the graves of many important artists and writers (Shelley the most famous) and it also has spectacular views over Rome's oddest monument, Rome's pyramid.
From here, climb up the Aventine hill.
This is one of the 7 hills Rome was originally built upon and is one of the most beautiful areas of Rome.
Make sure you enter into at least some of its many churches (Santa Sabina is stunning) and make sure you make a stop at Pizza dei Cavalieri di Malta.
Here, a large door hides a secret – if you peek thought its keyhole, you catch the most unbelievable view of St Peter (the peeking is legal and encouraged)
The most scenic part of the Aventine hill however is the so called Garden of Oranges, a green area with a beautiful terrace overlooking Rome.
The view is beautiful and romantic: this is one of the best belvedere in Rome as well as one of the most romantic places in Rome.
After this goodbye to Rome from above, head back down to Testaccio for the last meal in one of the most local and famous neighborhoods for Rome food.
Other things to do in Rome in 5 days
Go on a food tour
Cycle along ancient Via Appia and its stunning aqueducts and catacombs
Get aperitivo on one of Rome's rooftop terraces (spring and summer only)
Visit the stunning baths of Caracalla
Take a cooking class
Go Church hopping: St Peter basilica, San Clemente, Santa Maria della Vittoria, Santa Maria in Trastevere but also many others: if you love visiting churches, Rome will be your playground for months!
What to pack for 5 days in Rome
As well as your essentials I recommend you pack:
Excellent, broken-in walking shoes (find my recommended shoes for Rome here)
Phone, camera and relevant chargers + spare battery pack
Italian phrasebook and/or pocket dictionary
Some cash + ATM card (suitable for international travels)
Reusable water bottle
Non-bulky crossbody bag
You can find my full recommended packing list for Rome here.
I hope you enjoyed this 5 day Rome itinerary, it gave you a good overview of the abundance of things to see in Rome in 5 days good reasons to add it to your trip to Italy. Safe travels!