What is the best place to stay in Rome? In this guide, we look at the most convenient neighborhoods in Rome to stay as a visitor and will help you choose based on expectation, taste and needs.
Picking the best place to stay in Rome is not easy.
With accommodation at a premium and a choice of hotels and apartments in the thousands, you can easily lose yourself in the search and pick a place that does not meet your requirements.
While the best area to stay in Rome will depend largely on taste, budget and needs, there is no doubt that some Rome neighborhoods are better than others for visitors.
Top tip! if you are planning a first trip to Rome, also read here >> my travel guide to Rome for first timers
I was born and bred in Rome: in this guide, I share my selection of the best districts in Rome for hotels and apartments for visitors and tourist.
As well as the most convenient areas in Rome for sightseeing, I have also included the best areas to stay in Rome for families and for those who may come to the city with a specific need, may it be catching an easy train or see a specific attraction.
Please note: this post contains affiliate links and, should you make a purchase through them, we might make a small commission.
The best area in Rome for visitors: Centro Storico
The best area in Rome for visitors who want to experience Rome's charm and be in a convenient location is the so-called 'Centro storico', Rome's city center.
This is particularly true in 2021 as it will allow you to explore on foot and avoid busy public transport.
This area is rather large and different people from Rome are likely to have a slightly different understanding of what centro storico actually is.
The most common way to define Rome's historical center is to consider the area between the Colosseum, Piazza del Popolo and the river Tiber.
Within this area, you find different neighborhoods such as Colosseum, Pantheon, Trevi, Spanish Steps and Monti. Most locations in this area are close to each other.
However, different areas of Rome have different feel and atmospheres.
The colosseum area and Trevi, for instance, are walking distance one for the other but fells worlds apart.
In this guide to the best neighbourhoods for tourists in Rome, I have gone into as much detail as possible to help you pick the best place in Rome for you, no matter your needs.
Please note: this post contains affiliate links and, should you make a purchase through them, we might make a small commission at no extra cost to you.
The best area to stay in Rome chart
| | | | |
| --- | --- | --- | --- |
| Name of Rome neighborhood | Best area in Rome for | Vibe | Crowds |
| Pantheon area (city center) | Sightseeing, couples, foodies | Cobbled streets, restaurants, cafes | High |
| Campo de' Fiori / Navona (city center) | Sightseeing, couples, foodies, nightlife | Cobbled streets, some of Rome's most scenic piazzas, elegant and grand architecture mixed with charming smaller alleys | High |
| Monti (city center) | Sightseeing, couples, foodies | Cobbled streets, hipster feel, churches, many restaurants, proximity to the Colosseum | Medium, depending on exact location |
| Colosseum | Sightseeing, transport, families | Scenic, many restaurants, well located, some pretty streets but also some high traffic ones | High |
| Spagna / Trevi (city center) | Sightseeing, shopping, romance | Glamorous roads and designer shops, beautiful hotels, upscale feel | High |
| Termini/ Esquilino | Budget travelers, transport | Busy, multicultural area, perfect for easy access to the train station and public transport | Medium, depending on exact location |
| Trastevere | Foodies, couples | Cobbled streets, many restaurants, romantic corners, this is also where you find the American University of Rome | Medium, depending on exact location |
| Trieste | Families, Business travellers | Green, residential area immediately outside of the center, well connected by bus | Low |
| Prati | Families, Business travellers | Beautiful, residential area close to the Vatican and the city center | Low/Medium |
| Aventino | Couples | Romantic residential area of Rome perfect for sunset views | Low |
| Parioli | Families, business travellers | Elegant neighborhood immediately outside of the center | Low |
The best area to stay in Rome for sightseeing: the Pantheon area
Perfect for:
Sightseeing, Rome main attractions are nearby
Cobbled streets
Discovering Rome on foot
Easy access to restaurants and shops
The best place to be in Rome if you want easy access to the main historical sights such as the Colosseum and the Trevi fountain is the area around the Pantheon.
This is the center of historical Rome and a room here will guarantee you access to the city's famous cobbled streets, walking access to some of the main attractions and plenty of atmospheres.
This is also a fantastic area for restaurants and shops and overall THE place to stay for the quintessential Rome experience.
It is one of the best areas to stay in Rome for foodies!
However, staying right in the heart of Rome has its disadvantages: one is that this area can be pricey, which is to be expected in such a wonderful location.
Also, it is not very green, which can be a problem if you are traveling with kids or hoping to go for a morning run while working here or on vacation.
Finally, this area that it tends to be crowded, making some of the rooms potentially noisy.
When staying in this area, pick a hotel with double glazed windows and ask for a room on a high floor to be sheltered from noise. I have done all the work for you and you can find all my tops picks of the best Rome hotels near the Pantheon here.
You can have a first peek at Le Clarisse (3 stars) and the stunning Iconic Hotel Pantheon (luxury) to get an idea of the accommodation opportunities in this wonderful area.
This area is very close to the one below (Navona / Campo de' Fiori) and you can walk between one and the other in a matter of minutes
The best place to stay in Rome center to have it all: Campo de' Fiori / Navona
Perfect for:
Experiencing "Grand" Rome
Discovering charming, cobbled street Rome
Sightseeing (closer to both the historical center and the Vatican)
Access to restaurants and cafes
I could have places the area of Piazza Navona and Campo de' fiori in several categories: best place to stay for sightseeing, charm, convenience, evening drinks, culture lovers and in the end, I simply could not pick just one and so, you have them all!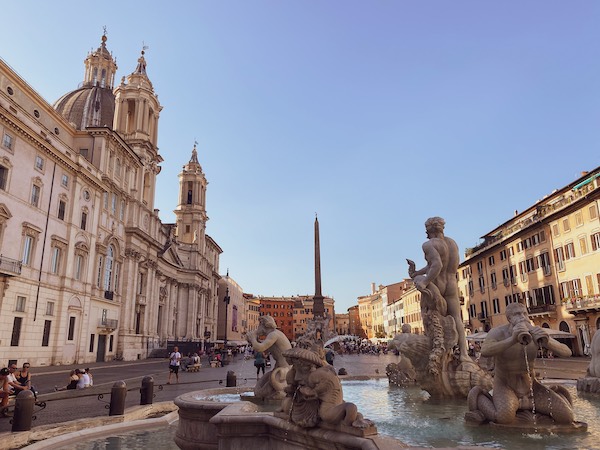 This is a city center area with a little bit of everything.
Piazza Navona is grand and spectacular, a dream for sightseeing, the streets around it are the famous small cobbled streets Rome is so famous for (you are not too far from the Pantheon here) and you also have the lively area of Campo de' Fiori which mixes historical interest with a plethora of restaurants and wine bar that will have you spoilt for choice!
This is where people come for the Italian equivalent of tapas, a glass of wine and lazy chats on some of the best rooftop bar terraces during the summer months.
If you are coming to Rome and what you are looking for is easy, lazy people-watching in amazing surroundings and with good food, this is the place to be.
This is a gorgeous area, very well located to see most sites (it is in between the Vatican and the Colosseum) and the only downside is that it gets busy at night and therefore rooms can be noisy.
Opt for double glazed windows or upscale hotel promising quiet rooms.
You can find my selection of the best hotels near Piazza Navona here.
The best place to stay in Rome for old Rome charm: Monti
Perfect for:
Cobbled streets
Access to wine bars/ restaurants
Sightseeing
Hip atmospheres
Monti is an old part of town nestled between Termini station and the Roman Forum.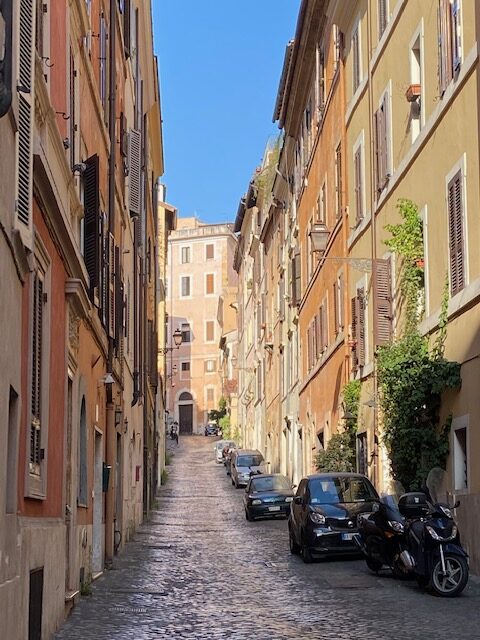 This was historically a run-down area but over the last few decades, it has grown to be a hugely atmospheric and welcoming part of town, with stellar location, great restaurants and amazing hotels.
This is a great area for solo travelers and couples especially, the only downside being the lack of green spaces and an inner-city feel, which can be good or bad depending on what you are looking for).
I recommend it especially to visitors who are looking for a romantic place to stay in Rome and for lovers of vintage shopping too: this one of the best places in Rome for shopping away from the high street.
My favorite hotel in this area is Fifteen Keys hotel which is a bit of a gem and great for couples especially.
You can find our full guide to the Monti neighborhood here. Bonus! This area is also the best for visiting the Colosseum.
The best place to stay in Rome for visiting the Colosseum: Colosseum
Perfect for:
Easy access to the Colosseum
Good connections
Sightseeing (some parts of the area more than others, the Colosseum area is rather large)
Also one of our top picks for families! Find here >>> our complete guide for visiting Rome with kids!
If a visit to the Colosseum is at the heart of your Rome itinerary, then what can be best than being just beside it?
The Colosseum is in Rome city center and sits in between two different neighborhoods: Rome historical center, beautiful and tourism-oriented, and the area to the back of Termini station, much less wealthy and scenic.
Staying near the Colosseum is convenient for access to the amphitheater itself, if you want a hotel with iconic views (some in the area have stunning terraces) and it is convenient for sightseeing especially if you select a hotel towards Piazza Venezia and the city center.
You can find our full guide to the best hotels near the Colosseum here.
The best place to stay in Rome for glamour: Spagna and Trevi
Perfect for:
Luxury stays
Shopping opportunities
Sightseeing
If you are looking for all-out glamour, including designer shops and stunning Roman palazzi, Spagna and Trevi are the areas for you.
Accommodation here comes at a premium and if you can afford 5 star accommodation, you won't be disappointed.
This area is well located for access to sightseeing opportunities, had plenty of restaurants and shops (Via Condotti is the elegant, designer shop hub in Rome city center, Via Margutta is famous for its stunning art galleries) and has a cosmopolitan feel thanks to the many international tourists who elect it as their base.
This is the best place to stay in Rome if you want an expensive romantic night complete with terraces overlooking Trinita' de Monti
For a 5 star stay, check out the Portrait, in a fantastic location and with outstanding views for the room terraces.
Near Trevi, consider the beautiful Palazzo Scanderbeg (perfect for couples and families alike)
You can find my travel guide to the Trevi District here.
The best area to stay in Rome for connections: Termini
The area around Stazione Termini gets mixed reviews because it is itself quite mixed.
Beside very elegant hotels (there is quite a selection of 5-star hotels here), you have the small and charming streets of the Monti and also some more budget accommodation options, with a city atmosphere that range from grand to hipster to busy.
The main reason to stay in this area is the convenience of the many trains departing from here and the shuttle to Fiumicino airport.
Rather than staying near the airport, I highly recommend you take the quick train ride here.
A good hotel just beside the station is the NH Hotel Palazzo Cinquecento, luxurious and hugely convenient, but several others are in the area, to suit all budgets.
You can find our selection of recommended hotels near Termini here.
The best area in Rome for nights out: Trastevere
Trastevere is the area of Rome 'over the Tiber' so on the other side of the River Tevere, from the city center.
It is a lovely area on many accounts: here you have charming small streets with cobbles and meandering alleys (it is a favorite of Directors, many movies set in Rome are filmed here) and for the longest time it also maintained a local charm that made tourists think of it as the 'real Rome'.
Find my recommended itinerary to discover Trastevere here.
Nowadays, Trastevere is so well known it is not a hidden gem anymore however, it is a lovely place to be especially on a summer night.
Blessed with small streets perfect for a stroll, Trastevere has many restaurants, wine bars and cafes and it is the place of choice especially for younger people to go for a lazy drink and a chat in its stunning squares.
This is a nice place to be if you want to make the most of Rome at night.
Close to Piazza Trilussa, you run the risk of a noisy night however, if you move a little more towards the heart of the neighborhood, you can have a lovely stay here!
You can find here >> our recommended hotels in Rome Trastevere
The best area in Rome for romance: Aventino
The whole of Rome City center is perfect for Romance however, Aventino takes the cake!
One of the historic seven hills of Rome, Aventino now hosts a lovely residential area with quiet, beautiful and elegant streets and some of the best sunset spots in Rome.
Find here >>> my complete guide to the Aventine Hill, Rome
The best area to stay in Rome for residential atmosphere: Trieste neighborhood
If you have been to Rome already and want to get away from the busy city center and enjoy a residential and gorgeous part of town, I recommend the area around Villa Torlonia, on via Nomentana.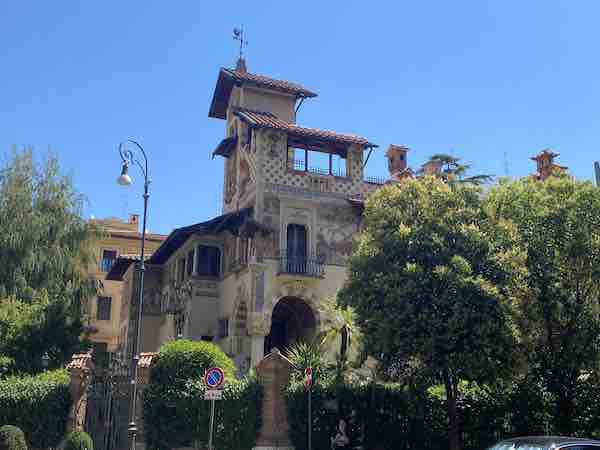 This area is just outside the historical center, which you reach with a 15 min bus ride on a direct line, and it is a gem. Parks, restaurants, local schools and a lovely family feeling, plus some beautiful architecture in the nearby Quartiere Coppede.
This is an area popular with academics and intellectuals and has a distinctive radical chic feel to it.
If this sounds appealing, check out the lovely Hotel Villa Pirandello, a small oasis of peace in this green corner of Rome
The best area of Rome to stay for access to the Vatican: Prati
A nice residential area, well equipped with shops, restaurants and a stone throw from the Vatican is the residential area of Prati.
This is an elegant, beautiful area with large palazzi: to give you an idea of its feel, this is traditionally the area where lawyers live since it is close to the courts and Rome 'palazzo di giustizia'.
This characteristic means Prati sees a nice mix of business activity during the weekend a lazier, family life pace at weekends.
This is a lovely area to stay if you want a local, residential feel and want east access to the Vatican (it is a large area so check the location of hotels if access to St Peter is important to you).
This area is well connected with the rest of the city by bus and metro.
For luxury, consider the wonderful Gran Melia Rome. For a budget-friendly option, the simple 2 star Hotel Prati
The best area for luxury away from it all: Parioli
Luxury comes in many shapes and sizes and sometimes takes the form of gorgeous hotels in an upscale residential area where a permanent tan gained on a winter sun holiday is almost a prerequisite for social interactions.
The Parioli area, a synonym of aristocracy and luxury, is not everyone's cup of tea but is beautiful and very well located: distant enough from the city center to be quiet and green but close enough to still give you access to all the main sites.
This is the best place to stay in Rome for an elegant and residential feel.
If you are staying here, opt for the beautiful Aldrovandi Palace which comes with the added bonus of a pool and stunning Villa Borghese just in front. This is the best place to stay in Rome to visit the Borghese Gallery.
I hope you found this quick overview of Rome's neighborhoods and the best places to stay in Rome useful. If you are traveling with kids, also check out our guide to family hotels in Rome here