All you need to know about the Esquiline Hill of Rome (Esquilino): best things to see, map, practical tips for visiting.
Mount Esquilino (Esquiline Hill) is the largest of the seven hills of Rome.
It extends over a vast area stretching from the modern Termini train station to the Colosseum, and it is home to many beautiful churches, ancient monuments and some of the most charming streets in Rome.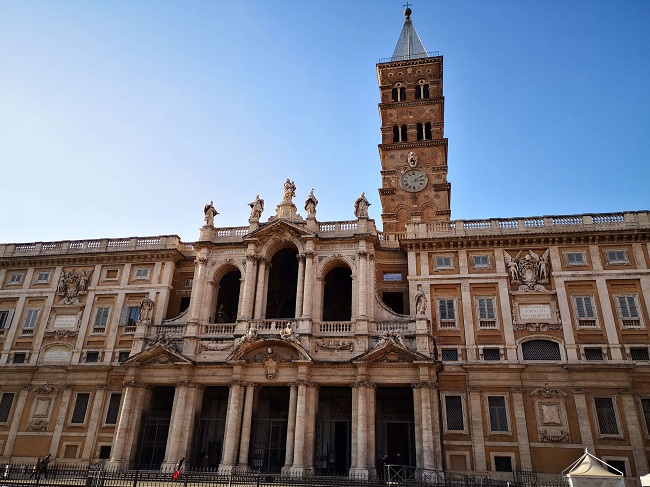 It is also an area with a lot of immigration and poverty and the impression of the place you will gain will depend largely on where on the Esquiline Hill you are.
In this guide, I am going to share what you need to know about Esquilino so you can plan your visit at best.
Please note: this post contains affiliate links and, should you make a purchase through them, we might make a small commission.
How to visit Esquiline Hill/ Esquilino: how long do you need?
You can see Esquilino on foot.
Depending on the churches and attractions you visit, you will need three hours to a day to visit this area.
Good to know! I highly recommend you use this guide in conjunction with that to the Viminale Hill: the two hills are beside each other when one starts and the other one ends is not often clear (nor relevant for visiting)
Best things to see on Esquilino / Esquiline Hill Map
Is Esquilino safe?
A question that often comes up with regard to this neighborhood is about its safety.
The presence of the train station and some poorer areas means parts of this district are less safe than others in Rome, especially at night.
However, most parts of Esquilino are as safe as anywhere else in Rome and you won't need other precautions that those you'd use in any big city.
It is helpful to think of the Esquiline Hill as made of three parts, with different vibes:
The area close to the station, busy and multicultural.
This are has some stunning churches such as Santa Maria Maggiore and it safe during the day.
The streets around the station, however, tend to become less pleasant at night: while crime in Rome tends to be on the petty crime end of the spectrum, this is not a place to walk alone late at night.
Coming here for aperitivo or dinner is, however, not a problem and you will actually find nice ethnic restaurant worth trying.
The Monti district, one of the most fascinating neighborhoods in Rome.
This area is ver central and, with standard precautions, a lovely and safe place to explore and stay.
Colle Oppio (Oppian Hill), technically the Southern part of the Esquilino hill, overlooking the Colosseum..
Colle Oppio is currently occupied by a park, closed at night.
The park is pleasant and safe during the day: the presence of a soup kitchen nearby explains the homeless you often see here, quietly waiting for a meal.
The best things to see on the Esquilino Hill
In terms of what to see on the Esquilino, these are the main attractions in the area.
Palazzo Massimo – stunning ancient art museum
Palazzo Massimo is one of the most beautiful and important museums of ancient art in Rome.
Part of the large Museo Nazionale Romano, with seats in several parts of Rome, Palazzo Massimo has beautiful ancient sculptures and the unique frescos from the House Of Livia (Emperor Augustus' wife).
The museum is one of the best laid out and most beautiful in Rome and a must-see for art and history lovers.
Address: Largo di Villa Peretti, 2, 00185 Rome Buy entry ticket HERE | Book a guided tour HERE
Good to know! Museo Nazionale Romano offers combined tickets that allow you to see several of the museum buildings at a reduced cost. The Baths of Diocletian are the closest to Palazzo Massimo and they are easy to visit on the same day.
Basilica of Santa Maria Maggiore (Church)
Santa Maria Maggiore is Rome's cathedral. Perched on top of the Esquiline Hill, Santa Maria Maggiore is a large church significant for religion and art.
Santa Maria Maggiore is a Papal basilica which means it is a church designated by the Pope to host major religious celebrations, such as the jubilee.
Built in the V century AD, Santa Maria Maggiore acquired over the centuries significant pieces and decorations that make it one of the most famous churches in Rome.
Not to be missed are its mosaics, among the most beautiful mosaics in Rome, the Sforza Chapel by Michelangelo, Bernini's tomb and the beautiful church ceiling, dating from the XV century.
Fun fact! The ceiling of Santa Maria Maggiore was the first in Rome declared from riches from the recently 'discovered' America!
Find here >>> my complete guide to the Church of Santa Maria Maggiore.
Address: Piazza di Santa Maria Maggiore, 00184 Rome | Admission: free
Church of Santa Prassede
The Church of Santa Prassede is a beautiful early Christian church with something special: ancient mosaics in byzantine style unique in Rome.
The church is a Minor Basilica and has several areas worth seeing: the apse, elaborately decorated by mosaics in Carolingian style, a breathtaking floor in polichrome marble and a bust by Bernini.
However, the jewel in the crown here is the Chapel of San Zeno.
The chapel dates from the V century AD, it has fantastic mosaics and even hosts a relic from Jesus's passion.
Despite being slightly hidden in a small street of the Monti district, Santa Prassede is one of the most beautiful and fascinating churches you can see in Rome.
You can read here >>> my guide to Santa Prassede, with all you need to know to plan a visit.
Address:Via di Santa Prassede 9A, 00184 Rome | Admission: free
Monti neighborhood
Monti is a charming, beautiful district occupying the slopes of the Esquiline Hill and the Suburra, ancient Rome's working-class area.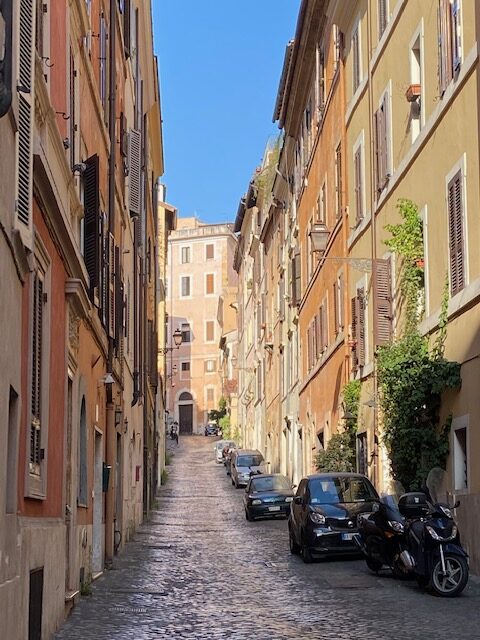 Monti is a fantastic place to visit and one of the best places to stay in Rome.
Here is where you find pretty cobbled streets, small alleys, cute cafes and pretty piazzas.
Monti is also one of the best places for vintage shopping and for an international dinner: many non-Italian restaurants in Rome are here.
You can find here >> my guide to the Monti neighborhood
Domus Aurea – Emperor Nero's 'Golden House'
The Domus Aurea is the ancient imperial residence of Emperor Nero.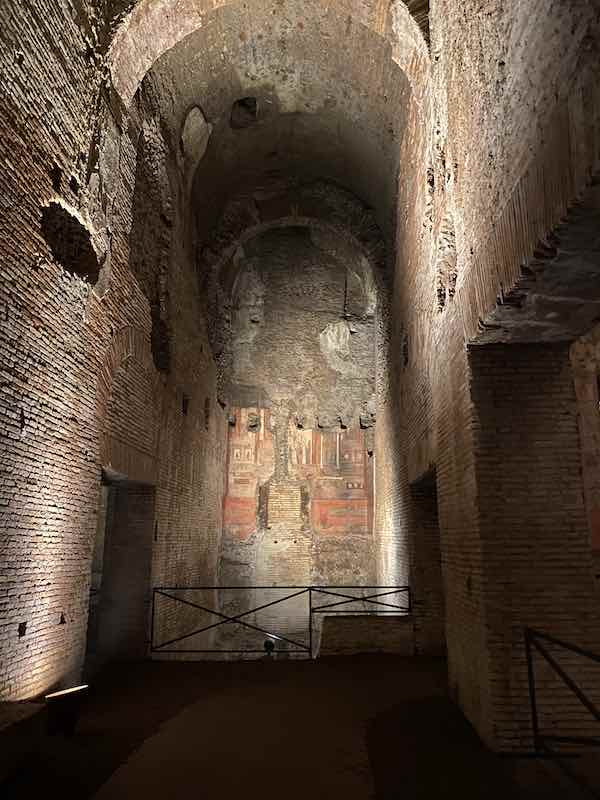 When built, the Domus was the most lavish and elegant palace ancient Rome had ever seen; however, the building went through dramatic history and is now entirely underground!
Despite having lost its hilltop position, a visit to the Domus Aurea is worth it.
Inside, you find yourself walking along stunning corridors and lights and technology help imagine how the palace must have looked like in its full splendor.
You can find here >>> my guide to Nero's Domus Aurea
Address: Via della Domus Aurea 1, 00184 Rome | Find tickets HERE (included guided tour)
Parco del Colle Oppio (park)
Parco del Colle Oppio is a green area on the southern part of Esquilino.
It is a lovely place for a rest and one of the best photo spots in Rome: the view over the Colosseum from here are stunning!
This small park has a coffee kiosk and a playground for kids, just in front of what remains of the Thermal Baths of Emperor Trajan!
This is one of the Rome playgrounds closest to main attractions (they are rather rare in the city center)
San Pietro in Vincoli (church) – Michelangelo's gem on the Esquiline Hill
San Pietro in Vincoli (St Peter's in Chains) is a fantastic church on Mount Esquilinus, a short walk from Parco di Colle Oppio.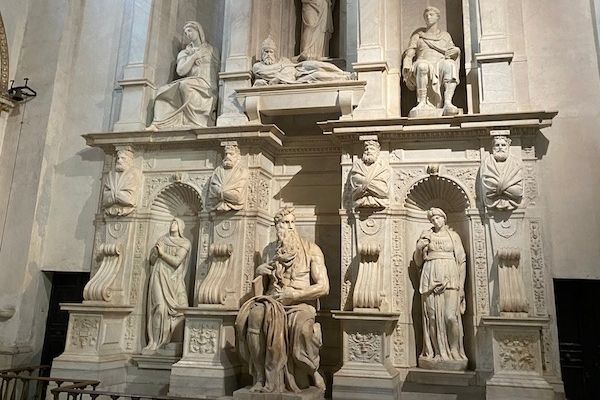 The church dates from the V century and it is worth visiting on several accounts.
The church hosts the Monument to Pope Julius' II, famous for the horned Moses by Michelangelo.
This is one of the most famous statues in Rome and a must-see for art lovers.
The church hosts relics of the chains from the martyrdom of St Peter, from which it takes its name.

You can learn all about the church and its treasures in our guide to San Pietro in Vincoli.
Address: Piazza San Pietro in Vincoli, 00184 Rome | Admission: free
Mercato Esquilino (Market)
The Esquiline Hill is now one of the most culturally diverse areas in Rome.
Large numbers of immigrants moved here and, especially around Piazza Vittorio, you find many Chinese and Asian shops and restaurants that give the area a distinctive multicultural flavor.
Mercato Esquilino (the local food market) is one of the best places to experience this variety: come here for international produce and cheap clothing.
Top tip! If you enjoy food markets, do not miss our guide to Rome for foodies, with several good addresses.
Umbertine architecture
The Esquiline Hill went through a time of fast urban development in the late 1800s-early 1900s and this gave the area an architectural appearance that is unique in Rome.
Here you find large palazzi from the so-called Umbertine area (from King Umberto di Savoia, 1844-1900).
Piazza Dante is the best place to admire this type of architecture. Recently revamped, like nearby Piazza Vittorio, this is a pretty piazza with a green area, a playground and some nice restaurants for aperitivo or dinner.
This is a lovely area for architecture lovers who want to see an unusual part of Rome.
Where to stay on Esquiline Hill
The best area to stay on the Esquiline Hill for charm, convenience and safety is Monti. Addresses I like are:
Hilton DoubleTree Rione Monti – beautiful, new Hilton Property, right at the back of Santa Maria Maggiore
The Fifteen Keys Hotel – a lovely boutique hotel in pretty Via Urbana, in the heart of Monti.
NH Palazzo Cinquecento – elegant hotel right in front of Termini train station, a safe and elegant option perfect for train travelers.
Where to eat on Esquiline Hill
The Esquiline Hill is such a large area you will find plenty of good meal options.
Some I feel like recommending in particular are:
Casadante, Piazza Dante 8, 00185 Rome: fantastic aperitivo / restaurant on Piazza Dante, with tall ceilings and a beautiful industrial/mid-century style.
Le Stelle, Via di San Vito 12, 00185 Rome: small bistrot serving home made Italian and Japanese plates, good for aperitivo
Panella, Via Merulana 54, 00185 Rome: historical bakery turned aperitivo place, perfect for breakfast or snacks
Mercato Centrale: inside Termini station, food hall, good for meals on the go.
I hope you enjoyed this quick guide to the Esquiline Hill and it helped you plan your walk in the area. Safe travels!