Our handpicked selections of playgrounds close to Rome attractions, for when you need a play-break while sightseeing.
Desperately seeking parks and playgrounds near Rome attractions so the kids can stretch their legs and play after sightseeing?
I hear you!
These are some parks, green spaces and playgrounds in Rome city centre.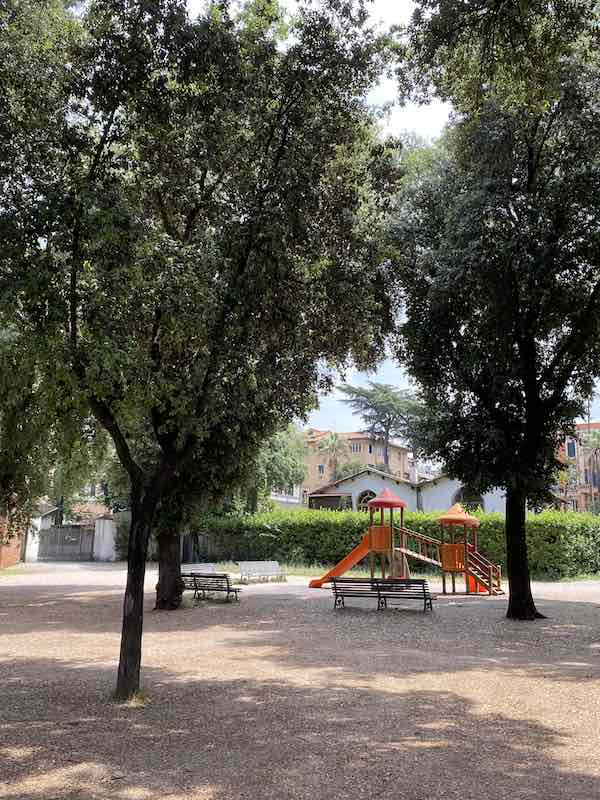 Playground near the Colosseum – Colle Oppio hill
Just in front of the Colosseum sits a nice green area, perfect for kids to play and parents to enjoy a well deserved break.
Colle Oppio (Oppian Hill) is the hill just in front of the Colosseum and is a great stop.
Here, you have a small kiosk for coffee and snacks, amazing views and reasonable space for kids to run around and stretch their legs.
The park has a small playground for kids with swings and climbing frame but is an inner city park and suffers the same fate as many public spaces in Rome: you would hardly say it is well kept.
The park could do with a little TLC but does the job and has one of the most beautiful view over the Colosseum you can ever get. If you are looking for a playground near Rome main attractions, this definitely takes the cake!
If you are in the area, it may come in handy to know that there are some nice family friendly restaurants nearby too.
In terms of playgrounds near Rome attractions, this is by far the nearest and the most scenic!
Edit: during out last trip to Rome, we were unable to access the playground. However, it was still possible to get the kids to run around and for us to get a little rest, so this stays as a good address (maybe don't guarantee the playground though, just in case the closure it permanent!)
Playground close to the Colosseum (10 mins. walk)
About 10 minutes from the Colosseum, you find another playground, the playground of Piazza Vittorio.
Compared with the one above, this play area is farther the Colosseum but it is much larger, cleaner and better equipped.
Tha park develops in the center of a large piazza and has a couple of play areas with swings, climbing frames and slides on bouncy ground and lots of benches for parents to sit and rest while supervising the children.
This is one of best playgrounds in Rome city center and there are lots of shops, including gelato shops, around the piazza.
The walk here leads you away from the center so I recommend to head this way if you are not in a hurry to reach your next destination as it will get you a little farther from the Forum and Piazza Venezia and bring you closer to Termini station.
Park and playgrounds near the Vatican and Castel St Angelo
The Vatican is an interesting place for kids and St peter square doubles up as a great running area for small kids who can run around its vast space and chase the pigeons. however, it is not a green area as such as can get very crowded. In this case, we suggest you stretch your legs to nearby Castel St Angelo.
Castel St Angelo has a wonderful history (it was originally built as tomb to Emperor Adriano) but what small kids will love about it is that is had a moat, now dry, that is great for running and playing. Here you have some basic playing equipment in a stellar location.
If you have both very young and older kids, combine a stop at the playground with a visit inside the castle: it is well worth it!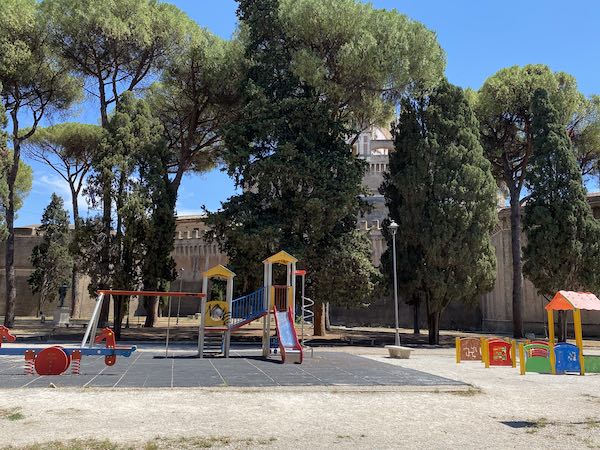 Wonderful park near piazza di Spagna and Galleria Borghese
THE park to visit in Rome city centre is Villa Borghese, a large park in the centre of the city hosting playgrounds, a pond with rowing boats and tortoises, the famous galleria Borghese and a kids favorite: the zoo.
Villa Borghese is accessible for several locations and it is a park to visit both to allow the kids to stretch their legs and for its beauty and significance.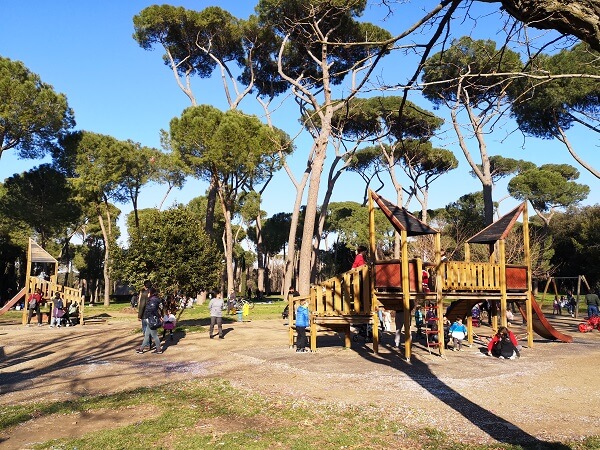 In terms of playgrounds, there are a couple of area: one is beside the pond, on the side of the park overlooking the GNAM (Rome National Gallery, itself a good place to bring kids) and the other one is near the so called 'casina di raffaello' which also has a bookshop and indoor play area for the kids and regularly hosts workshops for children (albeit usually in Italian).
Indoor playground / museum in Rome city centre
If you are looking for an indoor space to get kids run wild safely and use up energy on a rainy day, you cannot go wrong with Explora children museum (read our full review here).
The museum has a small garden outside with a zipline (fun) and a large indoor area with interactive installation catering for kids from 0 to early teenage years
This is a wonderful place for kids but, unlike the others mentioned above, it is not free.
Park close to Palatine hill – giardino degli aranci
In front of the palatine hill, on the opposite side from the Colosseum sits the Aventino, another one of Rome's seven hills.
This is a wonderful part of the city and a wealthy residential area and it has some lovely green spaces, including the Giardino degli aranci, which is a park with view over Rome and the rose garden (gorgeous in spring!)
These are both lovely locations to visit with kids and the surprises the Aventino hill has in stock are not over: head to the very tops and get your kids to peek though the keyhole of the Cavalieri di Malta's Order door: they will see the dome of St Peter's in all its splendor and for their eyes only!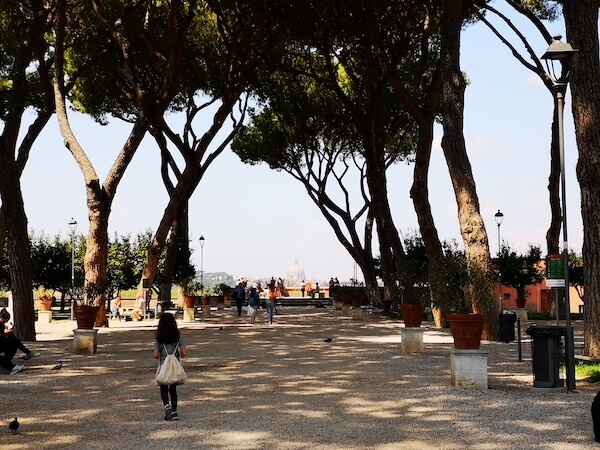 Park and playground close to Rome catacombs – Villa Ada
Villa Ada is a wonderful park immediately outside Rome city centre, close to attractions such as the catacombe di Priscilla and the Rome Mosque (open once a week to visitors).
The park is huge and has play areas, a small lake and large areas for nature walks. This is also a great place in summer for ope air festivals and concert, most family friendly. A good address to have!
Playground in Trastevere
A lovely small inner city playground is in the local neighborhood of Trastevere and precisely on Piazza San Cosimato.
The playground is equipped with nice climbing frames for kids, rubber flooring, Wendy houses and wheelie toys such as ride on cars.
This is a great place for the kids to lay and meet local families Do not miss the excellent gelateria on the square too, Fata Margana, one of our favorite in Rome.
Park and playground with view over St Peter: Villa Doria Pamphili
This is a large park close to the Vatican, one of the biggest in Rome and a favorite for many families.
It is a lovely place for playing and an excellent destination if you feel like having picnic in Rome.
As well as wide spaces to spread your blanket, the family friendly Vivi Bistrot, inside the park, provides you with a picnic basket so you don't have to lug all your stuff from home.
Have a look at their offering for availability and price here
Other parks and playgrounds you may like
Villa Paganini playground (near Coppede' District)
Villa Paganini is a small, local park with a new kids' playgrounds close to the pretty Coppede' District.
The playground has just been redone in 2022 and while it is simple, it is very popular with local kids and has some nice climbing frames, swings and basic children games.
This is a great playground if you are staying in the Trieste Salario neighbourhood or if you want to give the kids a break after visiting the marvels of the Coppede' quarter (which are fabulous but not necessarily interesting for children).
Villa Torlonia
Immediately outside of the city centre, Villa Torlonia is a historical Rome park with a nice cafe' / restaurant and kids play area equipped with swings and climbing frames.
The park is in a great family friendly area and is worth visiting for a couple of reasons beside playing.
Here is where Mussolini used to live (his bunker is now open to visitors) and there is a lovely exhibition space hosted in what I can only define a fairy house!

This is a nice park to visit in conjunction with a stroll around the architectural gem that is the Coppede' district nearby.
Parco degli acquedotti
Outside Rome city centre lies a wonderful large park called 'Parco degli Aquedotti' famous for the imposing ruins of Roman aqueducts towering above mostly unkempt grasslands.
This area is a wonderful one to visit by bike if you want to escape Rome city centre: the area is vast and the cycling is suitable for older kids rather than small ones. However, you do have a playground near metro station Subaugusta that can come in handy if you want them to use up some energy before sitting in a bike carrier for aqueduct sightseeing!
I hope you enjoyed this post and helped answer the question: are there playgrounds close to Rome main attractions?
Playgrounds near Rome attractions: list
| | |
| --- | --- |
| Attraction | Location of playground |
| Colosseum | 1) Colle Oppio (hill just in front of the Colosseum) 2) Piazza Vittorio |
| Roman Forum | Colle Oppio (hill just in front of the Colosseum) |
| Piazza di Spagna | Borghese Gardens |
| Vatican | Castel Sant'Angelo |
| Borghese Gallery | Two playgrounds inside the gardens, one beside the gallery, one close to Casa del Cinema |
| Via Veneto | Borghese Gardens, Porta Poinciana area |