All you need to know about beautiful Villa Torlonia, Rome, one of the city's historical park, Mussolini's old residence and now home to green areas, museums, a theater, an exhibition space and a restaurant.
Villa Torlonia is a historical park in Rome, immediately outside of the city center proper.
It is a medium size park, popular with local families especially, but with more to offer than just a children's playground and nice walking paths.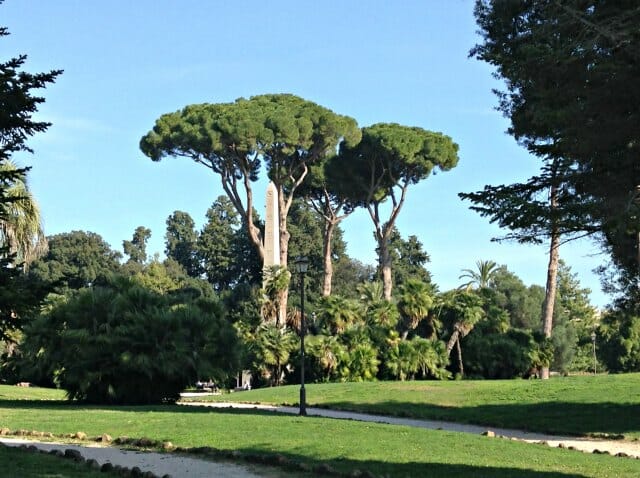 Villa Torlonia has nice museums, some architectural wonders and holds a piece of Rome's recent history: Mussolini's bunker.
Visitors hardly ever stretch to this part of town however, it is a short bus ride away from Quirinale and the extra stretch is worth your time. 
As well as Villa Torlonia itself, this part of Rome is where you find unique Coppede' District and the Catacombs of Priscilla.
You can find a guide to all you see in this area here >>> Trieste Salario neighborhood guide.
This is all you need to know about visiting Villa Torlonia Rome and why I think you'll love it. 
Please note: this post contains affiliate links. Should you make a purchase, we might make a small commission at no extra cost to you.
A quick history of Villa Torlonia
Villa Torlonia takes its name from the Torlonia family, who purchased the park in 1797.
That year, marquee Giovanni Torlonia bought the park and commissioned architect Valadier extensive work to renovate the space and upgraded to the standard of the other parks in the city already belonging to the family.
Valadier is one of the strongest influences on the appearance of the park yet not the only one.
Architect Caretti kept adding and polishing the space and over the course of the years several changed big and small kept shaping the villa.
Over the course of the first few decades of the 19th century, Villa Torlonia acquired beautifully designed paths, important houses and buildings and became of the rare example of English style garden in Rome. 
Notable in the park are Casino dei Principi, several false ruins typical of Romanticism aesthetic, a theater and orangery, two false obelisks.
The park also has something special: the so-called Casina delle Civette, originally called the Swiss Hut and now a museum with peculiar architecture and some extraordinary stained glass, unique in the city. 
In 1925 the Villa was taken over by Mussolini who made it his residence.
His presence didn't massively change the look of the garden in terms of architecture however, it meant that it acquired a bunker occasionally open for visits.
During the time of Mussolini's residency here the villa became a theater of sporting events and, during the war, started to go into ruin: its transformation into vegetable gardens (Orti di Guerra) meant the loss of its splendor and the Anglo America occupation brought farther damages.
This was the beginning of a downward spiral that only seemed to come to an end in the late seventies.
The municipality of Rome bought the Villa in 1977 and turned this derelict park into an appealing public space.
What is special about Villa Torlonia
Recent restoration work has made this park a beautiful garden with several museums, a playground (albeit poorly kept) a cafeteria/restaurant/pizzeria, as well as several walking paths.
The false ruins still grace the villa and several museum host appealing exhibitions all year round.
Overall the park is a beautiful public garden with a special characteristic: many palm trees, that make is different from many other green spaces in Rome and somewhat unique.
The palms, the English style layout and the peculiar neoclassical architecture makes the part special and worth a visit.
What to see in Villa Torlonia
The are the top things to see in Villa Torlonia
La Casina delle Civette (The House of Owls)
Maybe the most peculiar and attractive of all the buildings of Villa Torlonia is the unique Casina delle Civette, aka the house of owls.
The building was originally called the Swiss Hut and was built in the style of a mountain hut, with a peculiar, distinct aesthetic reminiscent of a hunting lodge. 
Over the course of the time, this original look went through modifications and now what you see is a medieval looking buildings with an elaborate shape, turrets, balconies and pointy roofs. 
This building is like no other other in Rome and you'll be excuses if you though you has suddenly entered a small German town, rather than a modern attraction in Rome city center!
The most important architectural influence on the building dates back to the years 1914-1917 when elements of art deco entered the house.
We can date back to those years many of the elaborate stained glass windows, decorated with flowers, and the owls that give the house its name), as well as the peculiar tiles and decorations of the inside space. 
The casina delle civette had a difficult life and was almost destroyed during the war and then further damaged by fire.
It was only fully restored in the 1990s and is now and interesting and very well kept exhibition space. 
Casino Nobile di Villa Torlonia
The so called casino nobile is the large building towering at the top of Villa Torlonia, a building with neoclassical appearance originally created by architect Valadier.
The casino, now a museum, has a large dining room/ballroom with a stunning, large window opening onto the park, plaster low reliefs by Antonio Canova and has, outside, an impressive row of Doric columns.
It is now a museum and hosts the main ticket office to all Villa Torlonia exhibitions and the museum shop.
In front of it, you find a monumental staircase and an obelisk, one of the two in the parks.
Like other elements around this garden, the obelisks of Villa Torlonia are not real Egyptian obelisks, but rather a decor idea of Prince Torlonia, who commissioned them in 1842!
Casino dei Principi (House of Princes)
Casino dei Principi, now a museum, is immediately beside casino nobile, to which it is said to be connected by a secret passage.
In origin, it would have been a small rural building and it acquired its current aspect in the 1800s when it became the place for Price Alessandro Torlonia to host elegant society events.
The casino is now a museum and its entrance is marked by two impressive winged lionesses. 
The Casino is the most interesting exhibition space in the park and has a rich program of art exhibitions you can find here
The Moorish Greenhouse (Serra Moresca)
One of the most distinctive and unexpected buildings in Villa Torlonia is the Moorish Greenhouse, recently reopened to the public (December 2021).
The greenhouse is a colorful building with elaborately decorate stained glass windows in beautiful moorish style.
The building feels rather out of place in the park, especially if you compare it with the neoclassical lines of the main buildings and medieval looking Casina Delle Civette. However, it is a bit of a marvel and it is well worth visiting inside!
Serra Moresca dated from 1839 and its architect was Giuseppe Jappelli.
It only opened to the public at the end of 2021, when restoration work brought it back to its original splendor.
inside, you can admire the wonderful stained glass windows and marvel at the plants hosted here, which brought back to life this unique piece of Roman architectural history.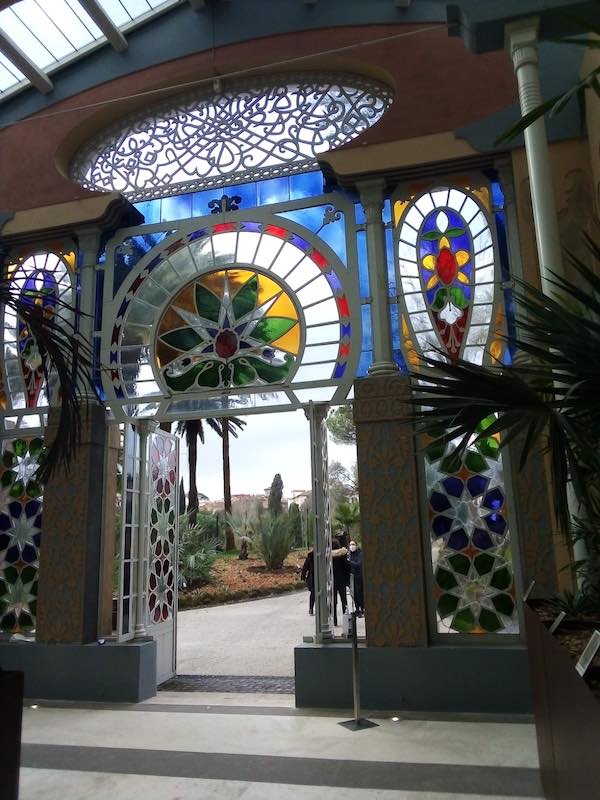 Mussolini's Bunker
While in Villa Torlonia, Mussolini ordered the excavation of an underground bunker, that would have protected him in the case of an attack.
He never used the bunker; however, the structure is there and it is occasionally open to the public. Eqnuires and tickets at the main ticket desk in the Torlonia Museum in the park.
Technotown – creative science museum for kids
A peculiar and somewhat unexpected place In Villa Torlonia, is Technotown, a science museum for children hosted in the orangerie, beside the park's cafeteria.
The museums operates mostly on a workshop basis so rather than a place to visit, is a place to go on a winter afternoon to participate in organized science-based activities and experiments. 
You can find info and prices here.
Other buildings worth of notice in Villa Torlonia
The park is dotted by false ruins, typical of the Romantic Era, when nostalgia for all things ancient and crepuscular dominated the architecture and aesthetic state.
Worthy of notice is the 'Temple of Saturn', and, in a completely different style, Torlonia theater.
Where to eat in Villa Torlonia
Villa Torlonia houses a dlieghful cafe and restaurant called La Limonaia.
Open breakfast to dinner, this is a great place for lunch especially as it has two outdoor areas and an indoor one, for all typed of weather.
Practical tips for visiting Villa Torlonia: where is Villa Torlonia and how to get there
Villa Torlonia address (main entrance): Via Nomentana, 70, 00161 Rome RM, Italy
Villa Torlonia has 3 entrances:
Via Nomentana – the main one, monumental in nature, just in front of casino nobile
Via Spallanzani – now access to the cafeteria and the children museum
Via Siracusa – the back of the park, the closest to the small playground
Nearest bus stops are served by buses 60/62/82. Bus 90 and tram 19 and 3 also stop nearby, about 5 minutes away from the park.
Metro Bologna is about 10 minutes away.
You do not need special footwear to visit the park however, most paths are uneven (many have small gravel) so they might pose issues for people with mobility issues.
Villa Torlonia is easy to visit on your own; however, some tours offer a guides experience of the park that also includes the nearby Coppede' District: an interesting option for architecture lovers.
Villa Torlonia for kids
Villa Torlonia has a small playground in poor conditions but overall ok for young children especially.
The main appeal of the park however are its large spaces, the Roman-circus lookalike (perfect for running) and the small cafeteria for snacks.
Technotown can be appealing for school-age children who like organized activities (some are in English)
Drinking fountains dot the park: you can bring your own reusable water bottle or drink directly from them – learn all about how to do it in our guide to Rome drinking fountains.
What to see near Villa Torlonia
Villa Torlonia is in the Trieste Salario neighborhood, which is a residential, off the beaten path part of Rome.
While Villa Torlonia is only a short bus ride from the city center, you may want to combine a visit with some additional attractions in the area such as the beautiful Coppede' District, a peculiar art deco' area unique in rome.
You can find here >>> photos and info about the Coppede' District
Where to stay near Villa Torlonia
The area of Villa Torlonia is one of the best areas to stay in Rome if you are looking for a residential-feeling, green area of Rome and don't mind having to catch a bus to get to Rome's most famous attractions.
Good accommodation options are Villa Pirandello Hotel and Palm Gallery Hotel, two boutique hotels perfect for a relaxing stay in this pretty area.
Visitors' Guide to Villa Torlonia – pin this!