Expert first timers' guide to the Eternal City: what to do, what not to do and the all the Rome tips and tricks you need for a safe first time in Rome. Updated November 2021.
Rome makes a strong impression on the first time visitor.
Its beauty, personality and chaos envelop you the moment you step out onto its busy streets and, for many, it is love at first sight.
For others, however, Rome's overwhelming personality feels more like a slap in the face and no matter what tricks the city ends up pulling, many leave feeling Rome is just not for them.
This happens for many reasons. Rome can indeed be an infuriating overly chaotic place, however I believe it has much to do with expectations and planning.
In this first timers guide to Rome, I share my best advice for a first visit to Rome.
I believe these tips will help you know what to expect, plan your time at best and make you skip some of the traps that make some visitors leave disappointed.
Ready for my Rome's tips and tricks? Let's go!
First things first! Double check on official sources the travel rules and restrictions that may affect your trip. Find all info on our guide >>> Can I travel to Rome right now?
Please note: this post contains affiliate links and, should you make a purchase through them, we might make a small commission.
Rome tips and tricks for first time visitors
Visiting Rome for the first time? Bookmark or pin this guide for easy access!
Pick the right season
Rome can be visited all year round but there is no doubt that some seasons are better than others.
The best time of all to visit Rome for the first time are the spring (with the exception of the Easter weeks) and fall, especially May and October.
At these times, the weather is pleasant, dry and the city sparkles under bright skies, dressed up in blossoms (March to May) or autumnal foliage.
The worst time of all to visit Rome is the summer. July and August are hot and sticky, mosquitoes reign supreme and locals are scarce: at this time, Romans escape to their air-conditioned offices or the coast and the city is full of tourists.
This is a truly unpleasant time to visit the city and is responsible for so many bad reviews of the city from the unlucky ones who get caught in the city's relentless sun.
Winter in Rome is hit and miss. The weather is usually dry but chilly and the biggest issue you will find are the short days: many attractions close early in winter so make sure you check beforehand if you are planning to cram a lot into each day.
Decide how many days to stay
Deciding how many days to spend in Rome depends on your interests and expectations.
If you are interested in seeing Rome's main sights only, you will be able to cover a lot of grounds even just with two days in the city.
If you want to see museums and go for a bit of shopping in town, you need a minimum of four days.
To help you narrow down how many days you may need to see Rome, I wrote detailed itineraries for 1 to 5 days in Rome. You can find here >>> my guide to deciding how many days are enough to see Rome.
Decide where to stay:
Find accommodation in the city center
The most beautiful part of Rome is its historical center and there is no better place to stay in Rome to enjoy it that with a hotel or apartment right in the center of the action.
Staying here you may have to put up with slightly higher prices but you will be rewarded by easy access to all the major attractions in Rome, a plethora of restaurants and the chance of wandering around Romes' dusty cobbled streets after the crowds of day trippers have left.
Best area to stay in Rome for first time visitors
You can find a full overview of Rome's neighborhoods here but for your first visit, I recommend you choose.
Monti district
Old and hip, the Monti neighborhood is the best area to stay in Rome if you want to be walking distance form the main sites, have easy access to the train station and love alternative bars and vintage shopping.
Check our the Fifteen keys hotel for boutique accommodation in this area
Pantheon
At the very heart of Rome, this location is so central you will be able to walk everywhere. This is the part of Rome famous for cobbled streets and small restaurants and it is ideal for first time visitors both for charm and ease of access.
Check out Le Clarisse al Pantheon for a charming and reasonably priced option in the area or find our full guide to the best hotels near the Pantheon.
Piazza Navona
Rome's most famous square is a wonderful backdrop for accommodation in Rome. This is a wonderful area to choose as your base for your first visit to Rome as it allows easy access to both the historical center and the Vatican as well as a vantage point to visit Trastevere.
Check out 5 star Raphael Hotel for something really special in this area or find our list of recommended hotels near Piazza Navona
The dress code is enforced in Rome basilicas too (San Giovanni, Santa Maria Maggiore) but is less strict in other churches however, always carry a large shawl with you should be in short sleeves and avoid shorts.
Please be advised: while a shawl around your shoulder will do, one around your waist to cover your legs won't be deemed sufficient.
You can find my complete guide to dressing for the Vatican and Rome churches here.
Avoid public transport
Few experiences are more irritating in Rome than having to deal with the city's public transport system.
While the network of buses, trams and metro is extensive (especially the first two), buses follow a schedule that is erratic at best and are often so crowded you will find hard to believe locals can put up with it at all.
Granted, this is not the experience on all buses and at all times but if you rely on bus journeys every day, this will impact on the quality of your stay significantly.
If you can, especially on your first visit, walk and only use the bus when absolutely necessary.
You can find our full guide to public transport in Rome here
Bring comfortable walking shoes
In Rome, you will find yourself walking a lot, part because of the lack of good transport and part for the pleasure of it.
This means that you absolutely must be equipped with a good pair of walking shoes, a pair that will protect your feet from the hard cobbles of the city and will give you enough support to clock in up to 25000 steps a day (this is what many people average sightseeing in Rome)
In case you have heard that in Rome you should not wear sneakers if you want to feel like a local, let me tell you: this is complete nonsense!
I see this piece of advice over and over again on internet and is simply nonsensical. Sneakers are the best type of shoes to wear in Rome and the only ones to avoid if you want to feel fashionable are actual runners (you know the ones: high soles, neon colors).
If you wear fashion sneakers like Adidas foam, Vans or New Balance style, you will fit in perfectly and save your feet from very sore days.
Of all the Rome tips and tricks I share on this page, this is the one I hope you will remember the most: put practicality above fashion! You can find my recommended walking shoes for Rome here.
Dress for churches
On the topic of look and gear, you may have heard that Rome enforces a dress code for churches in general and for the Vatican in particular.
This is correct and not abiding by this rule may cost you in terms of access to some of Rome's most beautiful churches.
The Vatican is the place with stricter rules: here, you must avoid sleeveless tops, shorts (this is true for men and women) and skirts above the knee.
While flip flops are not officially banned, there are also frowned upon – in general, they are not considered proper footwear for the city, in Italy.
But do visit them
The idea of a dress code may put you off visiting churches, especially in the warmest months, but some really should not be missed.
San Luigi dei Francesi has a wonderful Caravaggio, Santa Prassede and Santa Maria in Trastevere have incredible mosaics and San Pietro in Vincoli has a Moses by Michelangelo, just to name a few – all worth a fashion compromise!
Have a crossbody bag
Rome is crowded and pick-pocketing misadventures are not unheard of. Opt for a cross-body bag for maximum security and never ever leave it unattended or hanging off the back of your chair at a restaurant.
Rome is not the jungle but unattended stuff gets snatched fast so a little extra caution goes a long way.
Without getting paranoid about pickpockets, this is probably the most important tip for first time visitors in terms of safety.
Always have ID on you
In Italy it is compulsory to have ID on you at all times so make sure you have some form of identification on you.
If you don't want to carry your passport with you, make sure you have a driving license or some other form of photo ID handy in the (unlikely) event of an officer asking.
Carry cash
While you should avoid carrying large sums of cash, some cash on you is important to have, in Rome.
Credit and debit cards are usually accepted in restaurants and hotels but they are no good for small purchases: you cannot buy gelato with them nor pay for taxis so having some cash is paramount.
Opt for small notes as much as possible: paying a 5 euro purchase with a 50 Euro not will not make you any friends and shops may simply deny to serve you if they don't have (or don't want to use up) change
Don't rely on wi-fi
Wi-fi is dreadful in Rome. When you open the 'available networks' screen you may be surprised to see many are free stay assured: the vast majority of them do not work!
Get a local sim card or make sure you have a good data plan on your won if you cont on using maps or any other wi-fi dependent app.
Learn a few words of Italian
You do not need to speak Italian to enjoy Rome but a few words go a long way.
'Per favore' (please) and 'grazie' (thank you) will be sufficient in most touristy places to be treated a little better – Romans are notoriously grumpy but making an effort with the language may even win you a smile.
You can find here >>> a great introduction to basic Italian phrases and expressions for travelers
Start with an itinerary
Rome has loads of attractions and having an itinerary to follow is invaluable to make sure you can hit all the sites you want to see in the time you have.
Depending on the time you have in Rome and your party, you can use these itiernaries as a base and costumise them to your own needs.
Rome in one day: a whistle stop DIY walking tour of Rome
Rome in 2 days: a slow-ish pace itinerary around Rome hitting some of the main museums and all the main sites
Rome in 3 days: a good itinerary to allow you to see Rome's most important attractions, plus time to shop and relaz
Rome in 4 days: our recommended itinerary with main Rome attractions and hidden gems over 4 days
Rome in 5 days: a complete itinerary to cover Rome main sites and some hidden gems, for a longer stay in Rome
Rome in 5 days (for families): a family friendly sample itinerary over 5 days to discover the city as a family appropriate pace and hitting main sites and child- centered attractions.
If you prefer to make your own instead, you can start from our planning guide here, explaining what attractions are close to one another and can be visited on the same day
Then ditch it and get lost!
A little bit like rules, I believe the best approach to itineraries is: know it then break it.
Once you have your main outline of the day, I believe allowing yourself to get lost in Rome is one of the most rewarding things you can do in the city.
The best areas for a planned 'getting lost' experience are the streets around the Pantheon, the area of Piazza Navona and Trastevere.
Areas I recommend you do not get lost into are the streets around Termini station: while these are not dangerous as such, they are not the most pleasant area for a stroll and, in the evening, get on the uncomfortable side.
See the main sites
Many will tell you the best of Rome is found off the beaten track but seriously: only go off the beaten track after you have seen the main sites.
They are on the beaten track for a reason and it would be crazy not to see them just to be different from anyone else!
At the very minimum, I recommend you see the Colosseum, the Pantheon, the Campidoglio Hill and Piazza Navona, even just from the outside if you really cannot stand the crowds. See below my Rome first time must-see sites.
I feel that not seeing these sites would take away massively from your experience and will make you miss you an important part of Rome's personality.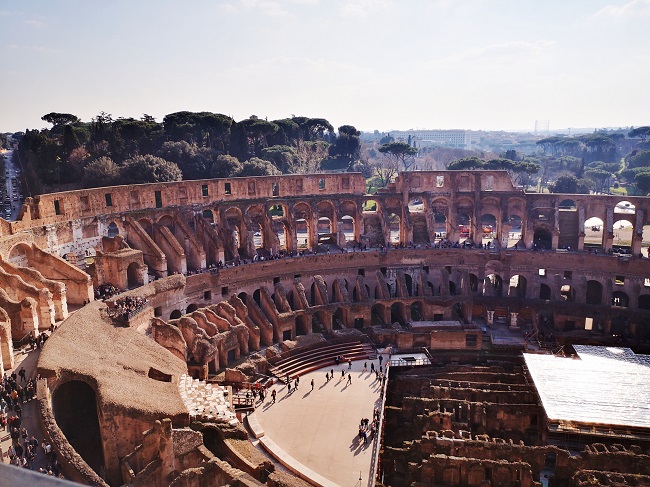 But book skip the line tickets
The best way to visit Romes' main attraction (actually, the only way for a pleasant experience) is to book skip the line tickets and to do it well in advance.
This is crucial especially for two attractions that are otherwise almost inaccessible: the Colosseum and the Vatican Museums.
You can find my best tips on how to skip the line at the Colosseum here while for the Vatican, I recommend you book tickets online from the museums itself here or book a guide here.
Venture off the beaten path
After you have seen the main sites, do take the advice of those who tell you to get off the beaten path and venture to some of Romes' residential neighborhoods to seek out Rome hidden gems.
Rome has a very different personality outside of the center and each area has a distinctive flavor.
Go to Ostiense or Tor Marancia if you love street art, head to the Coppede' district for an art deco fix or venture out to Ostia Antica for a magical walk among Rome's ancient port.
Seek birds eye views
Rome is built on 7 hills and this means that it has several viewpoints from where you can admire the city.
The best time for photos and romance is the early evening, when the sun sets setting the okra and red colors of Rome's buildings catch on fire.
Some of the most scenic locations are the terrace of il Pincio (Villa Borghese, above Piazza del Popolo), Campidoglio (amazing view over the forum) and Giardino degli Aranci (on the Aventino hill, view over the river and the city).
Get out early / stay out late
Rome gives its very best early in the morning and late in the evening, when the crowds disappear and the silence falls on the city.
You don't have to be out stupidly early or late to enjoy (I am not advocating a 6 am wake up call on your vacation!) but if you can be in the city center before 9 am, you will see the city at its most beautiful.
You can find here some of my favorite things to do in Rome at night.
Make the most of your hotel breakfast
Rome has amazing food but one meal it doesn't do particularly well is breakfast.
Sure, you can get your fix of coffee and cornetto (Italian croissant) pretty much anywhere in the city but this is a treat more than a proper meal: if you are hoping for yogurt, cereals or a cooked breakfast, don't venture out but rather, have it at your hotel or your will easily find yourself going hungry.
Have coffee at the bar
While not great if you are after a full breakfast, Rome bars are excellent for a coffee fix and the way to go about it is to do what locals do: order it at the bar.
Cafes often have small tables to sit down but there is a good reason locals avoid them: a sit down coffee costs easily 3 times as much as one sipped at the bar (find more tips for visiting Rome on a budget here)!
When ordering, make sure you stop at the till first to pay and get your receipt, then head to the bar and had the receipt while placing your order (many add a 20c coin to make the service faster but it is not compulsory. I never do it).
Ask for 'Un caffe' per favore' if you want espresso or 'un cappuccino per favore' for a traditional cappuccino.
Don't believe in those who tell you you should not order it after 11, this is another nonsensical myth. The only no-no for cappuccino is ordering it as a drink during a meal, the rest is totally up to you!
If you love coffee, don't miss my list of the best coffee experience in Rome.
Taste Roman food
In Rome, you find all the usual staples of Italian food but if you want a very special food experience you must try the foods that are specific to the Rome tradition.
Some of the most noticeable are:
Pasta to try in Rome
Make sure you taste real carbonara (we Romans are evangelical about it and you will quickly understand why once you taste it), pasta alla gricia and the famous cacio and pepe for a burst of taste
Rome meat dishes
Try earthy abbacchio scottadito (lamb), light straccetti (veal, served with rocket salad and fresh cherry tomatoes), saltimbocca (veal, prosciutto and sage).
If you feel adventurous, also try coda alla vaccinara (ox tail) and trippa!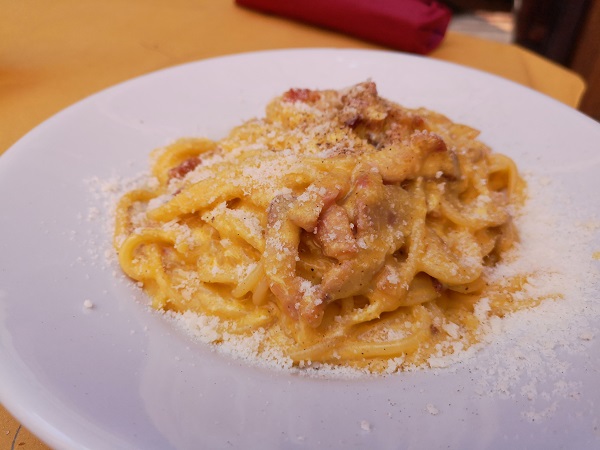 Vegetarian dishes in Rome
Rome cuisine is not known for its vegetarian options but two side dishes are so famous and unique they make up for all the rest: carciofi all giudia (jewish style fried artichokes), carciofi alla Romana (Roman style artichokes), and puntarelle alla romana (chicory heads, spring only)
Rome desserts
Rome's mos famous sweet treat is il maritozzo, a special type of bread/brioche filled with cream
Fried Rome treats
As a starter before your pizza or as a bite during the day, don't leave without trying Rome's suppli' (fried rice balls with a melting core of mozzaella), baccala (fried cod, the roman version of fish and chips, without chips) and fiori di zucca (fried battered zucchini flowers).
Rome pizza
One of the two capitals of pizza in Italy (the other being Naples) Roma has amazing, thin pizza.
Order the traditional full ones for dinner and, for lunch, have a piece of what Romans call 'pizza al taglio' instead.
It comes in many styles and it's one of the most budget friendly meals you can find in the city. Click to find our guide to the best pizza in Rome
Order vino della casa
The best thing to wash down a true Roman meal is with a glass of wine. In traditional establishments, order 'vino della casa' (house wine) for a budget friendly yet tasty option.
Have a drink in an enoteca
If you love fancier wine or cozy interiors with good wines and earthy meals, don't miss having dinner in one of Rome's wine bars (enoteche).
These are small, cozy places that pack a punch in terms of charm and taste: my favorite is probably Cul de sac, near Piazza Navona but the city teems with them.
These are a very popular option among locals and among the best places to have a somewhat authentic Rome experience.
Eat only gelato artigianale
The only thing more commong in Rome than pizza places are gelato places but don't just venture into any: make sure the gelato you order is the real thing, the one we call 'gelato artigianale'.
Gelato artigianale is tasty, not too fatty and less sugary than industrial style ice cream and a real delight. if you don't want to run any risks in terms of taste, you can do to one of my favorite gelato places in this list.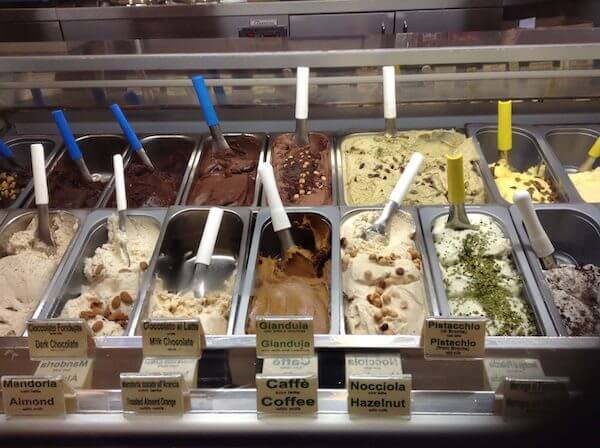 Know where to shop
Rome is a wonderful destination for shopping but you need to know where to go not to find yourself out of pocket.
If budget is not an issue, the place for you is Via Condotti: elegant and stunning, this is the road with all the designer boutiques and ateliers. If you are looking for your Gucci or Prada fix, this is the place to be.
More affordable options can be found on nearby Via del Corso or, even better, in Via Cola die Rienzo, in Prati, where you will find a mix of high street brands and independent shops
For vintage, head to Monti and in particular to its market (help every weekend) which is fun and often has great finds.
Take a break in the park
Rome has some amazing parks.
Many are private estates of aristocratic Rome families now turned public parks and this means they have beautiful landscaping and sometimes gorgeous architecture.
The most famous of all is probably Villa Borghese, right in the center, but others are worth seeking out too. Villa Doria Pamphili in particular is a treat as it offers stunning views over St Peter's dome.
Top things to do in Rome on your first visit: Rome first time must do
As I mentioned above, going to Rome for the first time and not seeing the main sites would be madness, so here are my top 10 things to see in Rome in your first visit
Visit the Colosseum
A wonderful first stop in any Rome itinerary, the Colosseum is impressive, beautiful and unique. If you can, take a visit inside and opt for a tour that includes the arena, the underground area and the top tier.
There are several you can choose from but you don't need to break the bank for a good one. You can find my selection of best Colosseum tours and tips to skip the line here.
Stroll around the Roman Forum and Palatine hill
Beside the Colosseum and usually included in the Colosseum ticket, the Roman Forum and Palatine Hill are the areas where ancient Rome developed, from its very foundation to the empire years.
This area is poorly served in terms of information panels but it wonderful and scenic. Even just for the view and visual impact head to the top of the Palatine and the Emperors' palace: one of the most beautiful spots in the whole of Rome, ancient or modern!
Climb up Campidoglio
Ancient Rome meets the Italian Renaissance in this incredible corner of Rome: Piazza del Campidoglio.
Take the steps up to see Michelangelo' masterpiece (the square itself) and then walk to the back of the main palazzo for unrivaled views over the forum.
Find our guide to the Capitoline hill here.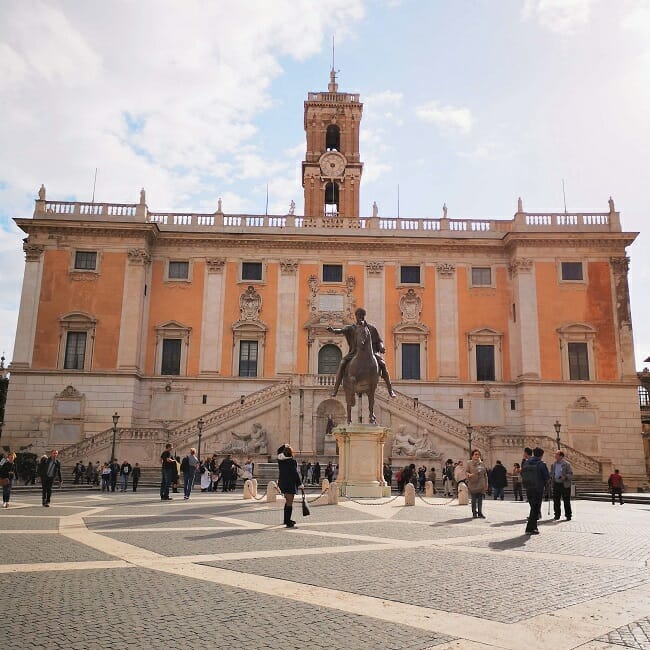 Rome first time must do for couples: the Spanish steps
They don't need any introduction and are one of the easiest and more rewarding free things to see in Rome.
Catch the Spanish Steps in the evening if you can for beautiful views over the sparkling city. If you are looking for romance, it doesn't get much better than this….
Throw a coin in the Trevi fountain
Can I be honest? I don't think I am the only Roman who does not love Fontana di Trevi but I do understand is a must see and I recommend to go see if on your first visit to Rome.
Why I don't love it? Because the area is so crowded you can hardly see the fountain itself and there is zero atmosphere not just on the square but on the surrounding streets.
With one exception: the evening. Head here after the crowds have left and you will quickly see why despite not loving it, I simply had to add it to this list. Find our guide to visiting the Trevi Fountain here.
Look at the sky from inside Pantheon
Two things stand out about the Pantheon: its stunning facade, gracing one of Rome's most beautiful squares and the hole in its roof.
The Pantheon is one of the most beautiful attractions in the whole of Rome and its square a must see. You will find yourself passing by it often, pretty much no matter what itinerary you follow and, if you don't find excessive lines, do go it and join the crowds who wonder: what happens when it rains)
Visit Piazza Navona and Campo de' fiori
At the two sides of Corso Vittorio lie two of Rome's most beautiful squares: grand Piazza Navona and dusty Campo de' fiori. Visit both one after the other for a taste of how varied Rome can be even in small areas
Cross the border into St Peter's Square
Technically a different country but in practice a square in Rome, Piazza San Pietro is stunning and should not be missed.
The square is part of the Vatican state but there is no border crossing or check as such and the only access difficulties you may find are the excessive crowds. You can read more about the Vatican here.
The square is free to visit and so is the main floor of the basilica both very worth a visit during your first time in Rome.
You can find here my tips for visiting St Peter Basilica, the Vatican Gardens and Vatican City and Museums or my complete guide to planning a visit to Vatican City here.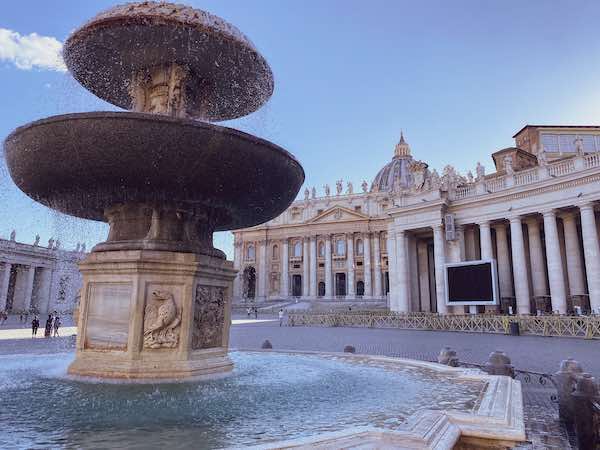 First time in Rome must do for foodies: take a stroll in Trastevere
I can think of several areas to recommend for an evening stroll but during your first time visiting in Rome I reckon the best one to start with is Trastevere.
Located on the opposite side of the river from the main historical sites, Trastevere is atmospheric and has a dynamic nightlife: head here fro a late afternoon stroll and pizza: it is known for having some of the best pizzerie in the whole of Rome.
See also >>> my guide to Rome for foodies, full of food finds!
First time in Rome must do for families:Villa Borghese
As a proud Rome mama of 2 I could not close this list without a mention of the best things do to in Rome with kids.
Rome is stunning for families and there is so much to see and do here I have a full list of over 50 things to do in Rome with kids – I recommend you have a look to pick those that attract your kids the most!
As well as many of the must see sites also on this list, make sure you seek out Villa Borghese.
This is one of the most beautiful parks in Rome and has lovely playgrounds as well as the zoo and a small pond with rowing boats and turtles. Not to be missed on your first family visit to Rome!
I hope you enjoyed this first timer's guide to Rome and helped answer the question: what Rome tips and trick should I know to visit the Eternal City?