Can I travel to Rome right now? A curated list of OFFICIAL sources of information about rules and regulations to travel to Rome right now. National and local online info outlets to have up to date travel info at your fingertips + how to get tested and what to do should you get a positive test.  
At this time of uncertainty, the primary thing to figure out when planning a trip to Rome is if you are allowed in, what rules you need to comply with and the process to get back home again.
The web is full of articles and Facebook conversations about this. However, personal experiences and travel stories are not enough to plan a trip. 
When it comes to traveling to Rome right now, you need official information.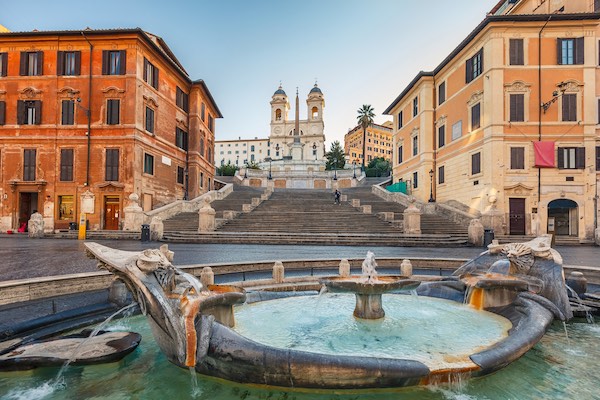 Below you find a list of the official resources (in English) that you need to stay up to date with ever changing travel rules. 
This list is put together on the basis of my own research. Always rely on official info only for travel decisions and regulations that may apply to you.
Travel to Rome Now Official Sources (December 2021)
Salute.Gov.it This is the travel section of the Italian Ministry for Health.
As you click on the link, you land on a page with a list of countries organized in groups named with the letters of the Alphabeth A to E. 
Identify the list pertinent to you.
You must look at two things: the country you are traveling from and any other country you may have been visiting on the 14 days before your planned trip to Rome.
Example: you are from the US, touring Europe and you spend a week between France, Belgium and the Netherlands. Then you are planning to go to Italy from Amsterdam, all within the space of 14 days. You need to take into account ALL countries visited in the 14 days prior to your arrival into Italy: the US, France, Belgium, The Netherlands .
If even just one of the countries requires you to abide by stricter rules, that is the rule that applies to you.
Please note: the website is gets updated regularly; however, on the day new rules are announced there may be a little bit of a lag while the site gets updated. I highly recommend combining this site with local news outlets (see below).
WantedinRome: this is an English language newspaper, not a Government source; however, it is an excellent source for up to date info about local regulations such as mask mandates in Rome.
These rules are decided at regional level and change depending on the epidemiological profile of the region; therefore, national sources may not be enough to make an informed decision. 
This is a good resource as news often break before the official sites get to be updated fully.
Italia.it This is the website of the Italian tourism board.
This is a recently revamped website with a lot of info about rules to enter the country and rules about vaccinations certs, prerequisites to enter cultural venues, hotels, restaurants, etc.
This is also a good source for families as it lays out what the requisites are for minors.
As you will see, the website reports the regions as color coded depending on the epidemiological state of the specific territory.
To use this site, you need to identify the color of your region (Rome is in Lazio) and you need to then click on the color-key on top of the page to check what rules apply.
Please note: this website is often lagging in terms of updates so I highly recommend you use it in combination with wantedinrome mentioned above.
Green Pass (Italian Only): the Green Pass is the Italian cert recording your up-to-date vaccination status (Super Green Pass) or negative test result (Standard Green Pass).
The Super Green Pass and Green Pass are for Italian citizen only: as a tourist, you will be asked to show the vaccination card from the country you got your vaccine from.
The info about the Green Pass is in Italian only on the Green Pass Government Website or on the above mentioned italia.it website 
ViaggiarSicuri – (Italian only) travel portal of the Italian Ministry for Foreign Affairs. If you read Italian, it has official info on all rules and regulations about traveling to / from Italy.
Additional resources about traveling to Rome during Covid19
Other important sources of info about travel to Italy are your Embassy/ Consulate.
Due to the profile of the majority of readers of this website, I am reporting here links to those I believe are useful to the largest number of people:
Where to get tested in Rome as a tourist
If you need a pre-departure test to go back home, getting a test in Rome is easy.
Rapid antigen tests are available in most pharmacies: in the city center, many have white and green outdoor booths that administer tests on a walk-in basis.
You need to fill out a form with your info and you will be given the result by email in a matter of hours.
Some neighborhood pharmacies may require booking: please make provisions in advance to secure a place
Fiumicino Airport also has testing facilities. Find info >>> here
You can also opt for a PCR test in a private lab. The list of centers authorized to administer PCR test is here
Please note: some labs are able to provide results in English, check individual websites for info.
What happens if you get a positive test result in Rome
If you happen to test positive with a rapid test, you will have to take a PCR test as well.
To do that, and then potentially enter the system if confirmed positive, the best way is to get in touch with the authorities.
If you speak Italian, you can ring the Free Regional Covid Number 800 118 800; if you do not speak Italian, you can look for an English speaking doctor at https://find.doctorsinitaly.com
If you test positive with a PCR test, you need to isolate immediately and alert the authorities.
If you speak Italian, you can ring the Free Regional Covid Number ; if you do not speak Italian, you can look for an English speaking doctor at https://find.doctorsinitaly.com
The lab will communicate your positive test result to the local ASL (the neighborhood branch of the national health system) and they will get in touch to monitor you and to organize a second PCR test to, hopefully, set you free from isolation.
Please be advised: if you have a positive PCR test in Rome, you need to isolate for 10 days. During these 10 days you are not allowed to leave your accommodation and you cannot get a second private PCR test: you must wait for the official one that they will book for you.
When you have your appointment for the second PCR test, you will need to go on your own and you will have to keep isolating until you receive a negative result.
Should the result be positive again, you will need to keep isolating for 7 extra days – all this will be clearly explained by the authorities once you are in the system.
Very important: To leave isolation after testing positive is a criminal offence. Yes, they do check.