What is on your Rome bucket list? What are the places and things you dream of doing in Rome at least once in your lifetime? 
You may think that a born and bread Roman like me hasn't got a list of Rome must see sites and experiences but I do and as you can see, it is a pretty long one too!
The thing is that Rome is one of those magical places that makes you want to discover more and more: each location opens up opportunities and discoveries for more walks and visits and the more time I spend in Rome, the more I find myself adding to my list rather than ticking off.
This is my list of the very best things to do in Rome.
If this is your first time in Rome, don't forget to also check out our sightseeing planning article: it will help you understand what attractions are reasonable to see on the same day
Please note: this post contains affiliate links and, should you make a purchase through them, we might make a small commission.
Rome bucket list: most famous things to see in Rome
If this is your first time in Rome, you are likely to want to see the city's most famous sites and I urge you to do it.
While I do advocate getting off the beaten track, especially in Rome, I would find it mad to do that instead of seeing Rome's 'must see' sites – they are considered must see for a reason!
I believe you list of things to see in Rome should include:
Roman Colosseum
Famous, massive, stunning, historically significant and fun: this and more is the famous Colosseum. The best way to visit is with one of the skip the line tours offered by the Colosseum itself: pick the one that includes underground area and belvedere (book here) for the best experience
The colosseum books out fast: if you can't book with them, try tours offered by third parties instead such as this one.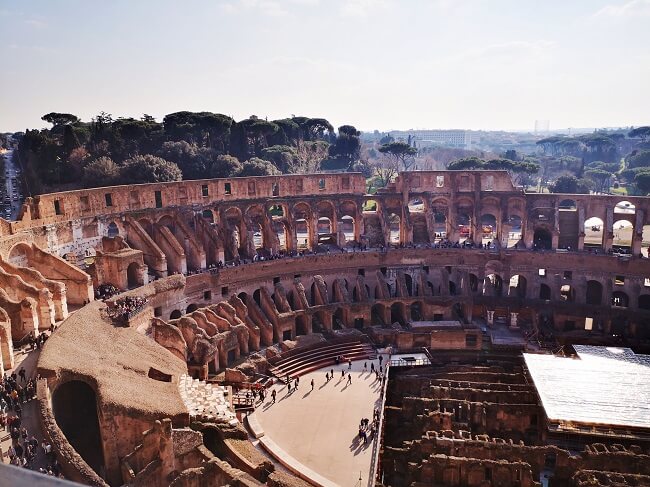 The Roman forum
The Roman Forum is the best place in Rome to, literally, walk through history.
Beautiful and atmospheric especially in spring, when the perfume of Rome blossoms fills the air, you can visit the forum on the same day as the colosseum of the one after (the combined tickets have a 2 day entry validity, one per site)
The Palatine hill
The Palatine is the hill just above the forum and access is included in the ticket.
While overlooked by many visitors, the Palatine is one of the most beautiful spots in the whole of Rome, especially on a bright sunny day, when the view from the top is breathtaking.
Campidoglio hill
Another one of the famous 7 hills of Rome, this one has a few gems that make a visit worth it.
At the top, you will marvel at the stunning Piazza designed by Michelangelo, you can rest in the shadow of Marcus Aurelius equestrian statue and you can visit the stunning Musei Capitolini (Capitoline Museums), which host incredible ancient Rome art and more.
Here you can also catch a wonderful view over the forum: head to the back of the main square and prepare for your jaw to drop!
Piazza Venezia and Vittoriano
Aka the monument Romans call 'the Typewriter' and visitors 'the wedding cake'. Love it or hate it, il Vittoriano and Piazza Venezia are a Rome must-see.
You can take in this view in from the piazza itself of you can climb to the first two terraces (free) or even the third one (10 Euro entry fee) for stunning views towards the Colosseum.
Rome Pantheon
One of the best known, most photographs and most beautiful monuments in the whole of Rome, the Pantheon is always worth a visit, inside if you can but even just outside: its facade and the square it overlooks is Rome at its very best (if you can, get in and look up – you will quickly see why!).
No tickets or advance booking required but do go there early in the morning or late in the afternoon, just before closing time, to get the shorter lines.
You can find all my best tips for visiting the Pantheon here.
Trevi fountain
Tourist trap and amazing corner of the city all wrapped up into one, you simply cannot skip the Trevi Fountain when in Rome!
Go to Trevi very early in the morning or late at night (it lights up) for the best experience and do throw the famous coin in: it goes to charity and it may bring you back to Rome, if there is any truth to the legend.
The Spanish steps
The Spanish Steps (Piazza di Spagna) are one of the most iconic monuments in Rome and one immortalized in many movies set in the Eternal City.
The vert best way to visit the Spanish Steps is to take a wander in the area and allow the view of them to surprise you as you turn a corner.
Get to the steps in Piazza di Spagna at sundown if you can to catch a wonderful view and limit the crowds.
Vatican City: St Peter Square, Basilica and Vatican Museums
You cannot possibly go to Rome and not see the State within the State that is the Vatican.
There is a lot to see and do here and you will need a full day in the area to see all the marvel the Vatican City hides.
I recommend you visit both St Peter's Square and the basilica inside and, if you can, you also make time for the beautiful Vatican Gardens.
If you love art, you simply must make time to visit the incredible Vatican Museums.
They are massive and crowded but they have world-famous art (my favorite is probably the statue of Laocoon) and also host the Sistine Chapel, which you access from the museums themselves.
Advance tickets are a must and you must make sure you are dressed appropriately if visiting the church and Sistine chapel as there is a dress code and it is strictly enforced.
The best way to visit the Vatican museums is with early entrance tours or booking directly with the museum for timed entrance here
The entrance to St Peter basilica is free.
Piazza Navona
One of the most beautiful, monumental squares in Rome, Piazza Navona is built on what used to be a Roman stadium! With masterpieces by Bernini and Borromini, it is an iconic site everyone should see.
Castel Sant'Angelo
Castel Sant'Angelo doesn't appear on everyone's bucket list and this is a good thing as it means usually it is not half as crowded as other places, while being as beautiful!
The visit brings you to the top of the castle and while it is not recommended if you are afraid of heights, it is one visit I recommend to everyone else: the inside of the castle, the view and walk along its 'logge' is stunning.
Campo de' fiori
If 50% of the charm of Rome is in the city's monumental area, the other half (if not more) lies in its dusty and lively piazzas that make you feel like you stepped back into the Middle Ages, rather than ancient Roman times.
To experience this side of the city, head no further that to Campo de' Fiori, a busy square with a market in the morning and lively terraces for drinks in the evening.
Make sure you pay attention to the statue looking over you from the center of the Square. It is of Giordano Bruno, who lost his life at the stake here for affirming scientific truth.
Piazza del Popolo
A Rome bucket list items for Dan Brown lovers especially, Piazza del Popolo is one of the most famous in Rome and it is overlooked by two not-quite-identical- twin churches.
Walk around it but also look at it from above: access to the terrace overlooking (il Pincio) is from Villa Borghese
Things to do in Rome: bucket list experiences
Get lost among Rome's cobbled streets
While I always recommend to have some sort of Rome itinerary planned, I also urge you to carve out some time to wander aimlessly among Rome's famous cobbled streets.
Head to the area of the Pantheon or Arco della pace for the most atmospheric corners.
Have a delicious coffee
Coffee is not specific from Rome but wow, the city does it well! Head to one of my favorite coffee places for the real deal
Savor real gelato
Just like coffee, gelato is an Italian specialty rather than a Rome one but can you really see Rome and not take a stroll with a gelato in hand? Just make sure you get a proper artisan made one in one of the best gelato addresses to have an authentic and delicious experience.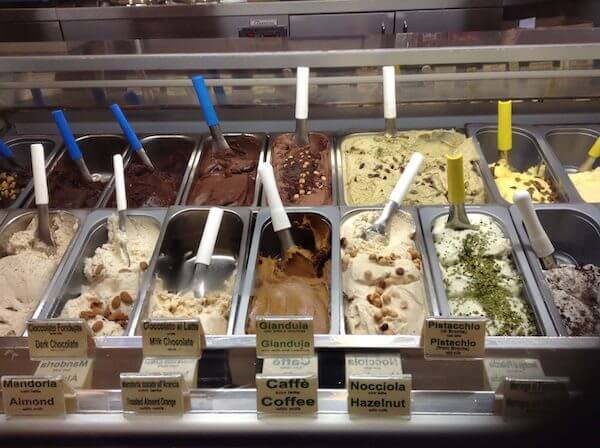 Take a walk in Trastevere
Trastevere is one of the most atmospheric areas of Rome and while it is now packed with tourists (I laugh when I read articles saying it is a hidden gem!) it is a really pleasant place to go for an evening walk.
Go in summer especially for outdoor terraces, buskers and a street sellers
Have dinner in Testaccio
If you are looking for an authentic food experience in Rome in an area that is known but still feels local, head to Testaccio. Scroll down to the food section of this article to learn what to order for a real Rome foodie meal
Go vintage shopping in the Monti district
Monti is the area of Rome between Termini station and the area of the forum and the colosseum.
Dusty, charming and local despite its central location, this is a wonderful area for hipster eateries and for lovers of vintage shopping.
You can find my guide to Monti and all the best thing to see and do here.
Go window shopping in Via dei Condotti
Rome is famous for fashion and the best place to go designer shopping is Via Condotti, in the city center.
While the budget may not stretch to actually buying anything here, the windows alone are often a work of art worth seeking out.
You can find tips on where to go shopping in Rome, whatever your budget, here.
Drive a Vespa
Ok this is a super touristy thing to do but a fun one!
Make sure you are safe, watch once, twice, three times before doing anything and avoid tram tracks at all cost: then go and feel Rome's breeze as your Vespa carries you around. It feels amazing!
You can rent your own vespa or get one with a driver here
Take a cooking class
Learning to make Rome food is a fun and easy way to be able to recreate part of your holiday back home.
Some classes offer the chance of learning to make pasta, and have a great meal in a real Rome house with a local cook.
Have aperitivo on a rooftop terrace
Apetitivo is one of the nicest traditions in Rome. Make it special heading to one of the city's beautiful rooftop terraces (in summer).
I am partial to the one at the Iconic Pantheon hotel which offers 180 degrees view over St Ivo alla Sapienza, St Eustachio and the Pantheon (aka, 3 of the most amazing churches in Rome city center).
I find this one of the most beautiful views of Rome!
Sip a glass of red in an enoteca
Rome has gorgeous wine bars that here are called enoteca (or enoteche, plural).
They are everywhere in the city and they offer excellent wines (bottle or glass) and a selection of food usually ranging from pates and cured meet to full family favorites such as lasagna, straccetti etc.
See the opera in Caracalla
If you love opera but I dare say even if you don't, you should make time to go see a show in Caracalla, the ancient imperial baths now turned summer theater.
The overall experience is magical and you will be glad you have added it to your Rome bucket list!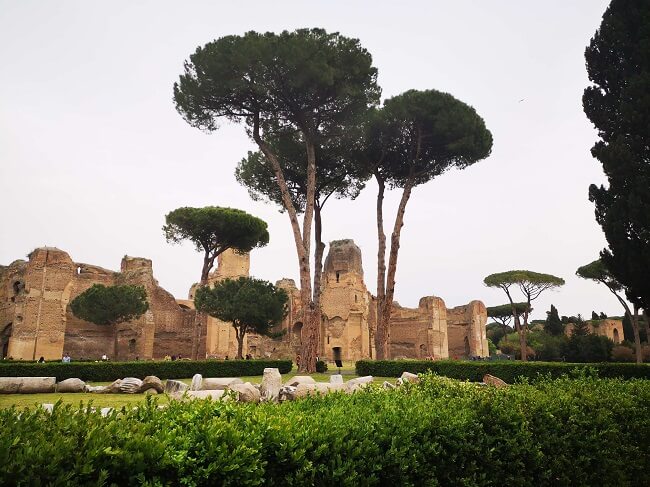 Have pizza
Ok an obvious one but how not to mention pizza in Rome? Make sure you try the traditional round one in the evening, served in any pizzeria, but also the take-out type (pizza al taglio) that we Romans love for our lunch
Have a walk in the Jewish Ghetto
The so called Jewish ghetto of Rome is a stunning part of the city and one rich of history.
Make sure you take time to go visit and do read about the story of Italy and Rome in particular during the 20th century: as well as beautiful, this area will acquire much deeper meaning if you do.
A great way to discover this area is with a guided tour
Let your eyes be tricked
Two of the masters of Rome's beauty are Bernini and Borromini, who mastered the concept of 'forced perspective' and architectural illusion.
This is a special optical technique that tricks the eye into thinking that an object appears farther away, closer, larger or smaller than it actually is or allow for a visual experience that is different from the reality of things.
You can experience this really impressive trick in Piazza San Pietro (stand in the marked spot on the square and look at the colonnade to see some of them disappear), in Galleria Spada (wait for the guided tour to see the illusion in action) and at the false dome of St Ignazio by Andrea del Pozzo.
Take a walk down Via Margutta
Looking to buy art or even just to take a stroll among art galleries? head to Via Margutta.
A small, central street with cobblestones and art galleries manned by gentlemen and ladies leisurely sitting outside on the street to catch a breeze, this is a lovely street for a lazy afternoon.
Other things to do in Rome: city views
Want to go home with one image of Rome to remember? Head to one of the many Rome belvedere. Some of my favourite are:
The garden of oranges on Aventino and one of the most romantic in Rome (free)
St Peter dome (fee paying)
The first terrace of the Vittoriano (free)
The back of Campidoglio hill (free)
The top of Castel Sant'Angelo (fee paying)
The top of the Colosseum (fee paying)
The view from the Gianicolo hill (free)
The top of the Palatine Hill (fee paying)
Rome bucket list: art and museums
Rome has so many museums and galleries, as well as amazing art scattered around the city, that I know better than trying to list them all here.
However, there are some museums, art collections and works of art I believe you should seek out.
Galleria borghese
A must see in Rome for all art lovers, the Borghese Gallery is stunning and a real treat for museum goers.
Book directly with them or get a skip the line reserved entrance ticket in advance: booking is mandatory and, doing so in advance, will ensure you get a decent time slot.
Palazzo Massimo
One of my favorite museums in the whole of Rome, this is a must see if you love ancient Roman statues and artifacts and you want to see real Roman frescoes without going to Pompeii.
The ecstasy of Saint Teresa (sculpture), Santa Maria della Vittoria
Some of Rome's most amazing art is free to see in Rome churches. If you love sculpture, don't miss the ecstasy of St Teresa in Santa Maria della Vittoria, one of the masterpieces of Bernini.
Caravaggio in San Luigi dei Francesi (painting)
If you want to marvel at a Caravaggio without the stress of long museum visits, head no farther than the side chapel of St Luigi de' Francecsi church, near Piazza Navona. For the best experience, spare one euro to switch the light on: it will be among the best euro spent of your holiday.
Mosaics of Santa Maria in Trastevere (mosaics)
if you want to get up close and personal to one of the most ancient art forms in Rome, head to Santa Maria in Trastevere and marvel at its mosaics: they are very different from what you see in other Rome churches and an absolute must see item to add to your Rome bucket list.
Seek out hidden gems
Pyramid and protestant cemetery
Did you know Rome had a pyramid? It does and while its front overlooks a busy piazza, its back overlooks the wonderful protestant city cemetery.
Together, these make for one of the most romantic corners is the whole of the city. Not to be missed.
You can read all about the Rome pyramid here.
The baths of Caracalla
For reasons I will never understand, the baths of Caracalla are often ignored by visitors but are one of the most beautiful ancient sites in the whole of the city.
Not to be missed especially in spring and fall when the backdrop of the blue sky makes the tall ruins particularly imposing.
Santa Prassede
A gorgeous church in the heart of the Monti district, Santa Prassede has impressive mosaics that are among the most if not the most important testimony of Byzantine art in the whole of Rome (the chapel of Saint Zenon is truly unique).
Coppede district
The Coppede' district is a small area of Rome with architecture that is unique in its genre in the city: it has flowery art deco buildings somewhat reminiscent of Gaudi's architecture in Barcelona if you love one, don't miss the other.
You can explore this area on your own or with a tour that includes the wonderful house pictured below
Casina delle Civette
A house now turned museum that will make you feel like you stepped into a fairy tale (or a small German town!).
A Rome hidden gem for architecture lovers and families alike – it is in a beautiful Rome park called Villa Torlonia, which hosts museums and a playground: the perfect multi-generational place!
San Clemente
If you want to see with your own eyes how Rome evolved over time, head to San Clemente, a church with now 3 different levels of constructions that show how the same space was used over the course of the centuries
You can explore this incredible attraction on your own or get a tour (including nearby wonderful Santi Quattro Coronati church) here
Centrale Montemartini
One of the most peculiar museums in Rome and one of the most beautiful, Centrale Montemartini is an industrial plant now become exhibition space.
With massive machines operating as backdrop to Roman art, it is a special space and one that embodies the many souls of Rome perfectly.
This is also a family friendly space and one of my favorite museums to see in Rome with kids
Ostiense street art
There is more than ancient art in Rome: head to Ostiense or Tor Marancia to see what the capital can offer in terms of street art.
St Peter from a keyhole
Imagine you peeked through a keyhole and saw a perfectly manicured line of shrubs framing the most perfect view of St Peter's dome.
Wouldn't is be cool? That is exactly what you can experience at the top of the Aventine hill. Peeking through the keyhole is not just ok, it is a must.
Pasquino
When visiting Piazza Navona, take time to seek our nearby Pasquino.
This statue may seem of little beauty now but has an important history: here, people used to attach their complaints against the Pope when Rome was under his rule. Pasquino is one of the so called Talking statues, reminiscent of a time when freedom of speech did not exist
Rome bucket list: green areas
Rome has some gorgeous green areas and parks. Some to add to your bucket list are:
Borghese Gardens (city center)
Via Appia (out of the center, amazing if you cycle here)
Villa Doria Pamphili (Vatican area)
Ostia Antica (outside of the center, perfect for an afternoon and evening out)
Rome bucket list for foodies
If you are going to Rome you simply have to taste some of Rome's most famous foods.
Some dishes to try are:
I hope you enjoyed reading my Rome bucket list and it gave you ideas on what places and experiences to seek out while in Rome. Safe travels!