All you need to know for a trip to Rome in July. What to expect from the weather, what to pack and what to do in Rome in summer. (Updated for July 2022)
July is a funny month in Rome. It is the very heart of the summer and this has good and bad consequences for visitors and locals alike.
The good consequence is that in Rome in July you can be almost guaranteed sunny weather: this is the time of the year to flaunt summer dresses, eat tons of gelato and spend lazy evening al fresco, making the most of the many outdoor evening events taking over the city in this month.
The bad consequence is however that Rome gets very hot in summer and tourism is intense, things that make sightseeing unpleasant and tiring
Overall, if you have a choice, I do not recommend to visit Rome in July but if this is the only time you have available, don't worry!
In this article, I share not just what to expect in Rome in July but also how to make the most of this month in the Eternal city.
Please note: this post contains affiliate links and, should you make a purchase through them, we might make a small commission at no extra cost to you.
Is Rome in July busy? Crowds forecast
Rome in July is very busy.
2020 and 2021 have been exceptions and you may have seen wonderful photos of Rome with no crowds taken during this peculiar time.
However, things are back to normal in 2022 and while it is always hard to guess numbers, if things keep going as they are now I can safely say Rome will be packed this summer!
The number of tourists in the city has soared and while this is fantastic for the economy, it is important for visitors to be aware that it can be exceptionally busy.
To beat the crowds if visiting Rome in July 2022 I recommend you:
Book tickets for the Colosseum and the Vatican as soon as possible (see below)
Plan to get away from the most beaten track and explore some lesser known areas and Rome hidden gems: you will escape the crowds and come back with a much better understanding and feeling for the city!
If your budget allows, opt for a hotel with a pool. Rome is very hot in July and having a hotel with a pool is a great way to escape the heat but also get away from the busy city streets in the busiest hours of the day – you can the go out again at night, rested and refreshed, unlike everyone else!
You can find here >>> my list of the best hotels in Rome with a pool
The weather in Rome in July
July is the heart of summer in Rome.
June in Rome is the start of the hot season but temperatures peak in July, making the city hot and sunny
The average temperature in Rome in July is 26C/78F with a range between 19C/66F to 32C/90F degrees, although recent years have brought temperatures to much higher levels, peaking at 37/38C.
Usually, you have about 3 days of rain in Rome in July and this means you may well find your time in the city totally rain free.
If you are used to very hot weather, you may think these numbers are not that high and you would be right however, don't underestimate Romes' heat!
Rome is humid so while 32C/78F may seem even pleasant (I know they are for me in other locations), in Rome they feel much oppressive.
Overall, it is safe to treat Rome like a very hot beast: avoid to be out in the sun in the central hours of the day, choose hotels with air conditioning and make an effort to stay hydrated at all times.
You can find here >>> my best tips for dealing with Rome in summer.
What to wear in Rome in July
July in Rome calls for summer clothing.
Summer dresses, short sleeve tops, sandals and sun hats should make up most of your wardrobe and you can opt for linen trousers and long skirts for those times when you need a little more coverage (such as when you want to visit a church or the Vatican city)
If you are traveling to Rome in July, it is important to pack:
Good walking sandals (you can find a good selection here)
Long linen trousers
Skirts / shorts – below the knee for visiting churches
Short sleeve tops
Swimsuit for the hotel pool or day trips to the coast
Sunscreen and sunhat
Find our full summer packing list here
Need to know: air conditioning in Rome and Italy in general tends to be much weaker than let's say in the US. While you will find solace in an air conditioned space in Rome, you will still find yourself in an overall warm environment with no need for cardigans or shawls.
The best things to do in Rome in July
The best things to Rome in July are a mix of carefully selected sightseeing opportunities and cooling down experience.
These are my top picks.
Take a tour of the Colosseum underground tunnels
In 2021, a new area of the Colosseum opened to the public: its underground, aka the area that used to host gladiators, animals and props used during the shows.
We were lucky enough to be among the first to visit and we highly recommend it.
The cheapest way to visit the Colosseum in full this July is to get tickets from the official Colosseum concession Coopculture. You can choose between an 'accompanied tour' (no guide) or and 'educational tour' that costs 10 Euro more and has a qualified tour guide with you – this second one is best.
The best tickets for visiting the Colosseum are here (this is the Colosseum official concession). Should it be sold out, check out alternatives here
The Colosseum is a must see in Rome and I recommend a visit but we warned: it gets very hot! I recommend avoiding the central hours of the day for your visit and wearing light clothing and a sunhat. You can find my tips for visiting the Colosseum here.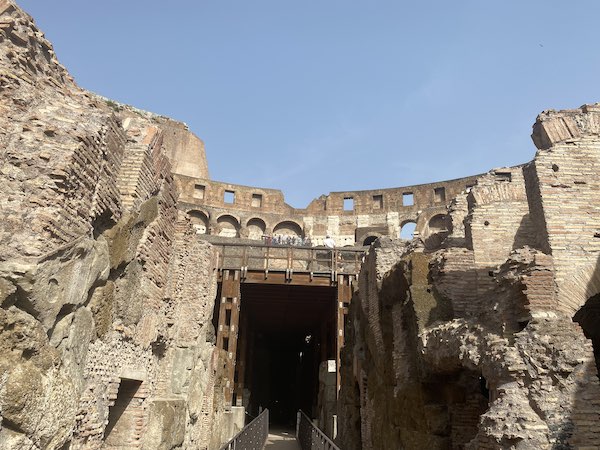 Visit the Colosseum at night (new for 2022)
Another great way to visit the Colosseum in July is by joining a night tour.
These tours have only just reopened and happen on selected days in the summer season.
You can find here >>> our full review of the night tour of the Colosseum and ticket info
See the Palatine Hill
The Roman Forum and Palatine Hill are what remains of the ancient city of Rome and they are wonderful for history lovers.
The Roman Forum is however a hard place to visit in July.
This is an outdoor archaeological park in a valley between two of the ancient seven hills of Rome and this means the temperature soars.
The Palatine Hill, despite not being very high, is already more ventilated and therefore pleasant.
Because of this, while I recommend a visit to the Roman Forum, I also urge you to approach it with caution.
You can read my full guide to the Roman Forum here.
If you think the sun may be too much for you, this doesn't mean you cannot get a fix of ancient Rome!
In the hot season, my favorite way to see it is from above. In the evening, walk up to the back of the Campidoglio and look down: the view over the roman forum lit up for the night s stunning.
This is one of the best views over Rome and one you will never forget!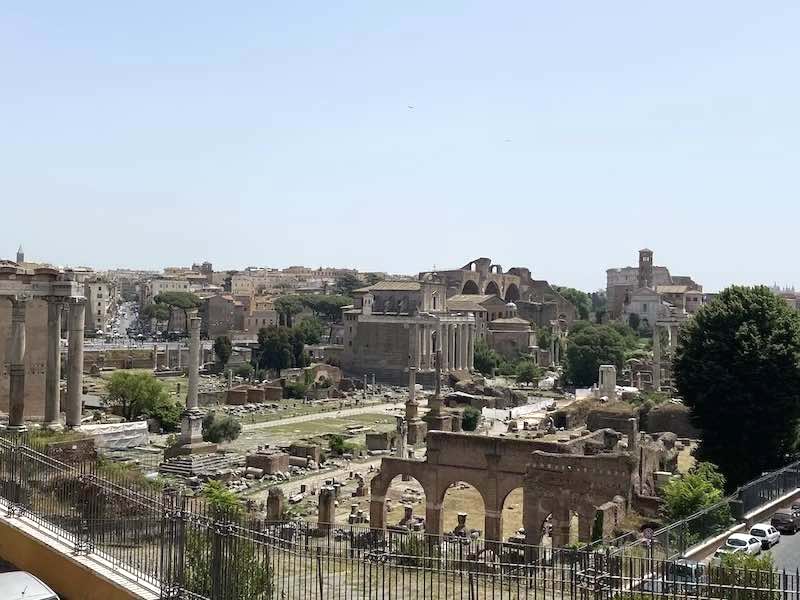 See the light show Viaggio Nei Fori – Journey Through the Forum
In July, the Forum of Augustus and the Forum of Caesar host special evening events that are perfect for history lovers but also entertaining for kids: light shows!
The light shows are accompanies by the voice of a narrator which recalls events linked to the location you are in and the life of, respectively, Caesar and Augustus, and are a fantastic place to see how the ruins would have originally looked like at the time of their construction.
The events are suitable for all ages but especially enjoyable if you can follow the historical narration, so I would recommend probably 6 and up.
You can find tickets and info here
See the opera outdoors
Rome has a tradition of outdoor opera shows in summer, in jaw-droppingly beautiful locations.
The traditional summer backdrop for opera in Rome is the Baths of Caracalla one of the most beautiful archaeological.
For July 2022, the program includes the Hunchback of Notre Dame, Claudio Baglioni and other shows. You can find the full program and tickets here.
I know opera is not to everyone's taste but you don't need to be an opera lover to enjoy this place: the ruins are so imposing, beautiful and unique, you are guaranteed to have a wonderful night here nonetheless!
Visit Castel Sant'Angelo
Maybe my favorite thing of all to do in Rome in July is to head for an evening visit to Castel Sant'Angelo.
Often ignored by tourists, Castel Sant'Angelo is stunning and in summer, a real gem: the castle itself is beautiful all lit up and the views from its top are outstanding.
Try get in right before sunset so you can catch views of Rome bathing in the golden hour from the castle top terrace. This is one of the most pleasant things to do in Rome at night.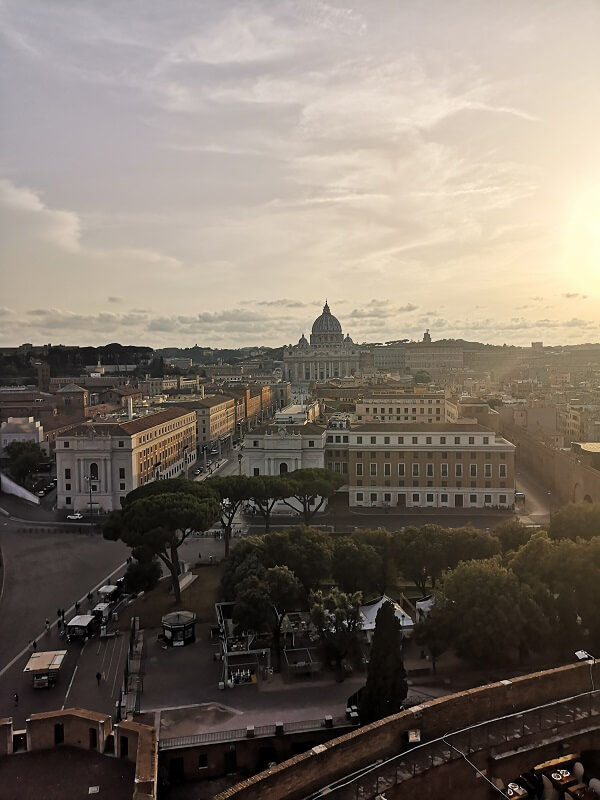 Visit the Vatican museums
The Vatican Museums are exceptionally crowded so advance booking of tickets is essential.
A good way to limit exposure to the crowds is to book special event tickets such as those that foresee breakfast at the Vatican, evening tours of a tour of the gardens.
Since they are pricier, they usually mean they have space available: despite being a bit of an investment, they are usually worth it in summer as crowds can genuinely be too intense for your day to be enjoyable otherwise!
You can find my full guide to visiting the Vatican and how to plan your day here.
You can find all relevant information and tickets the Vatican museums website.
Visit the Domus Aurea
The Domus Aurea is the extravagant home to Emperor Nero.
The Domus Aurea is Emperor Neros' palace and one of the most interesting archaeological sites in Rome.
The imperial palace dates from the I century AD and historians describe it as the biggest and most lavish building ever seen.
The Domus is stunning, however, do not imagine a castle or a lavish palazzo!
Immediately after Nero's death, his palace was destroyed and it is now an archaeological dig, entirely underground!
As you enter it now, you find yourself in a series of tunnels and spaces, once filled with natural light, and still preserving hte magnitude of the vision of their creator and some of the original decorations.
This is a fantastic attraction to visit on a cold afternoon. You can find my full review of my visit and tips for planning your own here >>>> a practical guide to visiting Nero's Domus Aurea.
Explore Rome's main piazzas
June is a glorious time to visit Rome's famous piazzas.
I always say that the most beautiful thing of all to do in Rome is to allow yourself to get lot in the city center and this is exceptionally true in the good season, when the sun caresses your skin.
However, should getting lost not be your thing, there are some piazzas I recommend you seek out specifically.
You can find here >>> my list of the most beautiful piazzas in Rome
Take an evening walk in Trastevere
Trastevere is one of the most beloved areas of Rome for a pleasant evening out.
Blesses with charming small streets and plenty of outdoor dining opportunities, it is a fantastic place to visit any time of the day for sightseeing but that becomes exceptionally buzzy and pleasant on a summer night, when it acquires a district vacation-destination vibe.
You can read my recommendations on what to see in Trastevere here.
Go to the park
Rome has beautiful parks and in summer they are great places to escape the heat and take a break from Rome's relentless sun.
For grand and beautiful choose Villa Borghese (here you have the famous Borghese Gallery but also the small Rome zoo, a pond and playgrounds for kids) and get off the beaten path and explore Rome's botanical gardens in Trastevere, stunning at this time.
In July, the lovely city's rose garden, on the Aventine Hill, is usually open and is a lovely place for a stroll: it also has gorgeous views over the palaces of emperors.
Go on a food tour
A Rome food tour can be a lovely way to mix sightseeing and food discoveries.
These are food tours worth considering:
In July, the Rome food I recommend you try is:
Insalatone (large salad bowls), very popular with locals and perfect in this season
Straccetti (beef) with rocket salad and pachino tomatoes
Seasonal vegetables such as eggplants, tomatoes, chicory
Seasonal fruit, especially watermelon and coconut
Suppli, fried balls of rice with a melting mozzarella heart
Gelato – find my favorite addresses here
Iced coffee (granita) – find my top place for it here
This is also a wonderful time of the year for al fresco aperitivo!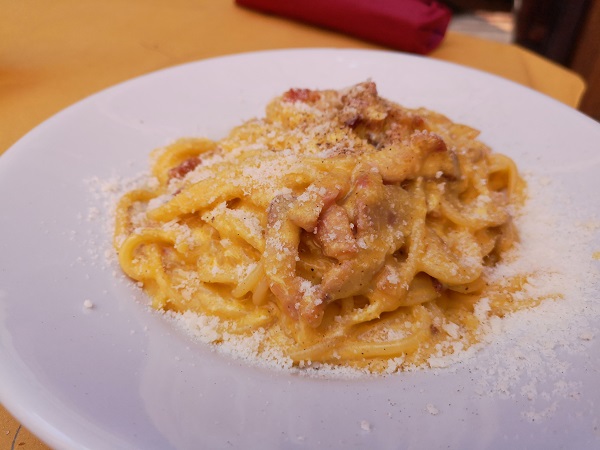 Go to an exhibition
Rome has many exhibitions going on at any given time and July is a great time for museum going.
You can find here an up to date calendar of Rome events in July
Visit the stunning Borghese Gallery
The Borghese Gallery is one of the most beautiful art galleries in the world and a fantastic place to visit in July.
As well as its outstanding sculpture collection, including some of the most famous statues in Rome by Bernini and Canova among others, the gallery has pieces by Masters such as Raffaello, Caravaggio, Botticelli and it is also located I the middle of the stunning Borghese Gardens a real oasis in the July heat!
You can read here >>> my guide to the Borghese Gallery in Rome
Discover Rome churches
Rome churches are so beautiful and rich in art that seeing them is also like seeing a museum. They are also a great place to see in Rome in summer as they tend to be cooler than outside in terms of temperature!
You can find my list of some of the most beautiful churches in Rome here.
Admire Rome Mosaics
Rome is home to stunning mosaics and they are wonderful to visit in summer as they are usually wither in pleasant outdoor locations or in the cool shade of churches.
You can find my curated list of the best places to see mosaics in Rome here.
Enjoy Rome's rooftop terraces and patios
July is the ideal time to enjoy Rome's stunning rooftop terraces.
Whether you are into cocktails, a meal or an ice tea under patio, Rome delivers: some of my favorites are the one at the top of the Rinascente (shopping mall) and the Divinity terrace of the Pantheon iconic hotel, both in the city center and the cafe close to the small romantic pond of Villa Borghese.
You can find my list of favorite rooftop bars in Rome here.
Cycle or walk along Via Appia
July is a wonderful time for outdoor pursuits in Rome and one of the most scenic is taking a bike ride on Via Appia and Parco degli Acquedotti.
This is a large archaeological area on the outskirts of Rome with amazing Roman aqueducts in open fields!
They are stunning and a different way to experience ancient Rome.
This is a wonderful good weather activity in Rome however, be careful as the sun and heat can get intense: make sure you have sun screen, sun hat and plenty of water on you and opt for an early morning cycle – avoid the hottest hours of the day at all costs!
Visit the Baths of Diocoletian
The Baths of Diocletian are the biggest ancient thermal complex in Rome and a fantastic archaeological site to visit in Rome in July.
The site comprises a museum, wonderful chambers (cool and shaded in summer!) and also hosts the beautiful church of Santa Maria deli Angeli e dei Martiri, which is wonderful.
This is a great site to visit any time of the year and a fabulous place to get a break from the heat.
You can find my full guide to the Baths of Diocletian's here.
Go on a day trip
July is a wonderful time to go on day trip around Lazio, the region of Rome.
Some of my favorite this time of the year are to the lakes (Bracciano, Martignano – this is where I got married, trust me: it is gorgeous) or the coast towns immediately to the North and South of Rome such as Santa Severa, Gaeta and Sperlonga, all blessed with lovely sandy beaches.
Not to be missed is also the stunning archaeological park of Ostia Antica, among the most beautiful in Italy.
Go to an outdoor cinema
In the summer, many cinemas turn outdoor arenas and offer delightful opportunities for al fresco evenings in the heart of the city.
You can find info here
Listen to jazz in Villa Celimontana
If you love jazz, you will be delighted to hear that Rome in summer is a good place for jazz lovers. A very pleasant place to be in summer is Villa Celimontana, a beautiful outdoor space that hosts a summer Rome jazz festival.
Go to the events of Estate Romana
'Estate Romana' lit. Roman summer is the name given to a series of events happening in Rome during the summer, spanning from concerts to movie screenings, festivals and talks.
Live music, books and food stalls and many concerts fill Rome's parks, the banks of the river Tiber and the area near caste; Sant'Angelo.
Catch a summer sunset for one of the best sunset spots in Rome
Rome at sunset is magical and summer sunsets in Rome are a special show of orange hues. If you want to admire them in all their beauty, head to one of the best sunset spots in Rome, which we listed for you!
Go to the pool
I know, I know, you are not in Rome to go to the pool but trust me: In July, you will want to be near one! You can find here my selection of the best pools in Rome (community and hotel).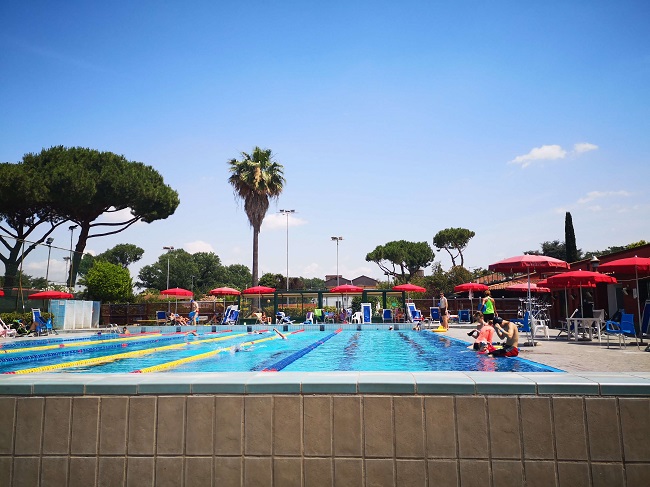 Taste grattachecca
If you want a true taste of summer in Rome, then you need to make sure you taste grattachecca, Rome's summer quintessential sweet treat!
Grattachecca is a cup of shaved ice cream served with syrup and, sometimes, fruit. You can read all about grattachecca and where to find it in Rome here >>> all you need to know about Rome's grattachecca.
July in Rome with kids
July is a tough month for visiting Rome with kids.
The heat is intense for them and can even be dangerous so I usually focus on activities that keep them indoors, in the shade or near water.
If you can, I recommend you change your schedule while in Rome in the summer and embrace local costumes: taking a rest in the afternoon and staying up late to explore the city in the late evening – you will find lots of locals do this and it is a surprisingly pleasant way to enjoy Rome with children.
You can find here >>> my list of 70 awesome things to do in Rome with children. Below, my favorite things to do with kids in Rome in July.
Visit the Colosseum with kids
The Colosseum is at the top of the must see list of many children coming to Rome and it is a fantastic place to visit with them.
There are several ways to go about it, depending on budget and age of kids.
High budget: if budget stretched to this, I highly recommend you get a guided tour with LivTours. they are excellent with kids and their tour includes the underground part of the Colosseum, which is a highlight, and are also a good length for kids. You can find info and ticket here.
If budget doesn't stretch to this, there are very many other options: you can find here >>> my overview of Colosseum tickets for families
No matter how you visit, please make sure you select a time early in the morning or in the evening, to avoid the hottest hours of the day.
Take a golf cart tour with LivTour
A very enjoyable, super child friendly way to see Rome's highlights in July is by joining a golf cart tours.
Unlike standard car tours or bus tours, golf cart tours are able to bring you to smaller roads and piazzas, closed to bigger forms of transport, and they allow you to enjoy the beautiful Rome weather while zooming around on a fun and safe vehicle.
The tours are guided and a fantastic way to see lots of Rome without the kids getting tired.
You can find my favorite golf cart tour for families in Rome here >>> LivTour Golf Cart Tour for Families << <
Go to Explora children museum
Explora is Rome's children's museum and it is a wonderful place to explore with kids. In July, you can escape the heat in its main exhibition space but also enjoy the zipline in the museum yard.
Go to the park
Rome in July is wonderful for time outdoors and the city many parks really deliver in terms of green areas to run around.
Among my kids favorite are Villa Borghese, Villa Torlonia and Villa Doria Pamphili.
Find here >>> my list of the best parks and gardens in Rome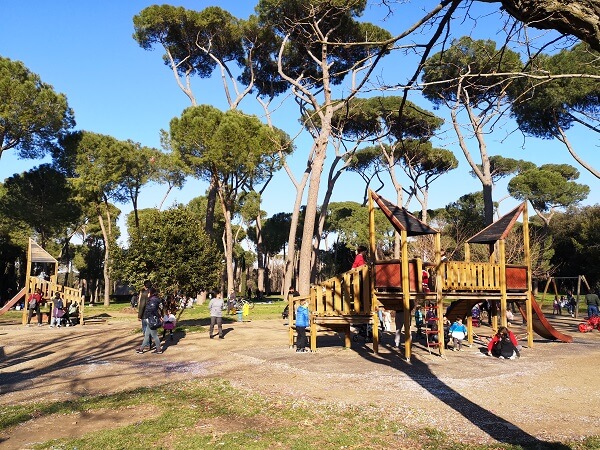 Go to Rome's botanical gardens
Rome has very pretty, very child friendly botanical gardens, perfect for an afternoon outdoors with the kids.
Located in Trastevere, they are scenic, safe and a great place to visit before a delicious dinner in Trastevere!
You can find here >>> our guide to Rome's botanical gardens with kids
Visit Rome's Catacombs with kids
The catacombs of Rome are ancient Christian underground cemeteries and, often, an exciting place for kids to visit.
The fact that they are underground make them feel very adventurous and the history about their construction is fascinating and gripping for kids and adults alike.
They are also much cooler in temperature, than anything on at street level and therefore attractive in summer!
That saids, the catacombs are not suitable for all kids: since they are cemeteries, they may be spooky for kids or even triggering.
Before committing, I recommend you read about here >>> our observations after visiting Rome's catacombs with kids
Go to the pool
Even if your hotel doesn't have a pool, it ispossible to treat your kids to a day splashing about at one of Rome's pools.
You can find here >>> my list of Rome's outdoor pools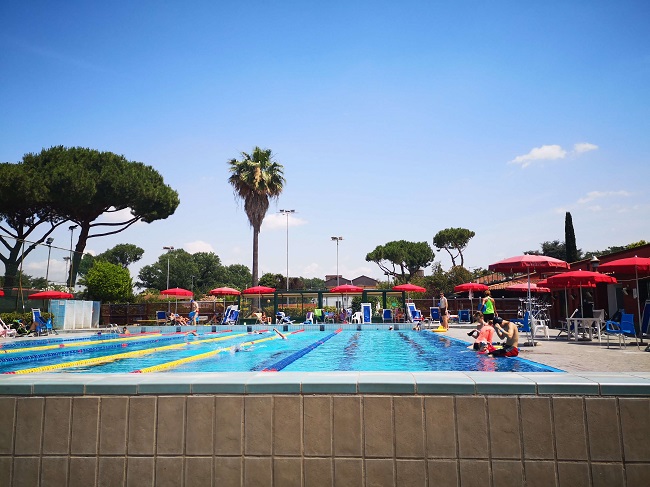 Take an art class
We love art classes for this and one we love is the mosaic making class organised by Arte al Sole.
It is wonderful for craft kids and it is held just beside the city's botanical gardens which are lovely at this time (young kids go free)
Learn to make pizza
For a hands on experience in typical Rome surrounding, we recommend a pizza class. With kids, we did just that with a local pizza class for families followed, of course, by tucking into our own creation.
You can find many more of our recommendations on great family tours in Rome here
I hope you enjoyed this post and it helped you plan your July trip to Rome. Safe travels!