All you need to know for a trip to Rome in August. What to expect from the weather, what to pack and what to do in Rome in summer. Updated for August 2022.
August in Rome is a month like no other.
It is the second hottest month of the year and also the time when locals go on their annual vacation, the so-called 'ferie d'Agosto' and the combination of the two things make the city a strange place to be: a hot, sun-drenched yet not completely charmless ghost town!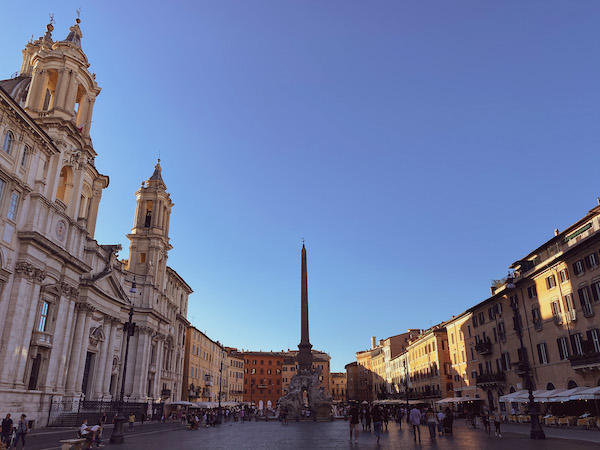 If you can, I recommend you avoid Rome in August for your first visit.
In August in Rome the weather is properly hot and humid, the mosquitoes relentless and the locals scarce, the only people braving Rome's hot streets being tourists.
However, if this is the only time you have to visit Rome, not all is lost. If you know what to expect, seeing Rome devoid of crowds has its charm and summer evening in the city are special!
If you have a choice about when to visit, have a look at our month by month guide to Rome so you can pick the best time.
Please note: this post contains affiliate links and, should you make a purchase through them, we might make a small commission.
Rome in August: is Rome busy in August?
How busy Rome is in August depends on where you look.
Away from the main sights, Rome is not full at all but things change drastically as soon as you get close to Rome's main attractions.
As locals leave for their summer holiday, the tourists are the only people around and, of course, they tend to gather around Romes' tourist attractions!
So the city has a schizophrenic soul: empty in some spots and overly crowded in others!
If visiting Rome in August I do recommend you book your attraction tickets and hotels in advance.
Where to stay in Rome in August
If budget allows, opt for accommodation with a pool: you will be happy to have the option!
Good ones with pool are :
My favorite booking engine for hotels in Rome is booking.com: they have an excellent selection of hotels and great cancellation options meaning if you come across a better deal later, you can change plans with no loss.
The weather in Rome in August
August is the heart of summer in Rome and the summer here is a hot affair.
The average temperature in Rome in August is 24C/75F with a range between 18C/64F to 30C/86F degrees, although recent years have brought temperatures to much higher levels, peaking at 37/38C.
In August 2021, we have just reached a temperature of 38.5C/101.3F!
Usually, you have no rain in Rome in August although when rain happens, it tends to come in the form of heavy tropical style storms that last a short time. Rain in August does not normally pose problems for sightseeing (unlike the sun!)
If you are used to very hot weather, you may think these numbers are not that high and you would be right however, don't underestimate Romes' heat!
Rome is humid so while 32C/78F may seem even pleasant (I know they are for me in other locations), in Rome they feel oppressive. When looking at weather apps, always also look at the 'feels like' field as it may read very different from the objective termometer reading.
Overall, it is safe to treat Rome like a very hot beast: avoid to be out in the sun in the central hours of the day, choose hotels with air conditioning and make an effort to stay hydrated at all times.
You can find my best tips for dealing with Rome in summer here.
Dates of notice in Rome in August
August 15 – August is the month when Romans and Italians in general go on their summer holidays but there is one public holiday worth of notice: the 15th of August, the feast of the assumption of Mary or 'ferragosto'
This is a day off for Italian workers and affects the opening hours of public offices, smaller shops and tourists sites, especially if family run or off the beaten track.
In Rome city center, however, you are unlikely to notice the impact on ferragosto but public transportation may be affected and be less frequent.
Make you have extra time to get anywhere on this day and do remember that local shops are likely to be closed.
Fun fact! The name 'ferragosto' come from the Latin Expression 'Feriae Augustae', festivities established in the 18BC by Emperor Augustus to mark a pause from agricultural labor. In the VII century, the 15th of August started to be a Christian festivity celebrating the Assumption of Mary to Heaven. In current Italian, we call this day 'Ferragosto' or also 'L'Assunzione'. When the 15th falls on a Thursday or Tuesday, often we talk about 'Ponte di Ferragosto' (=Bridge of Ferragosto), when people take an extra day off work to have a longer break.
What to wear in Rome in August
August in Rome calls for summer clothing.
Summer dresses, short sleeve tops, sandals (find my favorite shoes for Rome here) and sun hats should make up most of your wardrobe and you can opt for linen trousers and long skirts for those times when you need a little more coverage (such as when you want to visit a church or the Vatican City: read about the Vatican dress Code here. )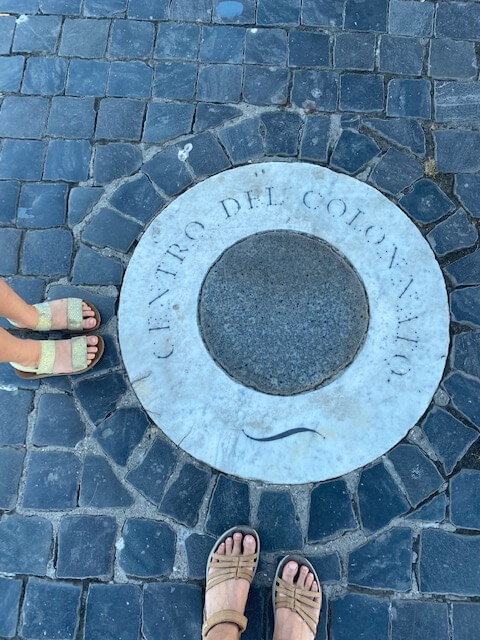 If you are traveling to Rome in July, it is important to pack:
Find our full summer packing list here
Need to know: air conditioning in Rome and Italy in general tends to be much weaker than let's say in the US. While you will find solace in an air-conditioned space in Rome, you will still find yourself in an overall warm environment with no need for cardigans or shawls.
The best things to do in Rome in August
The best things to Rome in August are a mix of carefully selected sightseeing opportunities and cooling down experience.
These are my top picks.
Take a tour of the Colosseum underground tier
The Colosseum is a must see in Rome but it is a furnace in August so you need to plan your visit well, if you want to avoid melting on its sun drenched arena.
To make the most of your visit, I recommend you avoid visiting in the hottest hours of the day (opt for morning or as late in the evening as you can) and make sure you book a full experience ticket.
'Full Experience' means you will be able to access the arena floor but also the underground tier (cool in terms of what you see and temperature) and the second tier, which has an interesting exhibition and some shaded areas.
The best tickets for visiting the Colosseum are here (this is the Colosseum official concession). Should it be sold out, check out alternatives here
Find my tips for visiting the Colosseum here
Take a tour of the Colosseum at night
On specific dates in June, the Colosseum opens its doors after dark.
This is a fantastic opportunity to visit as not just the Colosseum but the whole area is simply stunning all lit up!
You can find info and ticket here
Visit the Roman Imperial Forum at night
The Roman Forum is wonderful but a hard place to visit in August.
The sun here is too strong for a pleasant visit and as much as I love the forum and Palatine hill, I do find it hard to recommend a visit in the summer, unless you go for the last slot of the day, after 5pm (careful planning your time: they officially close at 7.30pm but, in reality, they kick you out at 7pm)
However, this doesn't mean you cannot get a fix of ancient Rome!
If you don't feel like braving the heat, you can opt for a night show in the Imperial Forum, where ancient Rome is brought back to life with a multimedia show of lights and videos against the backdrop of ancient Roman ruins.
Access to the Imperial Fora is on the other side of the road from the main Roman Forum area and offers fantastic views of Trajan's Column too. You can find info about the show here (2022 dates not yet released).
Catch a view of Ancient Rome at night
Another option for the hot season and one of my favorite ways to see the Forum is to admire it from above. Walk up to the back of the Campidoglio Hill and look down: the view over the Roman forum lit up for the night is stunning (day and night!).
This is one of the best views over Rome.
Plan a visit to Rome's Catacombs
The catacombs of Rome are ancient Christian cemeteries developing as a long network of underground tunnels stretching under modern Rome.
Ta catacombs are interesting any time of the year but visiting in summer has an extra advantage: the catacombs are at a constant temperature of 15C/59F – heaven, in this season!
I highly recommend you go see those at San Callisto.
The Catacombs of St Callisto are along ancient Via Appa which is beautiful and feels like a part (perfect for a walk after the visit at the catacombs), they are the biggest in Rome and they have fantastic guided tours at reasonable prices.
You can find tickets here or read our full review here
Another fantastic way to visit the catacombs and Via Appia, is to join this tour: in the comfort of an air- conditioned vehicle, it will lead you to Via Appia, show you some of its most scenic parts (hard to reach on foot in the sun) and the Catacombs of San Sebastiano, smaller than those of San Callisto but very beautiful and interesting.
Visit Nero's Domus Aurea
The Domus Aurea is the palatial home Emperor Nero ordered as his main residency in the I century Ad.
The house is said to have been the biggest, more lavish and beautiful ever built in Rome however, it is now entirely underground!
The visit is very interesting and unique: with the aid of a guide, you find yourself walking along the rooms and corridors of this ancient imperial home, now entirely underground.
In summer, the tour is exceptionally pleasant as the Domus is a pleasant 10C/50F degrees (bring an extra layer, no matter how hot it is outside).
You can read here >>> our full review about our visit to the Domus Aurea and how to visit.
See outdoor opera
Rome has a rich opera program for summer. In July and August, the shows move outdoor in two exceptional venues: the baths of Caracalla and the Circus Maximus.
The Baths of Caracalla are one of the most beautiful archaeological sites in Rome and one of the most imposing. The opera is a great chance to see them lit up – a magical sight!
You can find the summer program here
Visit Castel Sant'Angelo at sunset
Maybe my favorite thing of all to do in Rome in summer is to head for an evening visit to Castel Sant'Angelo.
Often ignored by tourists, Castel Sant'Angelo is stunning and in summer, a real gem: the castle itself is beautiful all lit up and the views from its top are outstanding.
Try get in right before sunset do you can catch views of Rome bathing n the golden hour from the castle top terrace. This is one of the most romantic places in the whole of Rome.
Dates for late opening is 2022 yet to be released.
Visit the Vatican Museums, Sistine Chapel and St Peter's Basilica
The Vatican is wonderful in all seasons and August is no exception.
In summer, I recommend you plan a full day here and take your time, since the heat and the size of the place cannot be underestimated.
I highly recommend you visit the Vatican Museums, St Peter's Basilica and also the Vatican Gardens, all beside each other. You can find my tips for planning a day at the Vatican here.
Summer evenings are also a wonderful time for a stroll in St Peter's square
You can find all relevant information and tickets the Vatican museums website – please note that the current health situation may cause disruption to evening opening.
Visit the Vatican Gardens
June at the Vatican is also a fantastic time for visiting the gardens.
Try secure a ticket as they are fantastic especially towards the start of the month!
You can see what they are like and what the tour includes in >> our guide to the Vatican Gardens <<
Go to church
Rome has stunning churches and in summer, they are not just a feast for the eyes but also a wonderful place to find refuge from the heat!
Among the most beautiful, seek out Santa Prassede, San Luigi de' Francesi, Santa Maria della Vittoria (with Bernini's 'extasis of St Therese'), St Peter in Chains and don't neglect Rome's basilicas: St Peter but also St Giovanni and Santa Maria Maggiore are stunning.
You can find my selection of the most beautiful churches in Rome here.
Explore Rome main piazza's and hidden gems
August is a glorious time to visit Rome's famous piazzas and the best way to do so is with a gelato (find our favorite gelato addresses here) or granita in hand.
Head to Piazza Navona, Piazza del Pantheon, Piazza del Popolo, Campo de' fiori, the Trevi fountain and the Spanish steps but also allow yourself to explore some hidden gems and parks: the protestant cemetery of Rome, at this time, is special and offers wonderful, shady corners for a rest.
Some of my favorite areas to explore in summer are leafy Garbatella, Districts Coppede and Monti, this last one right in the city center.
Go to the park
Rome has beautiful parks and in summer they are great places to escape the heat and take a break from Romes' relentless sun.
For grand and beautiful choose Villa Borghese (here you have the famous Borghese Gallery but also the small Rome zoo, a pond and playgrounds for kids) and get off the beaten path and explore Rome's botanical gardens in Trastevere, stunning at this time.
In August, the lovely city's rose garden, on the Aventine Hill, is usually open and is a lovely place for a stroll: it also has gorgeous views over the palaces of emperors.
Some parks with shaded areas we recommend seeking out are:
Visit the Borghese Gallery
the Borghese Gallery is one of the most beautiful art museums in the world with priceless paintings and sculptures of masters such as Raphael, Caravaggio, Bernini and Canova.
Find here >>> my guide to visiting the Borghese Gallery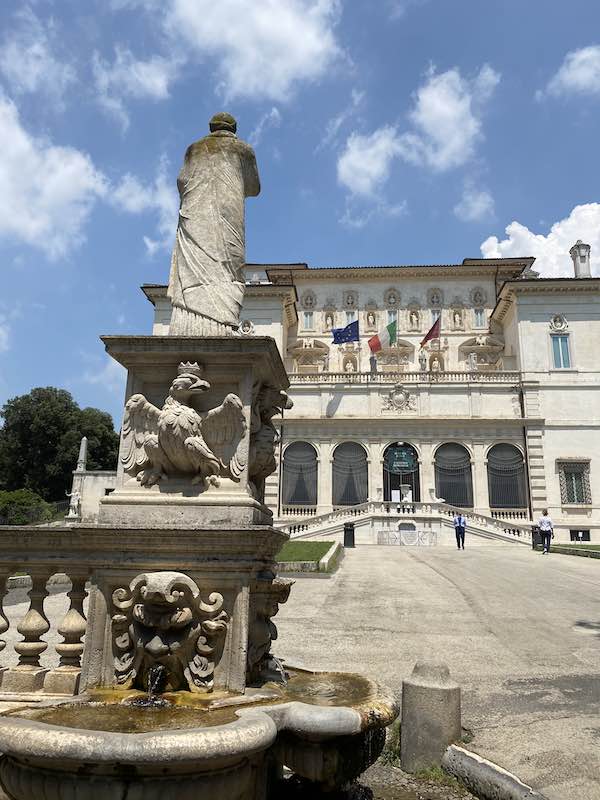 Go on a self-guided Bernini Tour of Rome
Bernini is one of the biggest personalities to have left his mark on Rome's appearance. His hand is behind many Rome churches and piazzas and his work can be admired for free in several parts of the city.
In summer, strolling around Rome to see his work in your own time can give aim and focus to your wanderings. you can learn here >>> where to see Bernini in Rome.
Go on a self guided tour of Caravaggio's Rome
Caravaggio left many masterpieces in Rome, several of which are now visible in either museums of churches.
If you Leo art, you can find here >>> my guide about where to see Caravaggio in Rome
Take an evening walk in Trastevere
I love exploring Rome at night and one of the most pleasant areas for a stroll is Trastevere. Blessed with pretty cobbled streets, stunning churches and a plethora of restaurants and bars, it is a favorite for local and tourists alike. You can find here >>> my guide to the best things to do in Trastevere.
Go on a food tour
A Rome food tour can be a lovely way to mix sightseeing and food discoveries. Again for sun reasons, the best ones at these time are those that happen in the evening.
If you pick one in a historical neighborhood such as Trastevere, Testaccio or Rome's ghetto, they can be a wonderful way to mix eating and visiting!
These are food tours worth considering:
In this season, Rome foods I recommend are:
Enjoy Rome's rooftop terraces
August is the ideal time to enjoy Rome's stunning rooftop terraces.
Whether you are into cocktails, a meal or an ice tea in a patio, Rome delivers.
Some of my favorites are the one at the top of the Rinascente (shopping mall) and the Divinity terrace of the Pantheon iconic hotel, the terrace at the Eitch Borromini and the one of the Otivm hotel.
Advance booking highly recommended for all of them. You can find my list of the bar terraces in Rome and how to book Rome' best rooftop bars here.
Enjoy MAXXI and its stunning patio terrace
A place I love to visit in Rome in August is MAXXI, Rome's Museum of the Arts of the XXI century.
The museum is stunning and, in summer, it also has a fantastic outdoor cafe'/restaurant perfect for a light meal after a visit to the museum beautiful installations.
Go on a day trip
July is a wonderful time to go on day trip around Lazio, the region of Rome.
Some of my favorite this time of the year are to the lakes (Bracciano, Martignano – this is where I got married, trust me: it is gorgeous) or the coast towns immediately to the North and South of Rome such as Santa Severa, Gaeta and Sperlonga, all blessed with lovely sandy beaches.
Find here my list of the best beaches near Rome and tips on how to reach them.
Go to an outdoor cinema
In the summer, many cinemas turn outdoor arenas and offer delightful opportunities for al fresco evenings in the heart of the city.
One of the most typical locations for it is La Casa del Cinema in Villa Borghese but you also have local cinemas turning outdoor venues for the summer, should you find yourself away from the center
Listen to Jazz in Villa Celimontana
If you love jazz, you will be delighted to hear that Rome in summer is a good place for jazz lovers.
A very pleasant place to be in summer is Villa Celimontana, a beautiful outdoor space that hosts a summer Rome jazz festival.
Embrace Rome's dynamic summer nightlife
Rome in summer comes to life in the evening. In normal years, several events take place in venues big and small (Estate Romana) but you have a nice buzz even just in squares and cafes.
The area around the center, around Piazza della Madonna ai Monti for instance, are usually lively but also many local squares come to life, especially with the very young making the most of school holidays.
Go to the pool
I know, I know, you are not in Rome to go to the pool but trust me: in August, you will want to be near one! You can find here my selection of the best pools in Rome (community and hotel)
August in Rome with kids
August is a tough month for visiting Rome with kids.
The heat is intense for them and can even be dangerous so I usually focus on activities that keep them indoors, in the shade or near water.
If you can, I recommend you change your schedule while in Rome in the summer and embrace local costumes: taking a rest in the afternoon and staying up late to explore the city in the late evening – you will find lots of locals do this and it is a surprisingly pleasant way to enjoy Rome with children.
You can find here >>> my list of over 70 things to do in Rome with children. Below, my selection of my favorite child friendly attractions in Rome in August.
Take a golf cart tour with LivTour
A very enjoyable, super child friendly way to see Rome's highlights in August is by joining a golf cart tours.
Unlike standard car tours or bus tours, golf cart tours are able to bring you to smaller roads and piazzas, closed to bigger forms of transport, and they allow you to enjoy the beautiful Rome weather while zooming around on a fun and safe vehicle.
The tours are guided and a fantastic way to see lots of Rome without the kids getting tired.
You can find my favorite golf cart tour for families in Rome here >>> LivTour Golf Cart Tour for Families << <
Go to Explora Children Museum
Explora is Rome's children's museum and it is a wonderful place to explore with kids.
In August, you can escape the heat in its main exhibition space but also enjoy the zipline in the museum yard. Advance booking is necessary. Please note that Explora usually closes for a few days around Ferragosto.
Visit Kid-friendly Roman ruins
Being a tourist in Rome in August is hard work and it is even harder with kids who may find the heat simply too much to take.
There are, however, some attractions that are suitable for summer family sightseeing. Our favorite are:
The Catacombs (see above) – suitable for kids of school age and up, they are ancient Christian cemeteries developing as a long network of underground tunnels under the modern city.
They are perfect to pique the interest of young explorers (you go over 10mt underground, where you find over 500.000 ancient tombs!), a fantastic educational spot in Rome and they are much cooler in terms of temperature than the outside, staying at a pleasant 15C/59F.
The Domus Aurea (see above) – suitable for kids of all ages but most interesting to kids with some grasp of Roman history, this is the home of Emperor Nero, now entirely underground!
Like the catacombs, the Domus is cool in terms of temperature and a great place to mix education and fun: going underground is not scary but it sure makes an effect!
The Circus Maximus – The Circus Maximus is ancient Rome's chariot racecourse and can be fun to visit with kids of school age thanks to a recent initive that used augmented reality to bring the circus back to life!
With the use of VR goggles, you can see the circus as it used to be: the experience is in the late afternoon only, perfect to avoid the hottest hours of the day.
Go to the park
Rome in August is very dry and this means many of its parks are not pleasant green oases but dusty areas with little to offer in terms of respite from the sun, unless you know where to go!
Among my kids favorite are Villa Borghese, which has many things to do for kids under shaded trees such as playgrounds, merry go round, pedal go-karts and electric quad-bikes, Villa Doria Pamphili, with also the option of having lunch in Vivi Bistrot (Picnic baskets available) or Villa Ada, which is very poorly kept but has some nice forested areas with lots of shade.
Go to the pool
You can't go wrong with a day at the pool!
Two my kids adore are Lanciani Tennis Club (via di Pietra Alata) and Circolo di Tor Carbone, near Via Appia (far from the center but it feels like being in the country, it is so relaxing and calm!)
Go to the Botanical Gardens
A cute and safe green area for kids with lots of shade! Find here >>> our guide to Rome's botanical gardens
Take an art class
We love art classes for this and one we love is the mosaic making class organised by Arte al Sole.
It is wonderful for craft kids and it is held just beside the city's botanical gardens which are lovely at this time (young kids go free)
I hope you enjoyed this post and it helped you plan your August trip to Rome. Safe travels!