How to buy Borghese Gallery tickets: 3 best ways to secure entrance to one of Rome's most popular museums for all budgets.
The Borghese gallery is one of the most famous and most beautiful museums in Rome. It is also one of the few Rome attractions you must book in advance.
The Gallery is very popular, it operated on an a timed entrance system and tends to sell out: booking your ticket online is essential and, usually, the sooner you do it the better.
Good to know: Since the Gallery operates on a timed entrance system, you have no queue to enter. So, you don't need to pay over the odds for skip the line tickets! You can buy tickets up to 90 days ahead of your visit.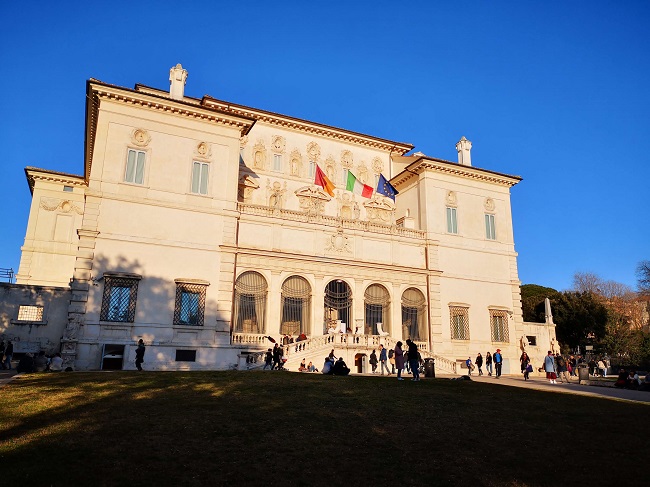 All tickets to the Borghese Gallery are effectively skip the line: since you book them in advance, all you need to do is go to the entrance with your electronic ticket at the designated time, possibly leave bags at the wardrobe (see below) and you're in.
There are three best way to get tickets for the Borghese gallery:
Buy entry tickets from the official Borghese Gallery website
2. Buy entry tickets from Tiqets (pick the standard entry ones)
3. Buy entry tickers from GetYourGuide
If all these options are sold out, the next option is to get a tour.
At the end of this post, I will share links to a couple of good Borghese Gallery tours. However, let's look at how to get entry tickets to to the Borghese Gallery first!
Please note: this post contains affiliate links. Should you make a purchase through them, we might make a small commission.
Official Tickets Borghese Gallery Cost
Standard ticket € 13,00  (last shift € 8,00)
Concession 18-25 years old € 2,00
Free for kids (under 18)
Need to know: there is a 2 Euro booking fee on all transactions. When exhibitions happen within the Gallery, tickets may cost more.
How to get Borghese Gallery tickets from the official Gallery website – best for budget
The cheapest and best way to get Borghese Gallery tickets on a budget is by buying directly from the Borghese Gallery website.
The process is easy but a little tedious: the Gallery makes you click through pages and pages before it actually gets you you the booking screens and then asks you to fill out a pretty comprehensive from with data.
This is surprising if you don't expect it – Rome is a place that loved bureaucracy! If you want a faster way, the other two options are much more streamlined.
To get tickets to the Borghese Gallery from the official site:
>>> Go onto the Gallery site by clicking here. The site should appear in English. Should it default to Italian, use the menu on the top right corner to change language.
>>> On the top right menu, click BUY, then scroll to another button that says BUY TICKET (on the right on desktop; lower on the page on mobile)
>>> One more page of options! On this page, you will see options 'Galleria Borghese' or 'Membership Card Galleria Borghese'. For a one off visit you want "Galleria Borghhese' – then click on Aquista Biglietto (buy tickets)
>>> Scroll to the calendar. The dates that say 'disponibile' have availability (disponibile in Italian = available). Click on your date of choice then click again on biglietti. You will end up on a page that looks like this
>>> Select the time slot you want, then click on Biglietti and you will finally be on the checkout page!
>>> Click on 'proceed con l'acquisto' (Purchase)
>>> On the following page, you will be asked to create and account for TicketOne, which is one of the big ticketing platrofomd in Italy. Follow instructions to do so, include all the data required, complete purchase and receive your tickets straight in your inbox.
Long and convoluted much? Yes, definitely! But also budget friendly.
At a marginally higher price point, you can have a more streamlined booking experience on Tiqets and GetYourGuide.
Let's look at them.
How to buy Borghese Gallery ticket on Tiqets
Tiqets is a well know, reliable ticketing platform and they carry Borghese Gallery entry tickets (as well as tickets for many other Rome attractions).
It is a third party provider with an easy interface and good support: these benefits come with a slightly higher cost (a few euro per ticket); however, the higher cost also means that sometimes it sells out later than the museum itself, making it a great option for last minute bookings.
To buy tickets on tiquest you can:
>>> Go onto their website and search for their Borghese Gallery page (this is the direct link to it. Should it not work, you can use the searcher at the top of the tiqets website)
>>> Scroll down until you get to the entry ticket (unless you want a tour, these are listed on the same page)
>>> Click on book now: wait for date and time options to appear and select those you prefer. Then click 'Go to the next step'
>>> Enter the info provided, click on 'confirm your booking', pay and you'll get your tickets straight aways.
You can also access the ticketing page by clicking on the availability calendar below, pulled directly from Tiqets
How to buy Borghese Gallery tickets from GetYourGuide
The third way to buy tickets to the Borghese gallery is by using GetYourGuide
GetYourGuide is a ticketing platform. Like Tiqets, it is a third party provides so it costs a little more than buying direct. However, again like Tiqets, it has the advantage of a streamlined booking system and an easy interface that makes the little extra cost potentially worth it.
To buy Borghese Gallery tickets from GetYourGuide:
>>> Go onto the Borghese Entry ticket booking page
>>> Scroll to lower down on the page and select the number of tickets, date and time of your booking. Check carefully the options popping up! The simple entry ticket, the cheapest, is not very visible but it there!
>>> Click on Book Now. Follow payment instructions and get your tickets right on your phone.
You can also select your tickets by using the availability calendar below, served directly by GetYourGuide
Best guided tours of the Borghese Gallery
Private Borghese gallery Tour (expensive but my top choice for quality and personal attention) – an outstanding private tour perfect for art lovers who want to experience the masterpiece of this collection with an expert guide. the tour is avaialable in English, French, Spanish, Portuguese, and Italian (ask at the time of booking if you need a language other than English)
Group guided tour – tour of the Borghese Gallery with a group of up to 15 participants, held in English by a live guide. Headsets provided
How to get FREE tickets to the Borghese Gallery
Yes, you have read that right: in specific circumstances, you can get Borghese Gallery tickets for free!
The Borghese Gallery participates in the initiative that sees many museums and cultural attractions in Rome FREE on the first Sunday of the month.
In 2023, the Borghese Gallery is free on the first Sunday of the month from the 3rd of April. On these dates, tickets are free but must be booked in advance to secure a slot: there is a booking fee of 2 Euro.
To secure free ticket to Borghese Gallery you can ring +39 06 32810 (Line open Monday to Friday 9.00 am-6.00 pm) or book on fate official website by clicking on buy/Acquista
Borghese Gallery opening hours, address and how to get there
Address: Piazzale Scipione Borghese 5, 00187 Rome (Inside the Borghese Gardens)
Opening Hours
The Gallery is open from Tuesday to Sunday from 9 a.m. to 7 p.m. (last entrance at 5.45 p.m.)
Closed on: 25th December, 1st January.

How to get there by public transportation
From Termini station by bus
910 (direction: Mancini)
92  (direction: Marliana)
Get off at: Pinciana/Museo Borghese stop
From Flaminio metro station (Line A) by bus:
89 (direction Bressanone/ S.Agnese Annibaliano)
490 (direction Stazione Tiburtina)
495 (direction Stazione Tiburtina)
61 (direction Balsamo Crivelli)
160 (direction Montagnola)
Get off at: San Paolo del Brasile stop
From Barberini metro station (Line A) by bus:
63 (direction Rossellini) fermata Pinciana/Museo Borghese
83 (direction Largo Valsabbia) fermata Pinciana/Museo Borghese
61 (direction Villa Borghese/ Washington) stop S.Paolo del Brasile
160 (direction Villa Borghese/ Washington) stop S.Paolo del Brasile
52 direction and stop Pinciana/ Museo Borghese
53 direction and stop Pinciana/ Museo Borghese
See also
Our complete guide to the Borghese Gallery in Rome
Our guide to the Borghese Gardens in Rome
Our essential guide to seeing Bernini's work in Rome