All you need to know about Rome's Museum of Illusions: what to expect, how to visit, why your kids will love it.
The Museum of Illusions of Rome is a newly opened, fun, interactive museum devoted to perception and how our senses make sense of the world around us.
The museum is an experiential space with immersive rooms and exhibits that trick your eye and make you challenge your perception of reality.
Here, you can see a person on a ceiling, spider-style, serve someone's head on a plate (whitout hurting them, of course!), play with symmetry, and even believe you are falling even when you are not!
Intended as an immersive and experiential space, the Museum of Illusions of Rome is one of the best attractions in Rome for kids especially and a fantastic indoor activity for a rainy day.
I visited the museum recently with my two kids, 10 and 12 years old, and we all loved this.
This is how we got on and how you can visit too (like always, we paid for our own tickets and this review is unsolicited and unbiased).
See also:
>>> Best things to do in Rome with tweens
>>> The best things to do in Rome with teens
>>> What to do in Rome on a rainy day
Heading to Rome with kids? Don't forget our Guide top Best of Rome with kids is available on Amazon! A practical, carry with your guide with all our top tips to visit Rome with kids, children attractions in Rome and scavenger hunt for kids and tweens in Rome. Get it here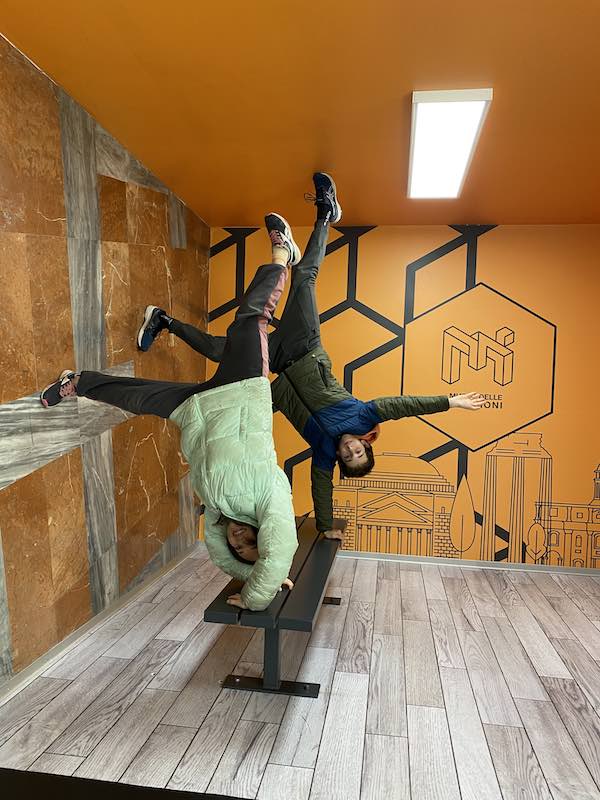 Please note: this post contains affiliate links. Should you make a purchase through them, we might make a small commission.
Rome's Museum of Illusions address and opening hours
The Museum of Illusions in Rome is on Via Merulana 17, 00185 Rome.
Opening hours are:
Monday-Thursday 10.00 – 20.30 (last entry at 19.30)
Friday- Sunday 10.00-21.00 (last entry at 20.00)
Booking is mandatory for visits on Friday, Saturday and Sunday as well as on public holidays.
However, I highly recommend you book also on weekdays as the place is very popular!
You need about 1h for the whole museum.
How to book tickets for the Museum of Illusions in Rome
The best way to book tickets to Rome's museum of Illusion is by booking online using their handy time-slot system.
The museums used ticketing platform Tiqets and you can select date and time of your visit.
According to the museum website, you must book at weekends and can drop in any other day.
However, in our experience, the museum tends to get busy especially in the afternoons and anytime schools are off.
Therefore, I highly recommend you book your tickets in advance.
Overall, you need about 1 hour to visit the museum, possibly a little longer of queuing for some of the attractions.
Get your timed entrance tickets here.
How to get to Rome's Museum of Illusions
Closest metro station: Termini
Closest buses: all that stop in Termini and buses C3, F2 16, 50, 71, 75, 105, 360, 590, 649, 714
Taxi: there is a taxi station just beside Santa Maria Maggiore church
Cost and tickets
Adults: 18 €
Kids (6-15 years old): 12 €
Kids (0-5 years old): free
Family ticket: 45 €
2 adults + 2 kids (age 6-15)
2 adults + 1 child (6-15 y.o.)
Students (High School and University, with student's card): 15 €
Over 60: 15 €
Disabled visitors: 15 € (includes one companion)
The museums is almost entirely stroller friendly: due to the nature of some exhibits, some of the rooms/installations cannot be accessed with a pushchair.
Best things to see in Rome's Museum of Illusions
Rome's Museum of illusion develops over one floor: some of the exhibits are exposed in the main area, while others have dedicated rooms.
Among the many my kids and I loved, we felt the best illusions where:
The anti-gravity room, where you can pose for photo hanging form the ceiling!
This is one of the first room we visited and one of those we enjoyed the most. To fully appreciate this one, you need a camera on you (the phone is perfect) and be creative about your posing – it took us a while to get it but when we did, we couldn't get enough of it!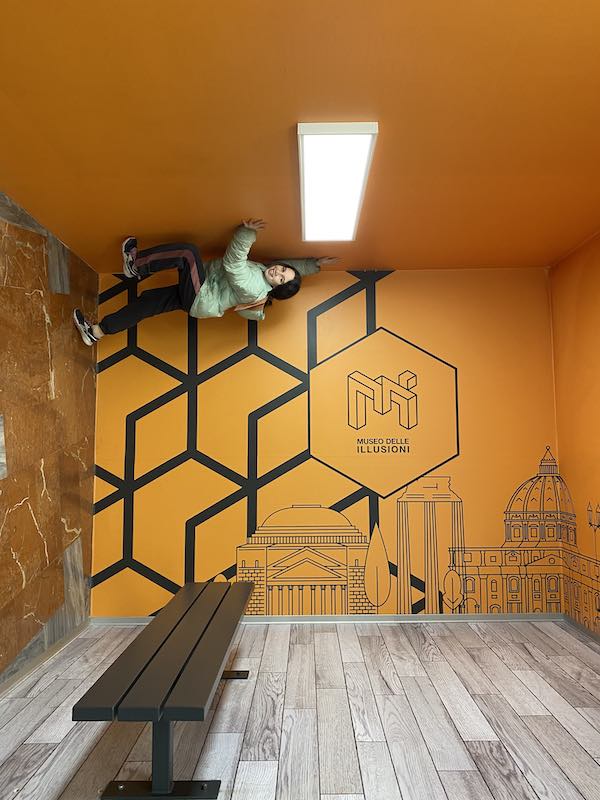 The table you can serve your head on
if you ever wanted to serve someone's head on a platter, this is the exhibit for you!
We won't reveal how it is done, but lets' just say you can make your body disappear. Super cool!
The bottomless pit
This one is slightly freaky but we loved the illusion of jumping into a bottomless pit and take a photo of the endeavour!
The Vortex Tunnel
The Vortex Tunnel is one of the most immersive of all rooms and one you want to be a little careful with, as it may give you portion sickness!
Again, without revealing too much, this is a room that will challenge your perfection of your position in space, thanks to a combination of light and movement.
This was my son's favorite rooms and one he kept going back to over and over again. I could only do it ones before feeling easy!
The big-small room
Another fun room where you can be a giant or a tiny creature!
Other installations we loved
While the installations above were our favorite, the museum has many more smaller attractions that are fantastic to explore.
Among the many, you will find panels that challenge your perception of size, kaleidoscopes that split light creating incredible patterns, light beams that change color as you move and a lot more.
Overall, we found that one hour in the museum was time very well spent and we loved to have discovered such a fun place to bring the kids that is not linked to sightseeing or history – we love sightseeing in Rome with the kids but sometimes they just want to play and have fun and this museum is ideal for that!
What to see nearby
Rome's museum of Illusions is in the city center, close to:
Termini Station and bus/ metro stop
Santa Maria Maggiore, one of Romes' most famous churches and Papal Basilicas
Piazza Vittorio Playrhound, one of the newest playgrounds in Rome city center
The Colosseum – a 20 minute walk but generically in this part of town (you can walk to it across the option Hill, which is lovely)
Arch of Gallieno, one of Rome's monumental arches
Where to eat nearby
Panella – bread, pizza, pastries etc Address: Via Merulana 54, 00185 Rome
Molino bakery and Cucina – pasta, pizza, platters, etc Address: Via Merulana 281, 00185 Rome
Regoli pasticceria – the best place in Rome for maritozzi (cream filled pastry) Address: Via dello Statuto, 60, 00185 Rome
Casa Dante – plates, pinsa, aperitivo Address: Piazza Dante 8, 00185 Rome
What age is Rome's Museum of Illusion for
The Museum of Illusion of Rome is suitable for all ages.
However, we felt it was particularly suited to tweens and teens. Primary school kids can also enjoy it; I believe toddlers however would not get as much out of it.
How to make the most of your visit to Rome's Museum of Illusions: our tips
My two best tips for a visit to the Museum are:
Book and select a morning slot during the school year, so you can go when there are low crowds.
At busy times, you need to queue for photo opps – since some attractions are best enjoyed via a lens, long lines can ruin your experience.
Bring a camera! As mentioned above, some of the illusions need or are enhanced by the use of a lens. Make sure you have a phone with you!
How to visit Rome's Museum of Illusions with kids – pin this!