Visiting Rome with teenagers: fun things to do and travel tips for the perfect family stay. Tips and ideas for enjoying Rome with teens.
Rome is a great city to visit with teens.
Beautiful, busy and varied, Rome is an endlessly exciting place.
If your teen is already excited about visiting Rome, the city is sure to deliver. Rome's historical sites and charm are every bit as fabulous as they expect them to be, and more!
If you have a less excited travel companion however, Rome also works!
Historical sites, Instagram worthy spots, incredible fashion and shopping opportunities, fun rides on Vespas: these are only some of the fun activities for teenagers in Rome and make for great parent-teen bonding time.
In previous articles, we have looked at things to do in Rome with kids, especially younger ones.
Today, I will share the best things to do in Rome with teenagers and young adults.
I include tips for visiting Rome's main attractions with teenagers, best tours and fun things you can plan with kids aged 13 to 19.
I trust Rome has enough teen-friendly attractions to keep even the hardest to please teenager entertained!
These are my favorite teen-friendly activities in Rome.
Please note: this post contains affiliate links and, should you make a purchase through them, we might make a small commission.
Fun things to do in Rome with teenagers
My favorite things to do in Rome with teens mix sightseeing with teen-friendly experiences that will make them feel involved and stimulated.
Go on a free walking tour of the city
A free walking tour is a fantastic way to get you and your teens acquainted with all Rome has to offer.
Curious teenagers will love getting to know the lay of the land with a local guide and teens who are not sure Rome will have much to offer will have the chance to get a glimpse of how much there is to see and do here.
This is a fantastic activity I recommend for your first day in Rome.
As well as gaining a basic understanding of the city's layout and seeing Rome must see sights such as the Pantheon, Piazza Navona and the Spanish Steps, this will be a great opportunity for your teens to get ideas on what they may like to see better later in their stay.
You can book your free Rome walking tour here.
Go on a bike tour
Rome is not a very bike friendly city. However, there are some areas that are great on wheels.
The best way to take Rome by bike is by joining a tour such as this one.
You can choose between a standard or electric bike (I highly recommend the electric one – don't forget Rome is on seven hills!) and you can pick the area that interests you the most among the three available:
Rome City center – perfect to see Rome's main sites and you don't mind cycling on busy city streets.
This is suitable for older teenagers especially who may find the city exciting.
Villa Borghese – historical park in Rome City center, perfect especially for younger teens, who can feel safe in the car-free roads of this park. Find here >>> our guide to Villa Borghese with photos
Appia Antica – ancient consular road connecting Rome to the South of Italy, this is now a wonderful area that mixes historical sites and a fantastic country feel.
Suitable especially for older teens due to to part of the road seeing fast traffic – an electric bike is your best choice for this area. Find details about the Via Appia Bike Tour here
See a Roma or Lazio Match at Stadio Olimpico
Rome has two big football teams Rome and Lazio.
They share the same stadium, Stadio Olimpico and matches there are great fun.
The best tickets to get for families with teens are in the 'family section' – there are good seats and they are close enough to the action to be exciting yet far enough from the more intense supporters to be safe.
The site we used to book thickets for us and hte kids was the Rome one >>> find matches and tickets here.
The best matches to go for are those at the beginning of the football calendar and against smaller teams.
The Rome-Lazio Darby is charged with rivalry between supporters so I advise against getting tickets for that one, especially if this is your first time in Rome or at the stadium.
Go on a food tour in Trastevere
Trastevere is a hip, bohemian and beautiful part of Rome and teenagers usually love it as it has a fun and alternative vibe.
You can explore Trastevere during the day on your own following our Trastevere itinerary or you can tap into the fabulous food establishments of this area by joining a food tour.
This is great fun for teens who may enjoy discovering local eateries as well as tucking into the foodie side of Rome.
You can choose between morning and evening tours.
With older teens, I recommend the evening ones as they will allow them to enjoy the lively atmosphere of this cool neighborhood, famous for its dynamic nightlife.
Good to know: it's a pretty safe area, nightlife here is mostly restaurants and street performers, not loud nigh clubs.
Food tours usually involve the optional tasting of wine to accompany dinners: the drinking age in Italy is 18.
You can find here >>> price and details of a cool food tour in Trastevere
Explore Rome's Jewish Quarter: il Ghetto
Rome's Jewish ghetto is a stunning, historically significant and enchanting part of Rome.
A first visit to Rome's Jewish ghetto is often emotional and a fantastic opportunity to talk about your kids about the history of the Jewish community, the events that preceded the II word world and, the horror of the racial laws and the Jewish prosecutions in nazi-fascist Rome.
You can find our essential guide to the Jewish Ghetto of Rome here.
You can also explore this area with a guided walking tour such as this one, with an optional visit to the Great Synagogue and Jewish Museum.
Go on a Vespa tour
A Vespa tour is a thrilling experience you can enjoy with your teens in Rome.
There is nothing quite like seeing the city while zooming around with the wind on your face and the sun on your skin and vespas are so iconic, they are great to take photos with!
Traffic in Rome can be insane so you want to consider your options: depending on age and what you are familiar with, you can just rent a scooter or get one with a driver.
Have afternoon tea in Rome
Afternoon tea is not an Italian tradition. However, Rome has been the city of choice of many English visitors so now Rome happens to have delightful tea houses!
One of them, Babingtons, offers the proper English High Tea experience but you have several other addresses that can be fun for an unusual afternoon with teenagers in Rome.
You can read here >>> our guide to tea and afternoon tea in Rome
Go shopping
Rome is fantastic when it comes to shopping os if you are in Rome with teenagers who love fashion, a shopping spree here can be a lot of fun.
Rome has a mix of designer stores, high street shops, independent boutiques and markets.
Great areas for shopping in the city center are Via del Corso / Via Condotti area, also ), Monti (vintage shops), Via Cola di Rienzo (high street), Via del Governo Vecchio and Via dei Giubbonari.
You can find my guide to shopping in Rome here.
Sip aperitivo
Sipping aperitivo in one of Rome's most beautiful piazzas is one of the best ways to take in the city while resting after a long day sightseeing.
Aperitivo comes in both and non-alcoholic forms and it is easy to enjoy in Rome with teens of any age.
Younger teens can order anything from water to juice, coke and other sodas, while older teens may want to get more adventurous and get typical Italian aperitivo drinks such as aperol soda or crodino (both alcohol free).
In summer the best places for aperirtivo are rooftop terraces.
Depending on what you like, you can opt for casual, relaxed environments or more upscale experiences that will require dressing up and will make you feel like a celebrity.
You can find my list of the best rooftop bars in Rome here.
Discover Rome by night
Getting up late in the morning is not a problem in Rome with teens as you can make up for lost time by exploring Rome in the evening!
Rome is stunning at night.
The city' beautiful piazzas, churches' facades and many fountains are at their very best when illuminated and the atmosphere of Rome's cobbled streets at sunset and after dark is rather magical.
Rome City center is safe enough for taking a stroll in the evening however, you can also get a guided tour like this one.
I feel this is the best way to enjoy Rome at night especially if you are not used to big cities: it takes away the stress of finding your way after dark and you will be sure to see the very best of the city.
Go on a Rome ghost tour
If you are in Rome with teenagers who love ghosts and spooky stories, then you may opt for a Rome ghost tour.
With well over 2000 year of history, Rome has its fair share of legends and several corners of the city are said to have their permanent ghostly resident!
A guided tour like this one is the best way to get to know about them.
Take envy-inducing photos on a Rome photo tour
Rome is a stunning city and your teens will have no issues finding fantastic photo spots to make their social media feel loon envy-inducing or plumping up their art portfolio with unique images.
To take good photos in Rome all you need is to look around you: beauty truly is everywhere.
However, there is no doubt that she areas are more photogenic than others! I have listed some of my favorite Instagram-friendly spots in Rome here.
If you prefer some guidance and want to mix photography and sightseeing, then your teens can also enjoy a photo tour like this one.
Admire Rome street art
Rome is mostly famous for ancient, traditional art however, there are several areas with incredible street art too!
Pigneto, Garbatella, Ostiense and Tor Marancia area great places to discover a different, off-the beaten-path side of Rome and have some stunning murals.
The best way to visit is by joining a street art tour such as this one.
If you have a teen in Rome who likes street art or even just wants to break away from traditional museum experiences, that I believe this tour can be fantastic for them.
Cinecitta' Studios and Cinecitta' World
Cinecitta' is the historical filming studio of the city and a great place to visit in Rome with teens.
Nowadays, you can have two experiences in Cinecitta', very different from one another: the studios and Cinecitta' World (TV and Cinema themes park)
The studios are not as fancy as those in Hollywood so, depending on what you are used to, some management of expectations may be needed!
However, it is fun to see the movie sets and if your teens are into old Italian movies and have seen some before the trip, this will be a special day.
Cinecitta' World is an amusement park so it can be great for teens who want to have an afternoon of sheer fun on rides and shows. Find tickets and info here.
Like for the studios, some expectations management may be needed: this is not Disney so, if you are used to theme parks with bells, whistles and seamless organization, this may leave you unimpressed.
Visit the Colosseum, Roman Forum and Palatine Hill
If this is your teens' first time in Rome, then I highly recommend you visit the Colosseum, the Roman Forum and the Palatine Hill.
The Colosseum is awe-inspiring and beautiful at any age and one of those places that I call mood-proof.
No matter how you feel before you go in, once you are into the Colosseum, awesomeness take over: it is tough to stay mad at the world in a place this beautiful and mighty!
The best Colosseum tour to take with teens is the one that includes the underground area where the animals and gladiators would have waited for their turn to fight.
The Roman Forum and the Palatine are part of the same archaeological park as the Colosseum and they are equally beautiful albeit in a very different way.
While the Colosseum is imposing and mighty the Roman Forum and the Palatine hill are more dreamy and soothing and feel like a beautiful park.
They are a fantastic place to learn history but also to enjoy some fresh air, take beautiful photos and admire some of the best views over Rome.
You can find photos and info in our Visitors' Guide to the Roman Forum and our Visitors' Guide to the Palatine Hill
Access to the Colosseum is ticketed and must be booked in advance. Tickets include entrance to the Forum / Palatine Hill area.
To visit the Colosseum with teenagers, I recommend the following tickets/ tours:
Colosseum Tour with Arena Floor, Underground and Roman Forum and Palatine Hill OUR TOP PICK – this is one of the very few tickets that include access to the underground part of the Colosseum.
This is one of the most interesting and exciting parts of the monument. It includes the passages that hosted the gladiators and where the props for the shows were kept.
Colosseum, Roman Forum, Palatine Hill Entry ticket by GetYourGuide – this is our top pick for a good value entry ticket to Ancient Rome, offering free cancellation up to 24hours before the tour.
Parco Colosseo Full experience ticket – value ticket allowing access to Colosseum arena floor, underground area and Roman Forum /Palatine Hill.
This is most suited to older teens who may be happy to navigate the Forum with the free Forum App rather than a guided tour.
Please be advised that this tour has the worst cancellation policy in this list: please only book this ticket if you know your plans are set as there is no flexibility for changing time/day once the ticket is issued.
Climb St Peter's Dome and Visit the Vatican with your teens
The Vatican has exceptional meaning for religious visitors but it is a beautiful and evocative place regardless of your background.
Teens are likely to enjoy a few things in particular: the Dome climb to the very top of St Peter's Basilica, the basilica itself, and the stunning St Seter's square.
The Vatican Museums are likely to only be a hit if your teen loves art however, the Sistine Chapel is inside the museum and, like the Colosseum, a must see.
The best tickets to visit the Vatican with teenagers are:
St Peter's Dome to Grottoes tour: a great tour that brings you to the top of St Peter's Dome (the views from here are incredible) and then helps you discover the secret of St Peter's basilica and its underground grottoes.
Perfect especially if you are not planning a visit to the Museums – please note that this tour does not include the Sistine Chapel.
Vatican Museum and Sistine Chapel Tour – a great way to see these vast museums with an expert guide.
Vatican Museums and Sistine Chapel night tour – a great tour of the Vatican for older teenagers
Vatican Museums and Sistine Chapel entrance ticket by GetYourGuide: perfect for visiting the Vatican in your own time
Explore Castel Sant'Angelo
Castel Sant'Angelo is one of the most peculiar buildings in Rome.
Perched on the side of the River Tiber, the castle was initially the mausoleum of Emperor Hadrian and then turned into a Papal Fortress and castle.
A visit to the castle is a sure it with teenagers: the history, views and mystery associated with the place are unique and entertaining – make sure you book a guided tour such as this one (it has a discounted price for teens) for the best experience.
You can see photos and read about this attraction here >>> our guide to Castel Sant'Angelo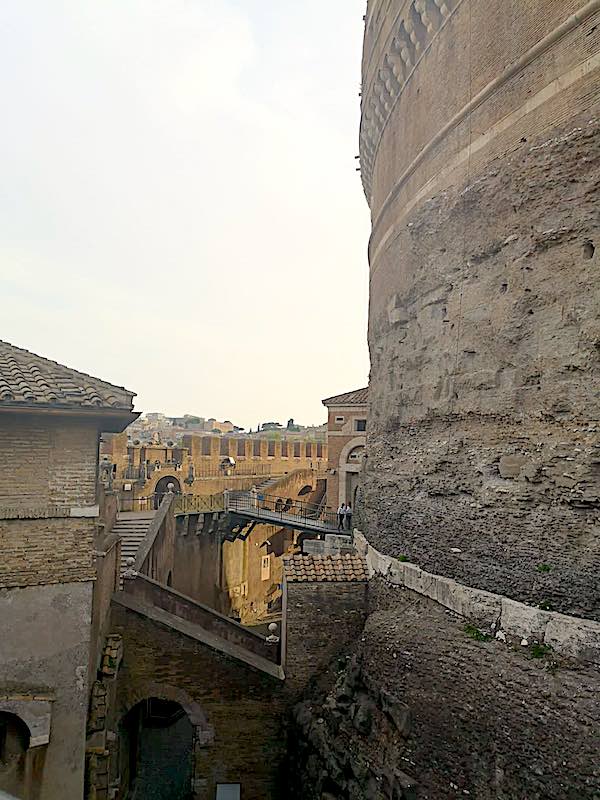 Visit Nero's Domus Aurea with teens
One of the most interesting archaeological sites in Rome is the Domus Aurea, the incredible and lavish palace of Emperor Nero.
At the time of its construction, the palace was the biggest and most luxurious ever seen in Rome.
However, when Nero died and his memory condemned, the palace fell into disgrace and got buried underground!
Nowadays, you visit the Domus Aurea as an underground site, walking along windowless tunnels that still retain some of the incredible decorations that once shone here.
This is an exciting place to visit a one of my favorite places to visit in Rome with teens who want to see a real dig, love archaeology and excavation work.
You can find my review of our visit to the Domus Aurea here.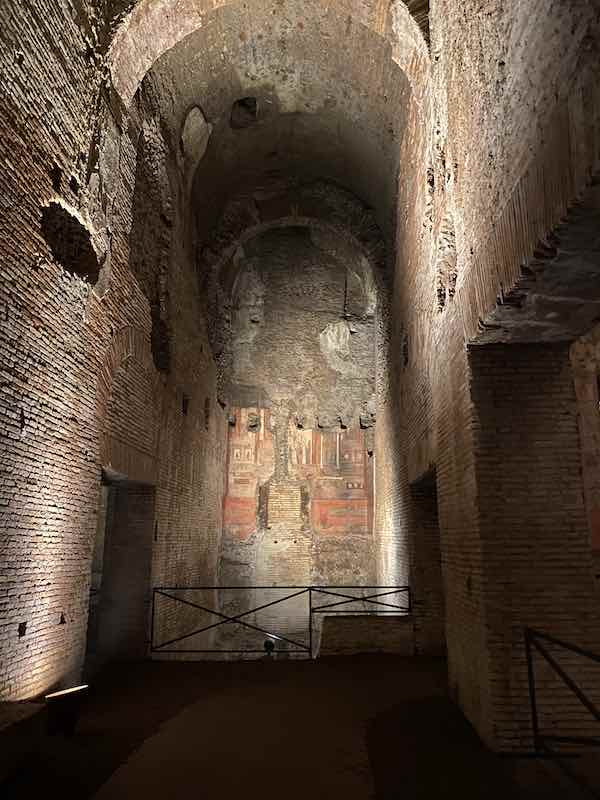 Visit Rome's catacombs with teens
The catacombs are another very interesting underground attractions in Rome, easily one of the most exciting in the city for teens.
The Rome catacombs are early Christian underground cemeteries excavated under the city: they develop as a large network of tunnels with layers and layers of early Christian tombs from people of all walks of life.
There are several catacombs in Rome and those I love the most are the Catacombs of San Callisto.
Located along Via Appia, they are the largest in Rome and are accessible by guided tour. Find price and tickets here.
Where to stay in Rome with teens
The best area to stay in Rome with teenagers in the city centre, namely the area between the Colosseum, Pantheon and Piazza Navona.
Staying in Rome city center outs you close to all main attractions and means you can safely walk back home a little later at night, making the most of the nice Rome evening to have dinner out and explore the city after sunset.
Hotels I like for families with teens in Rome are:
Otivm Hotel, 4 star hotel – lovely, boutique style hotel with a fantastic rooftop terrace, perfect for easy aperitivo with a view that will make them look up from there phone!
Hotel Kolbe, 4 star hotel – nice, modern hotel in stellar location close to the Forum and the Colosseum
Double Tree Hilton Monti Hotel – a great, new Hilton Hotel in a perfect location in the Monti district, close to the Colosseum and the Forum. Interconnecting rooms and family suites make this a great Rome hotel for larger families or for families with teens who want more personal space.
Villa Agrippina Gran Melia – 5 star, luxury hotel with spectacular pool and park. If budget is not an issue, this hotel is guaranteed to wow your teens and you: one of the best addresses in Rome.
See also >>> our complete guide to family accommodation in Rome (hotels suites, apartments)
How to get around Rome with teenagers
If you are staying in Rome City center, you are likely to be able to walk everywhere and reach most Rome attractions on foot.
For the occasional off the beaten path location, you can easily catch a bus or the metro: you can find our guide to public transport in Rome here.
What to pack for visiting Rome with teenagers
Mostly: shoes, camera and charger! For all sensible things to pack for Rome, you can find my complete packing list for Rome in each season here.
Rome with teenagers: pin this!