Packing list for Rome in March: learn what to wear in Rome in March to be comfortable, stylish and get the dress code right.
An Italian saying goes 'Marzo pazzerello, esce il sole, prendi l'ombrello' which translates into: Crazy March, the sun comes you, take the umbrella!
The rhyme is cute but it is also accurate. When packing for Rome in March, the words to remember are: changeable weather!
Your bags for Rome in March should have a variety of things, rainging from short sleeve tops to sweaters, jackets and scarves.
If this sounds daunting, in terms of packing light, do not worry, we are here to help!
In this packing list for Rome in March, i detail what you need and what you don't, so you can minimize luggage size without compromising on comfort and style.
Please note: this post contains affiliate links. If you make a purchase through them, we might make a small commission at no extra cost to you.
As Amazon Associates, we earn commission on qualifying purchases.
How cold is Rome in March
March is when winter officially ends and spring starts (21st March).
This means that March sees slowly but steadily increasing temperatures as the month progresses and you can expect the feel to go from chilly to mild and pleasant.
Overall, you are unlikely to come into extreme weather in Rome in March: how chilly will find it partially depends on what you are used to, but freaky weather events aside, this is a time of mild weather.
It may, however, rain, so being ready for wet days is paramount.
| | | |
| --- | --- | --- |
| March in Rome Max Temp. | March in Rome Min. Temp. | Avg. rainy days |
| 16C / 61F | 6C/ 43F | 7 |
Packing for Rome in March: style guide
Like the rest of Italy, Rome is known for being stylish, but you don't need to splash out on the latest designer clothes to feel like a local.
Romans, and I know because I am one of them, are first and foremost practical.
Our city is stunning but it has cobbles, impossible parking and occasionally pouring rain, so we like to be prepared!
I will go into more details later in the post, but when packing for Rome in March:
Opt for good walking shoes with rubber soles. they will keep you comfortable while sightseein (see below for tips on good models)
Save space and leave heels at home
Pack good quality basics and dress them up with accessories. Choose well fitting jeans or trousers, tailored skirts, wrap around dresses, chinos or polo shirts. A good quality basic is more Italian than a fancy brand
Opt for a nice top / short for fancier dinners out and dress it up with a necklace or blazer. You don't need your best Sunday dress, unless you are heading to a wedding or a special ceremony.
Dont forget to have a jacket and an umbrella, you will need them
What to pack for Rome in March: my essentials
Here are the staples of my Rome in March wardrobe
Good quality jeans / pants
Jeans are very common in Rome and worn by people of almost any age.
While there is no real cut off, they are most common in very young people and people up to fifty or so.
People above this age usually opt for different materials, as they give a more refined, classy look.
If you opt for jeans, I recommend you embrace the Italian way and go for well fitting ones.
Boyfriend jeans and purpusely baggy clothing are ok as a they are a style choice.
Your battered, ill fitting jeans that are unflattering but comfortable, on the other hand, are not as versatile and will make you stand out in many places are too dressed down.
In 2022, pretty chords and cropped trousers have made a huge comeback – if you love boyfriend jeans or capri pants, this is your year!
Jeans and chinos are perfect for men too.
Kids can wear jeans, trucksuit bottoms and legging: traksuits are not ideal for evenings out, but no one will bat an eyelid in most places.
For versatility, I prefer soft-waist, chino-style pants for boys and baggy styles for girls.
Long and short sleeved tops for layering
Layers are a traveller's best friend in March in Rome. So I usually bring dark coloured long sleeve tops and brighter short sleeve ones that I can mix and match.
If, like me, you spend long stretched of time in colder climates (I am thinking UK, Ireland etc), you can probably do without the long sleeve ones but I would pack at least one.
One day-to-night top / shirt
My favorite travel item is a nice top that can go from day to night.
This can be as simple as a black, navy or toupe top, a sparkly one or a god shirt or polo shirt for men.
In Rome, you don't need very fancy clothing but you won't be overdress easily either so anything that falls under 'business casual' style will work even got sightseeing.
A casual dress
I love wearing dresses when travelling.
My favourite types are simple dresses I can dress up or down with boots or flats. However, in March in Rome, you will likely feel cold on your legs so my advice is to do like the locals and embrace tights!
Italians love tights and you see them in all colours, worn at all ages.
In fancier restaurants, you may want to avoid excessively bright colors, but black, brow and grey tights are very common.
A good crossbody bag
The best bag for Rome is a medium size crossbody bag.
Opt for one tha tis big enough for daily essentials but not so big to be excessively heavy and a hindrance when visiting museums.
Make sure it is big enough for your travel wallet, documents, phone and camera charger and ideally a reusable water bottle and guide book.
I do not find an anti-theft bag a necessity in Rome, especially if you are used to big cities. Make sure, however, you bag does close properly and keep it close to you at all times.
A light jacket or trench
Temperatures rise steadily in Rome in March but you will need a jacket. Most likley, yo will be able to take it off during the day or at least leave it open ut you will want to zip up in the evening.
Make it rain resistant: in Rome, when it rains it pours!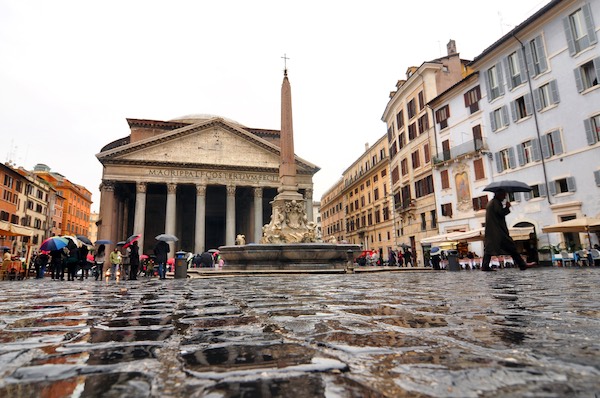 A cardigan
Cardigans are a great mid layer.I usually bring two in colours matching my tops.
Scarves
Scarves are maybe the most widely used fashion items in Italy.
Men and women use them extensively to keep warm and as a fashion accessory.
In March, you won't need very warm ones but I recommend you opt for a large enough scarf you can double up on itself in case of a temperature drop.
Sunglasses
Italians love sunglasses as a fashion statement but they are also a must have item in Rome in March's lovely sun.
Necklaces
This might sound funny but necklaces can change up a look and are a good way to make a simple outfit look dressier for a nigh out.
Also they are a very 'Italian' thing to wear if you fancy feeling a little like a local: bold, colourful ones are popular in spring.
The best shoes for Rome in March 
Rome best discovered on foot and a good pair of walking shoes is essential.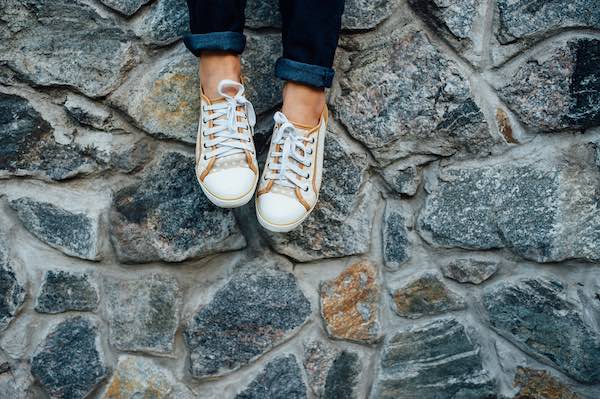 I have here >>> a full guide to the best shoes for Rome but, at a glance, I recommend the following:
Opt for closed toe shoes – March in Rome is not sandals time yet
Go for rubber soles – they will cushion you from the hard steps on cobbles and prevent slipping in case of rain
Choose fashion runners or city walking shoes rather than full on hiking shoes (too heavy and off-key for the city) gym-style runners.
While fashion sneakers and trainers are perfect in Rome, sport ones with bright colors and a gym look will make you stand out and would not be considered appropriate for anything but the most casual restaurant. 
Unless you are very fond of heels or you have a special event, there is on need to pack heels for Rome or Italy in general – flats are perfectly acceptable evening wear, if clean and well kept. 
What to wear to visit the Colosseum in March
The Colosseum and Roman Forum are archaeological outdoor sites with uneven terrain in most parts.
There is no dress code to access them but good shoes are a must.
Avoid heels or shoes that may cause blisters or slipping: most of the area is essentially a park – dress accordingly.
Read here >>> tips for visiting the Colosseum
What to wear to visit the Vatican in March
The Vatican has a strict dress code that you can find here >>> Vatican dress code need to know
In March, the season is on your side as you are unlikely to be exposing much skin in Rome spring weather. 
To be on the safe side and respectful, avoid short skirts (even with tights), shorts, revealing tops etc. 
Rome in March travel essentials
As well as the above of course I had my basics, my travel document, handbag, camera, vaccination certs and mask.
Please always remember that you should always have your ID in Italy, so make sure you have a day bag that can keep it safe!
• Underwear, socks and nightwear
• Toiletries
• Sunscreen
• Phone charger
• Portable Power Bank
• Travel adapter
• Passport + travel documents + visa if relevant
• Travel insurance
• Some cash + bank cards
• International driving licence if relevant
• Phone/ Camera
• Travel umbrella
• Reusable water bottle
• Basic first aid kit
• Medication and prescriptions, if relevant
• Travel stroller suitable for cobbled streets if traveling with a toddler
• Baby carrier if traveling with a baby
• A good diaper bag that can double up as day bag
• Italian phrasebook and dictionary
• Italy travel guide
The best luggage for Rome
The best luggage for Rome is spacious enough to keep safe your clothes and shoes yet light and resistant enough for you to safely manoeuvre it in airports and, if walking, on bumpy cobbled streets.
In terms of larger bags, I recommend:
Handy Toiletries list for Rome
You can buy all this in Rome pharmacy shops or supermarket. If packing toiletries for a short trip, you may want to add to your luggage:
Toothbrush, toothpaste, floss
Shower gel / soap (I recommend solid soap for travel)
Shampoo and conditioner
Deodorant
Tweezers
Comb and brush
Face and body moisturizers
Sunscreen
Lip balm
Women sanitary supplies
Perfume / skin scent
Make up
Shaving cream, blades and accessories
Hair ties
Accessories and nice to have
The best accessories I recommend for Rome are:
Sunglasses –April can bright and lovely, make sure you protect your eyes
Necklaces to dress an outfit up or down: Italian women love necklaces!
Earrings, again a popular Italian fashion statement
Scarf – for warmth and look
Eye mask for the plane
Travel pillow for the plane
What not to add to your packing list for Rome in March
In most cases, your packing list for Rome in March may exclude:
Sandals
Flip flops and swimsuits, unless staying in hotel with indoor pool
Heels
Very warm coats, gloves, hats
Very fancy clothes (unless you know you have a special event)
I hope this packing list for March in Rome came handy. Safe travels!
Packing list for Rome in March – pin this!
Photo credits: this post contains photos purchased from Canva Pro and Depositphotos as well as our own images.