All you need to know for a trip to Rome in March. What to expect from the weather, what to pack and what to do in Rome in the spring
March in Rome is a wonderful month.
This is the time when spring envelops the city and while the weather may well play tricks on you, usually you can expect mild temperatures and bright days, perfect for sightseeing.
The tail end of winter and start of spring also one of the rare moments when Rome knows a low tourism season.
While crowds do start creeping up in March (especially if you get an early Easter), this still often a good month for seeing Rome on a budget.
This is our guide to visiting Rome in March!
Need to know! You can find here >>> a list of official sources with regulations and restrictions that may affect your stay.
Please note: this post contains affiliate links and, should you make a purchase through them, we might make a small commission at no extra cost to you.
Weather in Rome in March
The 21st of March marks the start of the spring in Rome and indeed, March in Rome sees the transition from the tail end of winter to the start of spring proper.
The weather is notoriously changeable at this time and Italians even have a saying about it: 'Marzo pazzerello, esce il sole prendi l'ombrello' ('Crazy March, the sun comes out, take the umbrella').
However, inn general and climate change permitting, you should expect good weather with only the occasional shower of rain.
The average temperature in Rome in March is 12C/53F with a range from 17C/63F to 6C/43F degrees.
Usually you have about 7 days of rain in Rome in March and this tends to be heavy downpours rather than a drizzle.
A travel umbrella will be your best friend at this time although rain tends to come in forms of showers so, usually, you can simply find refuge somewhere and quickly resume sightseeing
What to wear in Rome in March
March in Rome sees changeable weather but usually mild temperature. Early mornings and evenings tend to be cold and you will need to wrap up a little more but overall, mid-season clothes and layers should suffice.
If you are traveling to Rome in March, it is important to pack:
Good walking shoes, waterproof (ankle boots or winter sneakers are perfect)
Socks and tights
Long trousers
Long sleeve tops
Short sleeve ones
Sweaters (woolen and lighter)
Winter coat if used to warm climates (Italians tend to wear coats at this time), mid-season waterproof jacket if used to cold weather
Find here >>> my complete packing list for Rome in March
The crowds in Rome in March
Tourism forecast for March 2023 in Rome suggest this is going to be a busy time in the city, busier than the same month in pre-pandemic times.
At this time, it is best to book accommodation and main attractions such as the Colosseum and the Vatican in advance, to secure a convenient slot.
In general, however, March is a good month to visit Rome and significantly quieter than Easter time, when crowds are intense.
Dates of notice in Rome in March
In 2023, Easter doesn't fall until mid-April and March is Rome doesn't see special closures.
For those intending to visit the Vatican Museum, it is worth noticing that the 19th of March the museums are closed.
The one day worth mentioning however is the 8th of March: this is international women's day and Rome, like the rest of Italy, celebrates with mimosa flowers, the traditional gift to women (from men and from each other) which will find for sale at every corner.
The best things to do in Rome in March
The best things to see in Rome in March are a mix of sightseeing, shopping and food experiences.
Visit the Colosseum, the Roman Forum and the Palatine
The Colosseum is fantastic to visit in March.
At this time, the days are likely to be mild (in summer, it gets oppressively hot) and the crowds are usually thin enough to allow for a pleasant experience.
Access to the Colosseum is by booking only. There is a vast choice of tickets and tours to choose from. For ease, I have put together here >>> a list with the best tickets for the Colosseum and tours
March is also a good time to visit the Roman Forum and Palatine hill.
Both these areas house some of the most impressive Roman ruins in the city and they are outdoors, so you feel a little like walking in a park. Wonderful during mild March!
At this time, the blossoms start returning to the Palatine, making is truly stunning.
Good to know for March 2023! In March 2023, it again possible to buy tickets for the Roman Forum only (all others include the Colosseum)! These tickets are great if you have already seen the Colosseum in other occasions or you want to tap into some of the hidden gems of the Forum such as wonderful Santa Maria Antiqua and the so called Temple of Romulus. They are also much easier to get than the Colosseum ones and you don't need to plan with as much notice! Info and tickets here.
Visit the Vatican Museums, Sistine Chapel and Vatican City
Thinner crowds make March a great time to visit the otherwise packed Vatican Museums.
The Museums are mostly famed for the stunning Sistine Chapel by Michelangelo; however, they are a treasure trove of art masterpieces and they can easily fill up a whole day.
I highly recommend getting a tour if you want to see the highlights or are short on time.
You can find here >>> my tips for Visiting the Vatican
Go to a free museum
In March many Rome museums and attractions are free to visit on the first Sunday of the month.
This is a great opportunity to visit some of Rome's main attractions on a budget but be warned: crowds are intense and attractions such as the Colosseum and the Borghese Gallery still require a reservation – the cost of tickets is, however, waived on this day.
Celebrate International Women's Day with a branch of mimosas or a FREE visit to a cultural attraction
On the 8th of March, Italy celebrates International Women's Day.
In Rome, you will notice many people selling and gifting mimosa flowers but you will also find initiatives such as free entry to cultural attraction for women on this day. Check sites of individual attractions for info and tickets.
You can read here >>> all about International Women's Day in Italy (festa della donna)
Visit Castel Sant'Angelo
Castel SAnt'Angelo is one of my favorite attractions in Tome and a delight to visit in spring.
An ancient mausoleum turned Papal Fortress, it is a place full of history and, thanks to its location along the Tiber, one of the best places to catch fantastic views over Rome!
You can find here >>> my guide to Castel Sant'Angelo in Rome
Visit the Masterpieces of the Borghese Gallery
The Borghese Gallery is one of the most beautiful art museums in Rome and the world.
It has an invaluable collection of paintings and statues by masters such as Raphael, Caravaggio, Bernini and Canova and it is an unmissable sight for art lovers.
Located inside the Borghese Gardens, it is lovely to visit I nMarch as you can easily mix a visit with a stroll along this park's beautiful spaces.
Find here >>> our guide to the Borghese Gallery
Follow the footsteps of Bernini
Bernini is one of the most prolific artists who ever called Rome his home and has left many masterpieces in several locations in the city, including museums, churches and piazzas.
If you love his work or want to get familiar with Rome's Baroque art, you can take a stroll around the city to admire his most significant creations.
You can do this in your own following our tips here >>> where to see Bernini in Rome
Visit Rome's catacombs
Under Rome there is an extensive network of ancient tunnels: the catacombs.
The catacombs are early Christian cemeteries and one of the most fascinating sites in the city.
Accessible by guided tours only, they are a unique place to learn about the beginning of Christianity in the city and they are un aqua to the city.
I particularly recommend visiting the catacombs in March. Those on Via Appia are surrounded by stunning nature, perfect for a spring walk!
You can find here >>> my guide to Rome's catacombs
Explore Rome piazzas
The spring is a glorious time to visit Rome's famous piazzas. Head to Piazza Navona, Piazza del Pantheon, Campo de' fiori, the Trevi fountain and the Spanish steps but also allow yourself to explore some hidden gems and parks.
Have a drink in one of Rome's most beautiful terraces
March is a pleasant time to enjoy Rome's stunning rooftop terraces.
If you fancy a drink with a view, you can find list of our favorite Rome terrace bars here.
Go to the park
Rome has beautiful parks and there is no time like the spring to enjoy them.
For grand and beautiful choose Villa Borghese (here you have the famous Borghese Gallery but also the small Rome zoo, a pond and playgrounds for kids) and get off the beaten path and explore Rome's botanical gardens in Trastevere, stunning at this time.
Find here >>> our favorite parks in Rome
Take a stroll on the Tiber island
Rome has a small island, Isola Tiberina, which is an unusual and pretty spot to visit.
The island is close to Trastevere and the Jewish Ghetto, very easy to add to a city center Rome itinerary, and it has interesting architecture and stories to tell, as well as a couple of lovely traditional restaurants.
You can learn here >>> all about the Tiber Island in Rome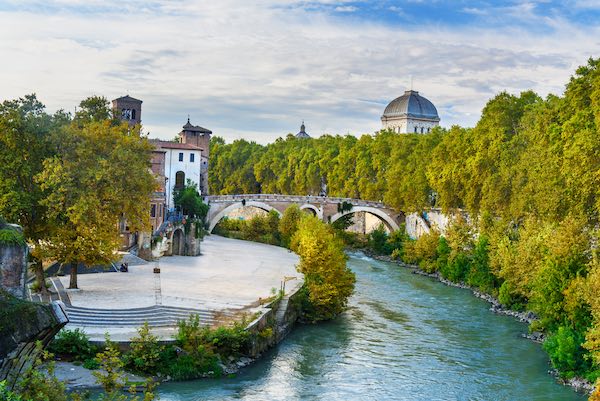 Go to the opera or a concert
Rome has a good opera and ballet program. Music lovers should also check out the program at Auditorium Parco della Musica, a wonderful music venue in the eternal city.
Eat to your heart content on a Rome food tour
A food tour in spring can be a lovely way to mix sightseeing and food discoveries.
These are food tours worth considering:
Rome Street Food Tour with local guide
Rome espresso, gelato and tiramisu tasting tour
When you are in Rome in March, the glorious Roman food in season I recommend includes:
Carbonara, Gricia, Amatriciana pasta: warming and tasting and perfect for the slightly cooler weather of this season
Abbacchio scottadito (lamb cutlets)
Seasonal vegetables , asparagus and chicory in particular
Suppli, fried balls of rice with a melting mozzarella heart
Coda alla vaccinara, oxtail
Go to an exhibition
Rome has many exhibitions going on at any given time and March is a great time for museum going.
Exhibitions in Rome in March 2023:
Van Gogh exhibition at Palazzo Bonaparte, until the 26th of March 2023
Cursus Honorum, the Government before Caesar, Capitoline Museums (all month)
Caesar's legacy, a multimedia exhibition, Capitoline Museums
Il Viaggio di Enea da Troia A Roma (Aeneas journey from Troy to Rome), in the temple of Romulus in the Roman Forum
The Cardinal's rooms. Neri Maria Corsini, a leading player in 18th century Rome, Palazzo corsini
I Romanisti, an exhibition about cultura life in Rome in the years 1929 – 1940s
Go church hopping
Visiting churches is one of the best things to do in Rome any time of the year but it becomes exceptionally pleasurable (and handy!) in case of random rain showers
Some I love and recommend seeking out are Santa Prassede, San Luigi dei Francesi, Santa Maria della Vittoria and Santa Sabina but really: when you see a church in Rome, peek in as chances are it is worth a stop!
Churches are one of the best free things to see in Rome!
March in Rome with kids
You can find here >>>> over 50 of my favorite things to do in Rome with children in March.
At a glance, things we love are:
Rome main sites
Rome historical sites are easy to visit with kids.
Some we find fun and easy to manage at all ages are:
The Colosseum (especially if combined with the Forum and the Palatine Hill)
Caracalla's Baths, which have tons of space to run around
Castel Sant'Angelo, especially for kids age 5 and up
Villa Borghese, a park with anything for kids from a pond to bikes to playground and even a puppet theater!
Go to Explora
Explora is Rome's children's museum and it is a wonderful place to explore with kids. In March, this is an exceptionally handy place to know for a rainy day or any time the weather doesn't seem suitable for extended hours in the park
Larn a traditional craft
Indoor activities can be a lifesaver in Rome on a rainy day and one we adored was an art class we took with the wonderful people of Arte al Sole. the one we chose was a mosaic making class which was perfect for crafty kids.
Take a pizza-making class
For a hands on experience in typical Rome surrounding, we recommend a pizza class. With kids, we did just that with a local pizza class for families followed, of course, by tucking into our own creation.
You can find many more of our recommendations on great family tours in Rome here
I hope you enjoyed this post and it helped you plan your spring trip to Rome. Safe travels!