All you need to know for a trip to Rome in April. What to expect from the weather, what to pack and what to do in Rome in the spring
April in Rome is a wonderful month albeit a very busy one.
Spring has well and truly started in Rome in April and despite frequent showers of rain, this is one of the glorious months when Rome fills with blossoms, its otherwise unkept green areas becoming a triumph of flowers and perfumes.
April is also the time when, often, you have Easter celebrations in Rome.
This means the Eternal city becomes especially appealing to those who want to celebrate this religious festivity as well as those who can get precious time off.
The result is a time that sees city perfection and crazy busy crowds: this is our guide to help you make the most of April in Rome.
Good to know: Rome is very busy during the Easter week. Advance booking of Colosseum and Vatican ticket is a must. The busiest areas in Rome at this time are Trevi Fountain and the Spanish Steps. I highly recommend to plan a little longer in Rome at this time so you do not find yourself only in the middle of crowds if only seeing Rome most famous attractions.
Please note: this post contains affiliate links and, should you make a purchase through them, we might make a small commission at no extra cost to you.
For a list of official sources of information about regulations and restrictions that might affect your trip, please see here.
The weather in Rome in April
The weather in Rome in April is pleasant, with mild temperatures and a mix of sunny and rainy days.
April is spring in Rome and you can expect lovely weather with mild temperatures and the occasional shower of rain.
The weather is changeable at this time and you will need to dress in layers however, this is one of the best times for sightseeing since you will not have to battle the otherwise relentless Rome sun.
The average temperature in Rome in April is 14C/58F with a range from 20C/68F to 8C/46F degrees.
Usually you have about 9 days of rain in Rome in April and this tends to be heavy downpours rather than a drizzle.
A travel umbrella will be your best friend at this time although rain tends to come in forms of showers so, usually, you can simply find refuge somewhere and quickly resume sightseeing.
What to wear in Rome in April
April in Rome sees changeable weather but usually mild temperature. Early mornings and evenings tend to be cold and you will need to wrap up a little more but overall, mid-season clothes and layers should suffice.
You can find here >>> my full packing list for Rome in April
Last year in April, we had some very warm sunny days that called for short sleeves and sunglasses followed by others with grey sky and temperatures calling for a light jacket in the evening.
If you are traveling to Rome in April, it is important to pack:
Good walking shoes, waterproof (ankle boots or winter sneakers are perfect) – you can find my recommended shoes for Rome here.
Socks and tights
Long trousers
Long sleeve tops
Short sleeve ones
Sweaters (woolen and lighter)
Winter coat if used to warm climates, mid-season waterproof jacket if used to cold weather.
Find our full packing list for Rome in the spring here
Dates of notice in Rome in April 2023
April 2023 sees some important dates in Rome, worth taking note of as they can impact on your sightseeing plans as well as tours and accommodation opportunities and costs.
Most events fall during Easter week (Holy Week or Settimana Santa) which in 2023 culminates with Easter Sunday (9th April).
See also: my guide to visiting Rome at Easter.
Palm Sunday 2nd April 2023: The Sunday before easter, commemorating Jesus' entrance into Jerusalem.
The church celebrates distributing small olive branches or palm leaves to the people attending mass.
Maundy Thursday 6th April: The Thursday before Easter is an important day for the Christian church and the many churches in Rome mark the occasion opening their doors until late in the day for a visit to the 'sepolcri' (sepulchers), the altars dressed up in purple draping to commemorate the passion of Jesus.
A visit to the 'sepolcri' is a religious ritual however, considering the beauty of many of Rome's churches, many non religious locals and tourists also partake in it as a sightseeing opportunity.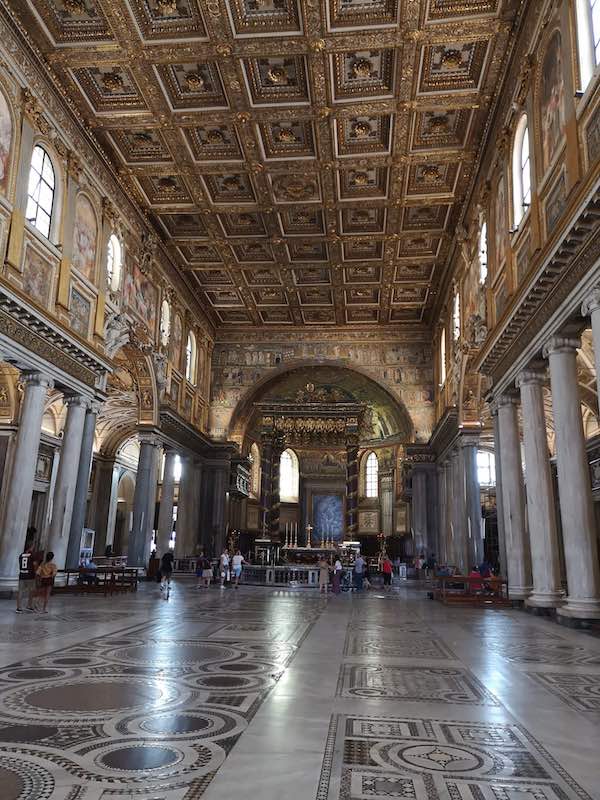 Friday 7th April: Holy Friday / Good Friday (Venerdi' Santo): Rome sees important celebrations on the Holy Friday and the most important takes place near the Colosseum, where the Pope leads the via crucis.
It is important to know about this celebration not just if you want to participate but also for a very practical reason: the whole accessibility of the area changes during the via crucis and traffic is diverted, something you need to take into account especially if you happen to have accommodation in the area!
Sunday 9th April, Easter Sunday is a great celebration in Rome but most attractions and tourist sites are open on this day. You may, however, encounter reduced public transport hours so planning extra time o get anywhere is a must
Monday 10th April (Easter Monday, Lunedi' di Pasquetta): this is a National holiday in Rome and, traditionally, a day for Romans to go on day trips. If you join them just be aware that traffic back into the city can be intense: opt for the train if you can
21st April, Natale di Roma, Rome's birthday: the 21st of April is the day when Rome celebrates its birthday, usually with events across the city and free access to its civic museums. You can read all about Rome's birthday here.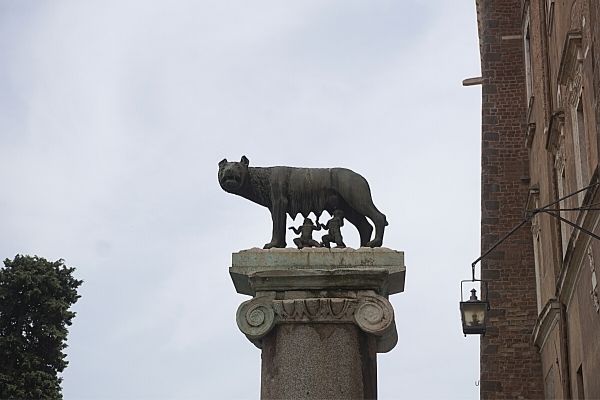 The best things to do in Rome in April 2022
The best things to see in Rome in April are a mix of sightseeing, shopping and food experiences.
Visit the Colosseum
The Colosseum is fantastic to visit in April.
At this time, the days are likely to be mild and the view over the forum, under Rome's bright sky, stunning.
However, this is an exceptionally busy time for visiting the Colosseum and advance booking (i.e.months in advance or at least weeks) is paramount.
There are many different ticket options for the Colosseum (entry only / tour / family tour/ underground access etc).
For ease, I have summarised here >>> all the best tickets for the Colosseum
Take a stroll in the Roman Forum and Palatine Hill
April is also a good time to visit the Roman Forum and Palatine hill.
The main area of the Forum is lovely at this time, devoted of the cold temperatures of the winter and the scorching heat of the summer, and you truly feel like you are strolling in Ancient Rome, just like a local would have done, with the temples and the columns all around you.
Up on the Palatine, April brings lovely blossoms and green lawns, that are the perfect framing and backdrop for the Palace of Emperors' impressive ruins, and the bright spring air is perfect to catch a view over the Circus Maximus just below.
Visit the Vatican Museums and Vatican City
April can be a wonderful time for a visit to the Vatican City and the Sistine chapel but do be aware that, should you get here during Easter week, the crowds will be almost unbearable.
Make sure you get tickets in advance and read up all our tips for visiting the Vatican to avoid the worst of the congestion.
In April, it is also worth visiting the beautiful Vatican Gardens: the gardens are at the back of St Peter's basilica and are wonderful in spring, when the flowers come back to life with blossoms and fragrances. You can read how to book the Vatican Gardens and tips for visiting here.
Top tip! From April to October, the Vatican museums have special evening opening hours on selected Fridays that see a fraction of the visitors you get in the morning/ afternoon. Check the official museum website for details.
Visit Caracalla's Baths
The Baths of Caracalla are a huge thermal complex dating back to the III century AD and a wonderful Rome landmark to visit in the spring.
The baths are an outdoor attraction and they are stunning in April when the dark green of fantastic pine trees of this area is complemented by the violet hues of wisteria.
Not to be missed – you can find our guide to Caracalla's Baths here.
See the cherry blossoms
This may come as a surprise to many, but Rome in April is one of the best places in Italy to admire cherry blossoms!
There are 4 main places in Rome where to savour a little bit of Japan in the Eternal city and they are perfect for all types of visitors.
Families with kids or anyone looking for a lovely park for a picnic can head to the Eur Laghetto (park)or to the wonderful and child friendly Botanical Gardens of Rome that also has areas devoted to other species worth seeing.
Those who are good at advance planning should not miss the garden of Rome's Japanese Cultural Institute, only open on limited dates yet stunning.
You can find our guide to seeing cherry blossoms in Rome here.
Explore Rome's main piazzas and hidden gems
The spring is a glorious time to visit Rome's famous piazzas.
I highly recommend you go and visit the most famous ones such as Piazza Navona, Piazza del Pantheon, Campo de' fiori, the Trevi fountain, but also allow yourself to wander off the beaten track and explore hidden gems and areas a little off the beaten track (one of my favourites is Quartiere Coppede').
April is the month when the Spanish Steps get decorated with flowers: a lovely time to see this wonderful monumental staircase!
Go to the park
Rome has beautiful parks and there is no time like the spring to enjoy them.
For grand and beautiful choose Villa Borghese (here you have the famous Borghese Gallery but also the small Rome zoo, a pond and playgrounds for kids) or get off the beaten path.
Some lovely green areas I love and don't usually feature on visitors' maps are Villa Torlonia, a nice park with interesting architecture and exhibition spaces as well as a children museum) and Rome's botanical gardens, hidden in plain site in one of the most charming streets of Trastevere.
You can find a list of some of our favorite gardens and parks in Rome here.
Visit the Borghese Gallery
The Borghese Gallery is one of the most beautiful art museums in Rome and a must-see for art lovers.
Located inside the beautiful Borghese Gardens, a large patrician park in Rome City center, the Borghese Gallery has masterpieces by masters such as Bernini, Canova and Raffaello, just to name a few, and is a feast for the eyes.
I highly recommend you plan a visit here and then cross the gardens to treat yourself to a hot drink with a view in Casina Valadier, a panoramic restaurant and cafe' overlooking the Pincio Terrace offering some of the best views over Rome.
Advance purchase of Gallery Tickets is mandatory: you can book your ticket here.
Visis Castel Sant'Angelo
Castel Sant'Angelo is the mausoleum of Roman Emperor Hadrian, then turned castle and Papal Fortress.
It is one of the most interesting yet often underrated sights in Rome and it is an absolute delight in spring. Its bastions and terraces offer fantastic views over the city, even more pleasant in mild April weather.
You can read here >>> our guide to Castel Sant'Angelo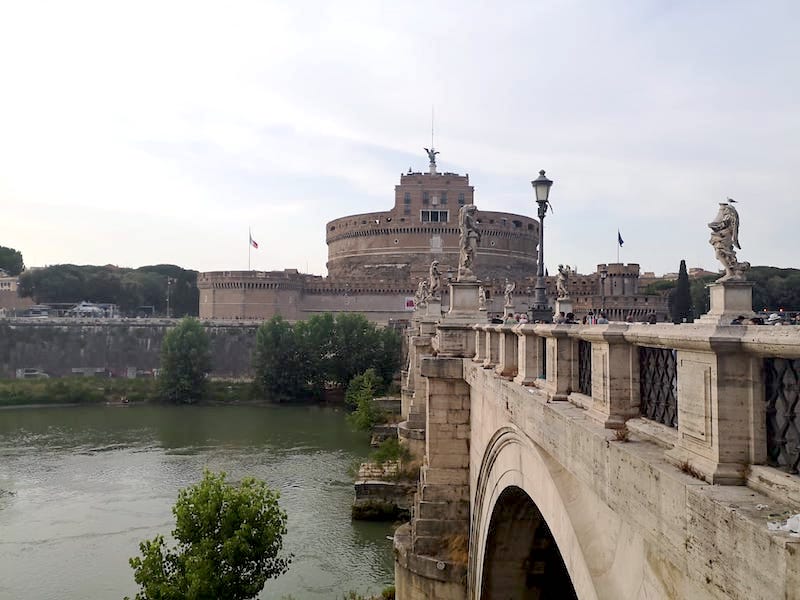 Visit Nero's Domus Aurea
The Domus Aurea is Emperor Neros' palace and one of the most interesting archaeological sites in Rome.
The imperial palace dates from the I century AD and historians describe it as the biggest and most lavish building ever seen.
The Domus is stunning, however, do not imagine a castle or a lavish palazzo!
Immediately after Nero's death, his palace was destroyed and it is now an archaeological dig, entirely underground!
As you enter it now, you find yourself in a series of tunnels and spaces, once filled with natural light, and still preserving hte magnitude of the vision of their creator and some of the original decorations.
This is a fantastic attraction to visit on a cold afternoon. You can find my full review of my visit and tips for planning your own here >>>> a practical guide to visiting Nero's Domus Aurea.
Visit Rome's protestant cemetery
one of teh most beautiful places to visit in Rome in April is the non-catholic cemetery of Rome or the protestant cemetery as it is also called.
the cemetery is a small, very pretty monumental graveyard tucked away behind Rome's Pyramid (itself worth seeing) and it is a delightful place in spring.
Here, you find beautiful sepulchral monuments surrounded by luscious greenery, trees and pretty wisteria branches framing the graves, among others, of Gramsci, Camilleri, Keats and Shelley.
read my guide to the protestant cemetery of Rome here.
Catch a spring sunset
April's spring temperature make staying out in the evening to admire the sunset in Rome is a real pleasure however, you need to know where to go!
While Rome bathed in the orange light of the setting sun is stunning anywhere, there are some areas where the eternal city turns truly magical at this time. Find out where to see the sunset in Rome in our local guide.
Go to the opera or a concert
Rome has a good opera and ballet program.
Music lovers should also check out the program at Auditorium Parco della Musica, a wonderful music venue in the eternal city
Go shopping
April is the time when Rome windows dress up in spring clothing. If you are in the mood for a shopping spree, make sure you take the time to go visit Rome's main shopping streets to catch the new trends as soon as they are out.
Take a food tour
A food tour in spring can be a lovely way to mix sightseeing and food discoveries.
These are food tours worth considering:
In Rome in April, the traditional Rome food in season that you are likely to try is:
In this season I recommend:
Carbonara, Gricia, Amatriciana pasta: a must all times of the year, these are perfect for an Easter buffet!
Abbacchio scottadito (lamb cutlets), a traditional Easter dish
Pizza Pasqualina, an Easter specialty that no! It is not pizza but rather a vegetable and egg pie
Seasonal vegetables, asparagus and chicory in particular
Suppli, fried balls of rice with a melting mozzarella heart
Eggs, real and chocolate to celebrate Easter
Colomba, a typical Easter cake with almond crust
Follow the footsteps of Caravaggio in churches and museums
Caravaggio spent may year in Rome and you can still see many of his masterpieces in the Eternal City.
If you love his art, a fantastic way to experience the city is to go on a tour of some of his most famous work. In April, this can be a special way to experience the city, the weather being perfect for strolling and the occasional church stop.
You can learn here >>> where to see Caravaggio in Rome
Go church hopping
Visiting churches is one of the best things to do in Rome any time of the year but it becomes exceptionally pleasurable (and handy!) in case of random rain showers
Some I love and recommend seeking out are Santa Prassede (mosaics), San Luigi dei Francesi (Caravaggio), Santa Maria della Vittoria (Bernini), San Pietro in Vincoli (Michelangelo's Moses) and Santa Sabina but really: when you see a church in Rome, peek in as chances are it is worth a stop!
You can find here >>> my shortlist of ten of the best churches in Rome
As mentioned above, before Easter Rome churches do dress up their chapels with purple drapes, in preparation for Easter.
Visitors are welcome however, do keep in mind that this is a special time for the Christian church and so extra attention to your attire and celebrations that may be taking place in the church is a must.
Visit Ostia Antica
Ostia Antica is the ancient port of Rome and now a wonderful archaeological site. Located immediately outside Rome City center, Ostia Antica is often compared with Pompeii and, indeed, it feels little like it, with its ancient theater, shops and mosaics.
You can find here >>> our guide to Ostia Antica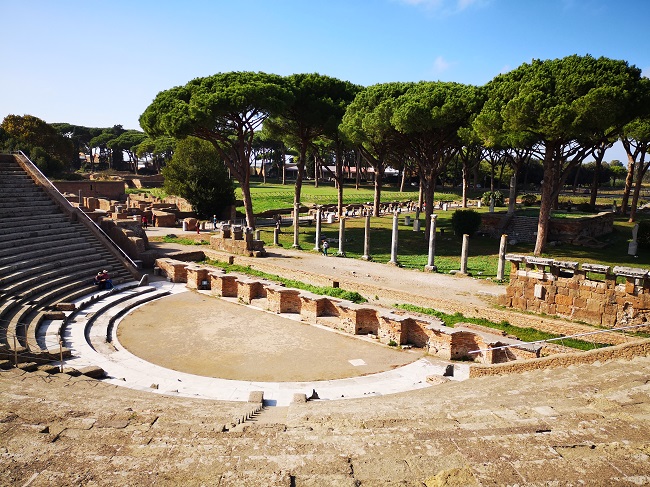 Go on a day trip
April is a wonderful time to go on day trips around Lazio, the region of Rome. Some of my favorite this time of the year are to the lakes (Bracciano, Martignano) or to the thermal springs of Saturnia, in Southern Tuscany, which you can reach by car.
If you prefer not to drive, there are several good day trips you can take from Rome by train. Some I particularly recommend are Orvieto (hilltop town with a stunning duomo and gorgeous medieval streets), Sperlonga (whitewashed coastal town) and Gaeta – these last two have glorious sandy beaches and make a wonderful destination for a day by the sea.
You can find our best suggestions for day trips from Rome here
April in Rome with kids
You can find here >>> 50+ of my favorite things to do in Rome with children in April.
Some we particularly recommend are:
Visit Rome's main sites
Rome's most important sites are family friendly and, in many cases, great fun for kids.
Those we love the most are:
The Colosseum. Find here >>> tips for visiting the Colosseum with kids. Make sure you also stop at the Roman Forum and Palatine Hill: they feel like a park and they are stunning!
Castel Sant'Angelo: see above
Villa Borghese (Borghese Gardens): a fantastic, large park with a pond, playground, option to rent bikes and go-karts, food stops and more. Find our guide to Villa Borghese here.
The Domus Aurea; especially for kids 9 and up, who may enjoy the stories connected to it
Have fun in Rome's Balloon Museum (not open in 2023)
Recently prolonged to the end of April due to its outstanding success, the Balloon Museum in Rome is a colorful and fun interactive exhibition of balloon art, perfect for kids!
Go to Explora
Explora is Rome's children museum and probably my kids' favourite place in Rome bar none.
In April, this is an exceptionally handy place to know for a rainy day or any time the weather doesn't seem suitable for extended hours in the park
Eat chocolate eggs
Rome hasn't got huge Easter traditions when it comes to kids (we don't traditionally do Easter egg hunts for instance) except for one: Easter for kids is all about chocolate eggs!
You can find them everywhere in the city, in many different sizes and at different price points. You can buy them in any supermarket or gourmet shops, the price and quality varying accordingly.
Take an art class
Indoor activities can be a lifesaver in Rome on the odd rainy day and one we adored was an art class we took with the wonderful people of Arte al Sole.
The one we chose was a mosaic making class which was perfect for crafty kids. It is also close to the city's botanical gardens which are lovely at this time (young kids go free)
Take a pizza-making class
For a hands-on experience in typical Rome surroundings, I recommend a pizza class.
Our family took a lovely one a few years ago and we had a blast: the pizza class for families was followed by tucking into our own creation and it was a fun way to spend a morning together and have lunch out + learn a new hands on skill!
You can find many more of our recommendations on great family tours in Rome here
I hope you enjoyed this post and it helped you plan your spring trip to Rome. Safe travels!