All you need to know about visiting Rome at Easter. Dates of notice, special celebrations, closures and travel tips to make the most of Easter in Rome.
Easter is a popular and beautiful time to visit Rome.
The months of March and April, when the Easter weekend falls, are lovely in Rome weatherwise and the Easter celebrations add an extra layer to your visit, no matter your religious background or beliefs.
For the visitor, Easter doesn't pose big issues in Rome.
However, Easter is a big festivity for Christians and it affects opening hours and accessibility to the Vatican and all parts of the city hosting Papal celebrations.
Easter also affects the number of people around Rome – Rome at easter is VERY busy!
But I am from Rome and well used to escaping the crowds so I have tips! See below!
In this guide, I share tips and essential info to plan your stay at Rome at Easter.
Please note: this post contains affiliate links. Should you make a purchase through them, we might make a small commission, at no extra cost to you.
When is Easter in Rome in 2024: dates of notice
This year, Easter Sunday falls on Sunday 31st March 2024.
The forty days between Ash Wednesday and Easter Sunday are lent and not particularly busy in Rome, epecially since Easter is rather early this year.
Crowds start building out the week before Christmas and peak Holy Saturday – easter Monday, among the busiest days of the year in Rome.
Holy Week, Settimana Santa in Italian, sees special events happen on specific days: Palm Sunday (24 March 2024), Maundy Thursday, Good Friday, Holy Saturday, Easter Sunday and Easter Monday.
In Italian, these days are called:
Palm Sunday: Domenica delle Palme
Maundy Thursday: Giovedi' Santo
Good Friday: Venerdì Santo
Holy Saturday: Sabato Santo
Easter Sunday: Pasqua / Domenica di Pasqua
Easter Monday: Lunedi' dell'Angelo (Angel's Monday)/ Pasquetta / Lunedì di Pasquetta
These are religious events and, for the large part, do not affect your trip. However, there are exceptions, which we will see below.
Palm Sunday in Rome
Palm Sunday (Domenica delle Palme in Italian) is the Sunday before Easter.
On this day, Christians celebrates the arrival of Jesus to Jerusalem and the event is commemorated by churches handing our small olive branches to the faithful attending mass.
In 2024, the Vatican usually celebrates Palm Sunday Papal Mass at 10.00 in St Peter's Square – in 2024 this ceremony falls on 24 March 2024.
Palm Sunday doesn't affect opening hours of attractions, with the exceptions of the Vatican: tourist visits to St Peter's Basilica are suspended during liturgical celebrations.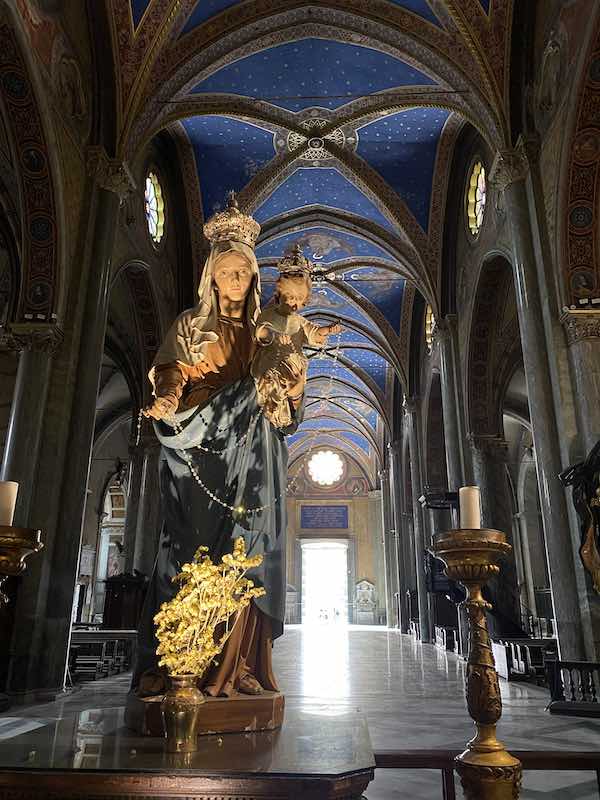 Maundy Thursday in Rome, 28 March 2024
Maundy Thursday is a day of prayers and celebrations for the church.
However, as a visitor, you won't notice closures or anything out of the ordinary in terms of sightseeing, eating out etc.
What you will notice on this day, however, is a special tradition that takes place in churches: i Sepolcri (Lit. the Sepulchres).
A few weeks before easter, participants to mass receive wheatgrass seeds with an invite to place them in a plate with water and to put them in a dark space, usually a cupboard or under a bed.
These seeds will slowly grow and, during Easter week, they will have the appearance of small grassy vases, with a distinct pale color.
On Maundy Thursday, the faithful participating in this tradition bring them to church to decorate the altar.
The symbolism is simple and powerful: like Jesus raised from his grave, the plant grows from darkness.
Good Friday in Rome, 29 March 2024
Holy Friday is the day when the Vatican does a Via Crucis, a massive event to celebrate the Passion of the Christ, lead by Pope Francis himself.
Via Crucis usually happens in the evening and, takes place in the city center, with the stations of the cross in the Colosseum area.
When this happens, the city's transport system gets affected and security is everywhere for the Pope and to manage the often massive gathering the event creates.
The ability to visit the Colosseum in the hours immediately before the event may be impacted.
The event usually takes place between Piazza Venezia and the Colosseum: people can gather along Via dei Fori imperiali to participate.
However, the celebration inside the Colosseum is not open to the public.
Via Crucis (Way of the Cross) in Rome is expected to take place on Good Friday, 29 March 2024 at 21.15 (9.15pm)
As a visitor, you won't notice anything unusual in Rome on Good Friday, Via Crucis aside.
However, the main attractions involved in the procession will follow different opening hours and the Colosseum usually close at lunchtime to allow for preparations for the event.
Traditionally, Christians would fast on Good Friday but this does not affect eating out nor social gatherings.
Some restaurants may have a special menu with fish delicacies, which is a nod to a no-meat Friday tradition, usually in addition to a standard menu.
Good to know: for the last two years, the Colosseum has been closed on Good Friday, in preparation for the Via Crucis. However, this closure was only announced last minute, after tickets were issued. Learning from the past, I therefore recommend NOT to plan a visit to the Colosseum on Good Friday, to avoid last minute stress.
Easter Saturday in Rome, 30 March 2024
Easter Saturday in Rome doesn't usually see special events that affect your visit.
For the church, this is a day of waiting and a time when things stand still. Symbolically, the bells, not ringing on this day.
Easter Vigil is usually at 7.30 pm.
Easter Sunday in Rome, 31 March 2024
Easter Sunday is an important day in Rome for Christians and non religious people alike.
The church celebrates today one of its biggest events and the Pope holds mass in the Vatican.
The Pope celebrates Easter Mass at 10.00 and then the Urbi et Orbi Blessing at 12.00 in St Peter's Square.
If you want to participate, tickets are available from 'Prefettura della Casa Pontificia': you book them over the phone or by email and then collect them the day before the mass. You can find info and contacts here.
For anyone else, this is a day of gathering with family or friends and, traditionally, a day for a massive lunch: Pranzo di Pasqua.
Unlike Christmas, which sees people mostly celebrating in private home, many people opt for Easter lunch in a restaurant and the offer of special menus on the day abounds.
If you are in Rome o Easter Sunday, I highly recommend you book a table for lunch.
My favorite place for Easter Sunday is Lola ar Via Flaminia but you can find many food addresses in Rome in my guide to Rome for foodies.
Please note: the Vatican Museums are closed on Easter Sunday and St Peter's basilica is closed during religious celebrations.
Easter Mass is at 10.00 in St Peter's Square.
Urbi et Orbi blessingis at 12.00 in St Peter's Square
Easter Monday in Rome, 1st April 2024
Easter Monday aka Pasquetta or Lunedi' dell'Angelo is a day off for Italians and, traditionally, a day when Romans leave town to go grilling and eating with friends.
Most people leave Rome for the day only: the most popular destinations are beaches near Rome or Lake Bracciano, which has nice restaurants and an out-of-town feel, despite being very close to the city.
Please note: the Vatican Museums are closed on Easter Monday.
Can I attend Easter Mass at the Vatican?
Some Easter events the the Vatican are open to the faithful.
Papal masses are always free to attend and must be booked in advance.
Tickets are available from 'Prefettura della Casa Pontificia': you book them over the phone or by email and then collect them the day before the mass. You can find info and contacts here.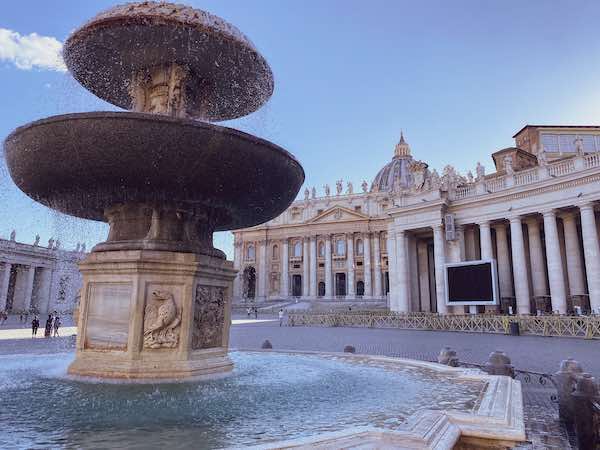 Can I visit the Vatican at Easter?
Your ability to visit Vatican at Easter depends on the areas you want to visit, the exact dates and current restrictions.
In general, outdoor areas of Vatican City such as Saint Peter's Square stay open and accessible even during celebrations.
This is however subject to change.
In the last few years for instance, access to the Square was restricted during the Pope's appearances such as Via Circus, for security reasons.
St Peter's Basilica is only accessible for tourism when no celebrations take place and the Vatican Museums are closed on Easter Sunday and Monday.
If you are planning on visiting the Vatican between Maundy Thursday and Easter Monday, I highly recommend you double check opening times to the basilica until the very last minute to avoid disappointment.

Is Rome busy at Easter?
Yes, Rome can get very busy at Easter.
Easter Holidays attract many foreigners and since Italian schools also close for a one-week Easter holiday, many Italians also flock to Rome to make the most of the vacation.
Booking accommodation and attractions in advance is a must, especially the Colosseum and the Vatican.
Find here >>> best tickets for the Colosseum
Find here >>> How to visit the Vatican
How to escape the crowds in Rome at Easter
I am from Rome and I've seen over 40 Easter weekends in the city, so I when I tell you it is possible to escape crowds at easter in Rome, I speak from experience!
There are two main things to know about Rome and crowds:
Crowds tend to gather only around the main landmarks, namely Spanish Steps and Trevi Fountain (and inevitably the few streets between them)
Rome is more than its landmarks. Rome is an immersive, 360 degrees beauty, open air museum type of immersive experience, with most of its beauty around what are considered Rome's 'top attractions'
So, if you want to escape the crowds all you need to to is to stay in Rome a little longer so you don't have to stay only where everyone else is!
At Easter, I have visited the Borghese Gallery (not crowded), Caracalla's Baths (not crowded), the Colosseum (no more crowded than usual), the Domus Aurea (not busy) and strolled Rome city center with great satisfaction – skip Spanish Steps, Trevi and the bundle of roads in between the two and crows won't be a problem!
What you can see in Rome at Easter – things to do at Easter in Rome
As mentioned above, easter impacts your ability to visit St Peter's Basilica and the Vatican Museums on certain days.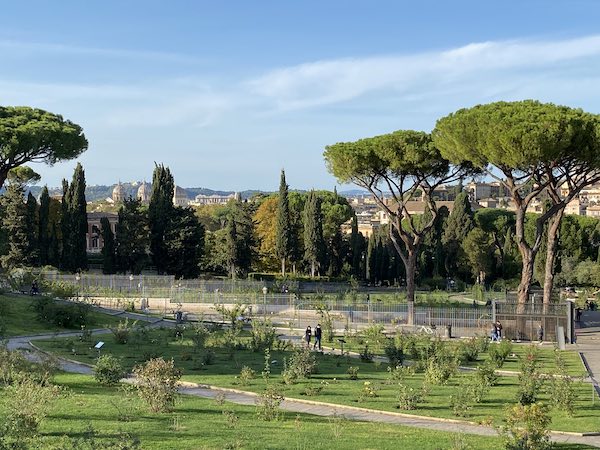 However, most Rome attractions stay open.
The most pleasant in spring are (click on each to find our guide):
Something unique: Christian visitors may enjoy visiting the Basilica of St Pauls' Outside the Walls. One of Rome's Papal Basilicas, St Paul houses a stunning Easter Candle with carvings including scenes from the Passion of the Christ (Jesus in front of Pontius Pilate) what would be especially significant at this time.
The busiest areas in Rome I recommend you visit before to after the busy Saturday-Monday Easter days are:
Eating out in Rome at Easter
Easter in Rome doesn't massively affect your ability to eat out.
You fill find plenty of places open, especially in the city center and many people out enjoying the long weekend.
I recommend you book a table in a restaurant you like as the demand is high.
The weather in Rome at Easter
Easter in Rome happens in March or April, during Rome spring.
This is usually a time of slowly raising temperatures, blossoms and spring rain showers; in general, March is colder and can still feel wintery while April is often more rainy but warmer.
At a glance:
| | | |
| --- | --- | --- |
| Month | Temperature Max – Min | Rainy Days |
| March | 17C/63F to 6C/43F | 7 |
| April | 20C/68F to 8C/46F | 8 |
Find at the following links:
What to wear in Rome in March – packing list
What to wear in Rome in April – packing list
Visiting Rome at Easter with kids
Visiting Rome at Easter with children can be lovely for them, especially if they like chocolate!
Eating chocolate and sugar eggs for Easter is traditional in Rome so if your kids love sweets, they will be excited by the many offers to indulge in treats in this season!
Easter Egg hunts for kids have become popular in Rome and several places arrange them (restrictions permitting).
Places usually running Easter egg hunts and Easter events for kids in Rome are Luneur (Luna Park), Explora Children Museum, Rome Zoo and children's bookstores.
Due to the challenges of the last couple of years, events may not go ahead or only be announced closer to the time. Please check with individual structures what they can offer. At present:
Luneur offers an Easter egg hunt for kids on several days in Easter: 2-3-9-10-16-17-18 April Click >>> here for info <<<
For more ideas about things to do with children, have a look at out guide: 70+ things to do in Rome with kids
For this on where two stay, check >>> our guide to family accommodation in Rome (hotels and rentals)
What to eat in Rome at Easter
At Easter, you will find in Rome pretty much all the foods of the Roman tradition plus a few specialties that are typical of spring.
These include abbacchio scottadito (lamb), an absolute classic of Rome's Easter, corallina (salami) and Colomba (Easter cake). Easter eggs are everywhere!
You can find a guide to Rome's easter food here.
Additional resources to visit the Eternal City at Easter
I believe the following Rome travel guides will help you make the most of your trip to Rome at Easter:
Our recommended itinerary for 2 days in Rome (includes the Colosseum and the Vatican)
Our recommended itinerary for 3 days in Rome
Our itinerary for 4 days in Rome
Our guide to the best place to stay in Rome (area overview)
I hope you enjoyed this overview of Easter in Rome and it helped you plan your stay. Safe travels to Rome!
Rome at Easter – Pin this!