Rome in spring: full travel guide. Find the best things to do in spring in Rome, seasonal attractions and practical tips to make the most of your spring break in Rome, Italy.
It is hard to overstate how pleasant Rome in spring is.
Rome is always beautiful however, there is something just magical about Rome between March and June, something no other season offer.
From mid February, yellow mimosa puffs start appearing on trees along Rome streets and in the city parks, followed by white plum blossoms, pink cherry blossoms and finally purple wisteria, a symphony of colors and fragrances that embellished the already impressive features of the city.
Despite this enticing introduction, spring in Rome is not all sunshine and blossoms.
March and April see a good bit of rain and you will get some grey days and, occasionally, torrential downpours.
However, the mild temperatures and the splendor of a bright day will make up for it. This is what to expect visiting Rome in spring.
Please note: this post contains affiliate links and, should you make a purchase through them, we might make a small commission.
When is spring in Rome and what temperatures to expect
Officially, spring in Rome starts on the 21st of March and finished on the 21st of June.
In practice, temperatures tend to start rising from mid-February and usually the month of March is already pleasant and spring-like, while June already feels like a summer month (in common parlance, summer in Rome is June, July and August).
Temperaryres rise significantly between march and June however, it is not always a steady growth. Between March and April, it is not uncommon to have warm days followed by unexpected cold ones and it is not until late May or even June that you can be pretty much guaranteed warm weather and sunshine (climate change permitting!)
On average, the temperatures in Rome in spring are:

| | | |
| --- | --- | --- |
| Month | Min temp/ Max Temp | Rainy Days (average) |
| March | 6C/17C | 7 |
| April | 9C/19C | 8 |
| May | 13C/24C | 5 |
| June | 17C/28C | 3 |
In practice terms, this means in early spring you need layers and a jacket while in may and June you won't need more than a light cardigan.
You can find my full packing list for Rome in spring here.
Is Rome in spring busy?
Yes, Rome in spring is very busy! Spring is high tourism season in Rome and, in a normal year, you have very high numbers of visitors in the city, to which yo must add may Italians who come to Rome for Easter, usually in March or April.
Advance booking of accommodation and all main attractions such as the Colosseum and the Vatican is a must: book as early as possible (we provide below links to good providers with free cancellation options)
You can find here my guide to the best place to stay in Rome and best Rome hotels
The best things to do in Rome in spring
Spring is a delight in Rome and you can visit all main Rome attractions. however, there are some things that are particularly pleasant at this time and also some seawall attractions that are only open at this time.
Visit the Colosseum
The Colosseum is wonderful in spring. At this time, you get the brightest sky and this means you can wonderful views over the arena and the city beyond – get ticket to the top tier for the best views!
Good resources to plan your colosseum visit are here: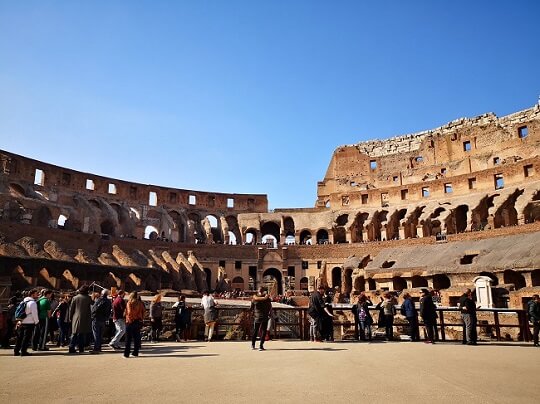 Take a stroll around the Roman Forum and Palatine Hill in spring
The Roman Forum and Palatine Hill are beside the Colosseum and they are magical in spring.
Outdoor archeological areas, on in a valley (the Forum) and one immediately above it (the Palatine Hill), the Forum and the Palatine are hot in summer, cold in winter and perfect in the midseason and, in spring, also has something special: wonderful blossoms and verdant trees framing the ruins!
A magical, unique sight!
Entrance to the Palatine and Forum is included in your Colosseum ticket or you can visit them independently, which I highly recommend to do, should you decide to skip the Colosseum.
You can find my tips for visiting the Roman Forum here and my guide to Palatine Hill here
See the petals shower at the Pantheon for Pentecoste – only happens in Rome in spring!
The Pantheon is one of the best-preserved ancient monuments in the world and always worth seeing but in spring, it is even more special.
For Pentecost, a shower of rose petals flows into the Pantheon from its famous oculus (the hole in it its ceiling)! Participating is possible but two things are important to consider.
The first is that the petal shower is part of religious celebrations for Pentecost so this is not an attraction you get tickets for, but a celebration that is part of the mass celebrated on the day – so only go if you are happy to participate/ sit in the religious aspect of it.
The second thing is that the event is usually crowded and you will need to wait in line from early in the morning.
If you don't get to or don't want to participate, make sure you visit the Pantheon anyway at another time. It is magical! You can find info about the Pantheon here.
See the Spanish Steps dressed in Flowers
Spring in Rome sees the Spanish Steps dressing up with colorful flowers. This monumental staircase is always worth seeing but once the flowers decorate its central spine it is even more beautiful.
The steps are in Piazza di Spagna, in Rome City center, and access is free.
A visit here is easily combined to one to the Trevi Fountain too, which is worth seeing in all seasons
Visit the Vatican Gardens
The Vatican Gardens are the large, beautiful park of Vatican City, sitting behind the stunning St Peter's Basilica on the slopes of Mount Vaticanus (Vatican Hill).
The gardens are open to visitors by guided tour only and they are wonderful in spring. Here you can admire Italian, English and French style gardens, grottos, flower art, Papal favorite prayer's nooks and you can also catch stunning and unusual views over St Peter's Dome. A must for spring in Rome!
You can find tickets and tips for visiting the Vatican Gardens here
Participate at Easter celebrations in the Vatican
Spring is also a wonderful time to visit the Vatican which, at this time, marks one of its most important celebrations: Easter.
If your spring visit to the Vatican falls into Easter week, you need to decide if you want to embrace it or avoid it as you cannot just ignore it!
Easter at the Vatican may mean the basilica and museums (including Sistine Chapel) are closed and the square sees many religious celebrations that, on a normal year, bring here large numbers of visitors.
You can find here >>> my guide to visiting Rome at Easter.
Take a stroll on the Aventine Hill
The Aventine Hill (Aventino) is one of the historical seven hills of Rome and a wonderful place or a stroll in spring.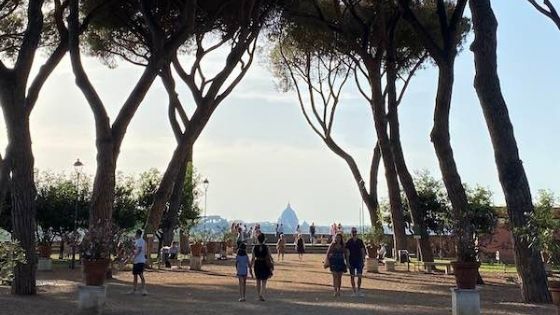 Here, make sure visit:
Circo Massimo (Circus Maximus) – Rome ancient chariot stadium, wonderful especially at sunset, frames by the petals of teh rose of the Rome Rose garden
The Rome rose garden (Roseto comunale) – Rome city's rose garden, blossoming with over 1100 varieties of roses!
The Garden of Oranges – lovely garden with orange trees and a stunning terrace with a great view over Rome
The Protestant cemetery – this is not on the hull but at its feet and it is a wonderful, English style cemetery famous for being the resting place do Keats and Shelley and for lovely views over Rome Pyramid
See the cherry blossoms
Spring is time of blossoming trees in Rome and a traditional way to spend a spring day in Rome is to go and admire cherry trees!
There are 4 main locations to see cherry blossoms in Rome and one of the most pleasant (and free) is the lake at Eur, lovely for a spring picnic.
The cherry blossoms here are beautiful and numerous, and you can admire them walking along the aptly named 'Japan promenade', ornated with trees that come straight from Japan.
The garden is a locals' favorite hangout on a sunny day and it is one of the best places to see cherry blossoms in Italy, not just in the city – pretty special!
Relax in Villa Borghese
There are many wonderful parks in Rome where to enjoy spring and the most famous and convenient for tourists is Villa Borghese.
Make sure you check out its pretty lake (Larghetto di Villa Borghese) with a nice coffee place and rowing boats for rent and the stunning terrace of Il Pincio, overlooking Piazza del Popoplo.
For a special night, consider dinner at the wonderful and scenic Casina Valadier, beside the terrace and charing its stunning views.
Visit the stunning Baths of Caracalla
The Baths of Caracalla are one of the most beautiful yet underrated archaeological sites in Rome and it is wonderful in spring.
A monumental bathhouse, the site is outdoors and is a pleasure to visit on a mild spring day when the local pine trees and wisteria blossoms are at their best.
Find our guide to visiting the Baths of Caracalla here.
Have a stroll in Rome Piazza Navona
Piazza Navona is one of the most beautiful piazzas in Rome: in spring, I recommend you come here in the evening to enjoy the lights in its beautiful fountains lit it up against the clear blue Rome sky!
Visit Ostia Antica
Ostia Antica is the ancient port of Rome and it is now one of the most beautiful archaeological sites in Italy! Easy to reach from the city, in spring it is at its best, the mild wether allowing you to visit with ease its streets, theater and outdoor cafe!
Ostia Antica is often compared with Pompeii and it is wonderful as well as well as one of the best places to see mosaics in Rome.
You can find my guide to Ostia Antica here.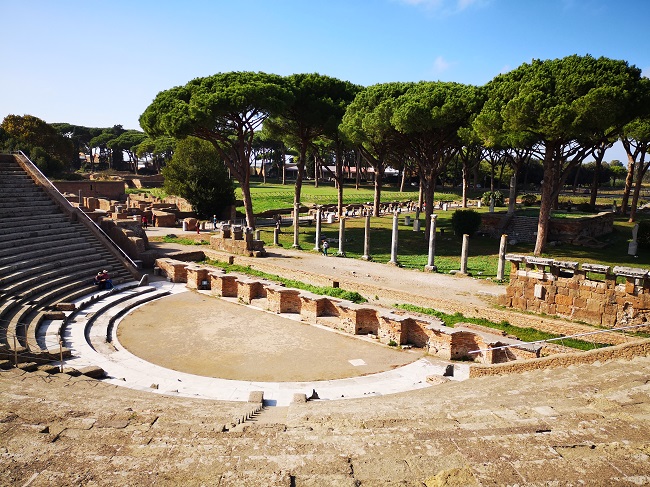 What if it rains?
Rainy spring day in Rome? No worries: we have got you covered also with ideas on what to do in Rome when it rains!
Hotels we love for a spring break in Rome
Otivm hotel – lovely 4 star hotel near Piazza Venezia and Campidoglio hill, we love it for spring, especially for its gorgeous rooftop terrace. One of the most romantic hotels in Rome!
Capo d'Africa – lovely, well priced hotel near the Colosseum, again chosen for spring because of it delightful outdoor terrace garden
Roccoforte Hotel De Russie – this is a wonderful, luxury hotel near Piazza del Popolo with a delightful garden that is pleasant in spring and even in summer, thanks to a lovely microclimate that makes it pleasant no matter how hot Rome gets!
Useful resources for visiting Rome in spring
I hope you enjoyed this guide to Rome in spring. Safe travel planning!