All you need to know about grocery shopping in Rome: types of grocery stores in Rome, what to expect, useful addresses and basic Italian phrases and Italian shopping list to help you navigating grocery shopping in Rome.
If you are visiting Rome with kids, chances are that, at some stage, you will want to pop into a store and buy some essentials.
Depending on your vacation setup, these essentials may come in the form of diapers, a snack, or a piece of fruit or you may want to have a proper shop to stock up your Airbnb or home away from home in Rome.
Rome is a large European capital and,as such, has plenty of options when it comes to grocery shopping so you will never be stuck for essentials!
However, grocery stores in Rome may be very different from what you are used to back home and some guidance can be helpful.
I am a Rome mama so, as you can imagine, I am very familiar with grocery shopping for my family in the city.
In this guide, I share all you need to know to find groceries in Rome and some tips on the shops you may expect to find. I have also included a list of useful Italian words you can use to buy grocery in Rome.
I hope you find this guide helpful!
Grocery stores in Rome: what to expect
Grocery stores in Rome come in many forms: local markets, small grocery shops, cheesemongers and deli shops are the most characteristic.
However, in Rome, we also have supermarkets and even what we call hypermarkets, very similar to the grocery stores you probably have back home.
So, honestly, food shopping in Rome is very much what you make of it!
At a glance, grocery stores in Rome include:
Mercati / Markets
Independent grocery stores and alimentari
Mini makes, super markets hypermarkets
Need to know! Grocery stores and supermarkets in Rome do not sell medications of any sort. For anything medical, including paracetamol or other items you may be used to getting in supermarkets in different countries, you have to go to a Farmacia (pharmacy) instead. You can find here >> my guide to Pharmacies in Italy .
Mercati – Local food markets in Rome
Markets are the most traditional types of produce shops in Rome and you can still find them in most neighborhoods, including the city center.
Markets can be indoors or outdoors, big or small, have groceries only, or also sell essential household items such as cleaning products.
Markets can be cheap or expensive, local or very touristy: what they all have in common, however, is that the produce is usually showcased loose, so markets are often a fun place for a stroll!

Good to know: Do not presume markets are cheaper than the local supermarket: they often aren't! They do, however, in some cases, offer better quality products.
In Rome, there are several mercati rionali, which are the original food markets in the historical neighbourhoods of Rome (Rome's Rioni– you can read about them here) and additional markets in local neighbourhoods.
As the city expanded, new markets appeared, serving neighboroods as they populated and grew.
Some food markets in Rome you may encounter while visiting include:
Mercato Rionale Nuovo Esquilino, Via Principe Amedeo 184
The most multiethnic market in Rome this is an indoor market with a food section and one devoted to household and clothing.
A great place for staples and one of the best to find products from several Asian cuisines and Eastern Europe especially.
Mercato Rionale Monti, Via Baccina 36
One of the oldest markets in Rome, with a selection of grocery stalls and deli counters
Mercato Rionale di Testaccio, entrances on Via Beniamino Franklin, Via Alessandro Volta, Via Aldo Manuzio, Via Lorenzo Ghiberti
One of the most famous markets in Rome and a popular one with foreign visitors, as often included in guided food tours of Rome.
The market is a gastronomic delight as it has fruit and veg stalls, deli counters but also street food and ready meals for a to-go experience.
The market also often offers cooking demonstrations and food labs as well as music and food events.
This is a mix between a market and an event space, now firmly on tourist itineraries yet still nice.
Mercato Rionale Trastevere, Piazza San Cosimato
A lovely market with seasonal produce, deli counters with cheese and cured meats and fishmongers. The markets has produce from all over Italy with some local stalls with producers from the Rome / Lazio area.
Mercato Rionale Trionfale, Via Andrea Doria 3/Via la Goletta
A nice market close to the Vatican, this one has a selection of grocery stalls, deli counters, butchers, fishmongers but also food stalls, household items and knickknacks and more.
Mercato Rionale Prati, Piazza dell'Unità 53/Via Cola di Rienzo
Another covered market not far from the Vatican, good for fresh grocery, fruit and vegetables.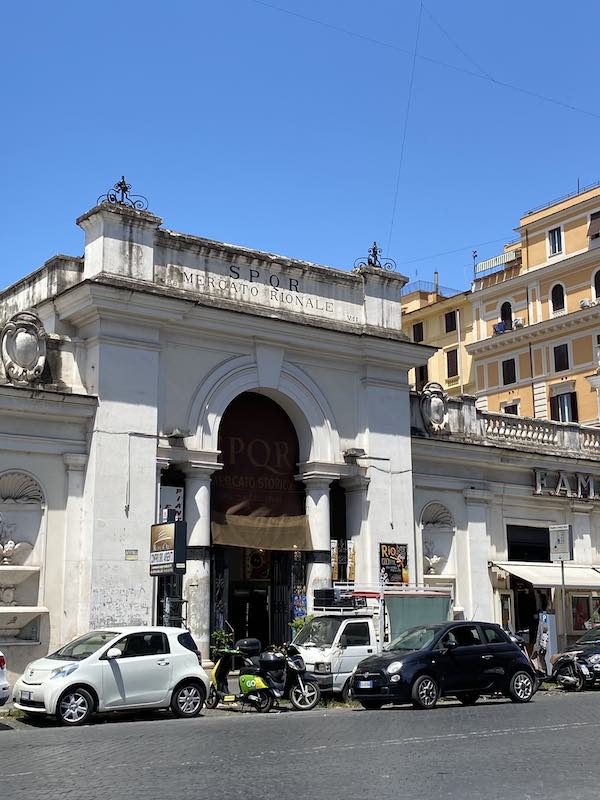 Mercato Rionale Nomentano, Piazza Alessandria
A handy and traditional local market in the Trieste Salario neighbourhood, hosted in a 1920s market hall. A decent selection of grocery stalls and essentials. This is a good local address if staying in the area.
Mercato Trieste, Via Chiana, 109
Another market in the Trieste Salario neighbourhood, indoors, it has a good selection of grocery stalls, deli counters and basic household cleaning products and toiletries.
Campo de' Fiori Market, Piazza Campo de' Fiori
Famous street market in one of the most famous piazzas in Rome, this market has stalls with fresh produce and tourist favourites such as limoncello bottles and food gifts.
Good to know: the market in campo de' Fiori is often mentioned in guidebooks as a Rome must-see and something to experience. While the market has a long history, however, I do not find it great at all: the market is now very touristy and expensive and sees more tourists that locals. If you are in the area in the morning, when the market is on, you can drop in and snoop around. However, I do not believe there is any reason to travel here from other parts of the city for it. For a real, local market experience, the market in a local neighborhood such as Prati (close to the center but more residential) is better. Come to Campo de' Fiori for the piazza, not the market!
Independent grocery stores
Independent grocery stores usually specialize in a certain type of product, such as:
Independent Grocery shops for fresh produce (verduraio, fruttivendolo or ortolano) – small, independent grocery shops selling fruit, vegetables, possibly eggs, etc.
Independent grocery stores for staples (Alimentari) – small to medium food stores with bread, cured meats, cheese, and fresh pasta. Sometimes, they have a small stock of basic toiletries and household items.
Butchers (macellai) – selling meat and, often, pre-prepped dishes you can cook at home, such as stuffed meats, meatballs, mixed bbq selection etc.
Mini Markets, Supermarkets, Hypermarkets
Mini markets – a mini market (we keep the English name even in Italian) are small supermarket.
These are common in both the city center and more local areas.
They have a limited yet satisfying choice of many different essentials, ranging from food staples to shampoo and basic household items.
Some have a deli counter where you can buy items such as cured meats, cheese, bread and more and a produce aisle.
Supermarkets (supermercati) – supermarkets are just what the name suggests, large grocery stores of the same type you may have back home (thing Tesco, Vons, Traders' Joe etc).
Supermarkets usually have a butcher and sometimes fishmonger stalls where you can get fresh meat and fish.
Supermarkets in Rome come ins several sizes and usually carry a large selection of all daily essentials you may need: bread and baked goods, cured meat, pasta, rice, canned goods and other staples, essential cleaning products for the house and baby products and all you expect to find the refrigerated section of the supermarket back home.
Common supermarket chains you will find in Rome are:
Carrefour
Conad
GS
Lidl
Coop
Pam
Ipermercati (hyper-markets) – ipermercati are super-sized supermarkets!
They are outside the city center and you usually need a car to reach them.
They tend to be useful for larger shopping expeditions, for instance, if buying for an extended stay in Rome with family and have access to a fridge, freezer and cupboard storage.

Ipermarcati usually have all the basic staples of supermarkets but they also often carry additional items such as school supplies, household essentials and more.
Need to know: the definition of mini-market / supermarket / ipermercato is not set in stone. They are just an indication of the type of size of the grocery store you can expect. Some supermarkets are very big and some are much smaller, so, use these definitions as a guiding principle only!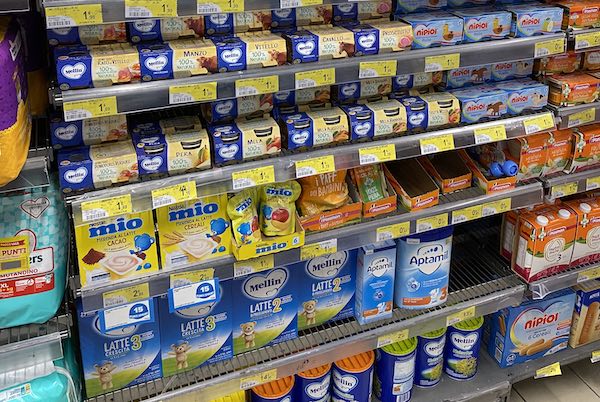 Good to know! Supermarkets are one of the best places in Rome to buy baby and toddler food. Find here >>> our guide to bring baby items in Rome.
How to find grocery stores in Rome
Finding grocery stores in Rome is easy as you find one type or the other pretty much everywhere.
.
To find grocery stores in Rome, you can:
Look on google maps – if you zoom on your area, grocery shops and supermarkets will shop on the map with the exact address
Ask your host – insider knowledge will take away the need for research and direct you to the best shops. If your host doesn't speak English, read below our quick guide to food shopping in Italian!
Ask a mom – the answer to everything, right? If you spot a local mom, you can just ask 'Scusi, c'e' un supermerato qui vicino'? Excuse me, is there a supermarket nearby? If there is, she'll know!

Grocery shopping in Rome – How to buy groceries in a Rome market
Going to a market in Rome can be great fun. Markets in Rome are colorful, busy and local.
Depending on what you enjoy, they can be a fun place to experience or a place you dread, sensory overload of sounds, colors and crowds quickly becoming overwhelming.
However, you can also just start by keeping in mind the following principles:
Markets come in all shapes and sizes: some have genuine good produce, others have not-so-great-one and have moved towards catering for tourism with overpriced items such as commercial level limoncello etc.
Do not assume that everything is genuine and wholesome because it is in a market: always choose your produce as you would anywhere else!
In most cases, stall owners prefer to serve you rather than having you pick your produce: just point at what you need and let them get it for you unless otherwise instructed.
Produce is usually loose in markets and the stall owner will wight it in front of you to give you a price. The price of produce in Rome is generally in etti (1 etto = 100 grams) or chili (kilos. 1 kg = 1000 gr)
Market stall owners usually do not speak English

Markets usually prefer dealing with cash. However, things are changing fast and now debit cards are widely accepted.

In Rome markets, you can usually buy fruit, vegetables, fish, and meat. Usually, indoor markets also have shops with additional staples such as pasta and household items. However, for such items usually, supermarkets or alimentary shops are better equipped.
How to buy groceries in Rome's independent fruit and veg shops
Independent fruit and veg shops are slowly becoming a thing of the past.
However, you still see them and they can be fantastic to get fresh produce locally.
In Italian, we call these shops verduraio (lit: the person who sells verdure = vegetables) also Ortolano (lit. the person who sells harvest products) or fruttivendolo (Lit" the person who sells fruit) and they usually sell fresh fruit, vegetables and often eggs.

These shops tend to be local to certain areas and therefore have prices that mirror how wealthy or not wealthy a certain locality is.

In Rome's city center they can be costly while in more popular areas they can offer good bargains.

As for the markets, there is no general rule regarding cost and quality: follow your instincts and if you don't like the look of those veggies, go to the next one!

In small Italian grocery stores, you can usually buy fruit, vegetables, eggs and the occasional additional product from the farm such as fruit juice and similar.
In grocery stores, knowing some italian can be a helpful. If you don't have any Italian however, don't despair!
Since the products are on show, you can just point and ask for what you want, either by weight or by number of items.
Buying groceries Rome supermarkets
Food shopping in Rome supermarkets is like going grocery shopping back home.
We have very much imported the idea of supermarkets from abroad, so there is very little that is specific about Italian supermarkets you need to worry about before going.
Conad, Coop, and Carrefour have several branches in Rome city center and you are likely to pass several of them as you stroll.
Their entrances may be smaller than you expect and they may be hosted in old buildings rather than in bespoke one so you may not identify them until you are right in front of them.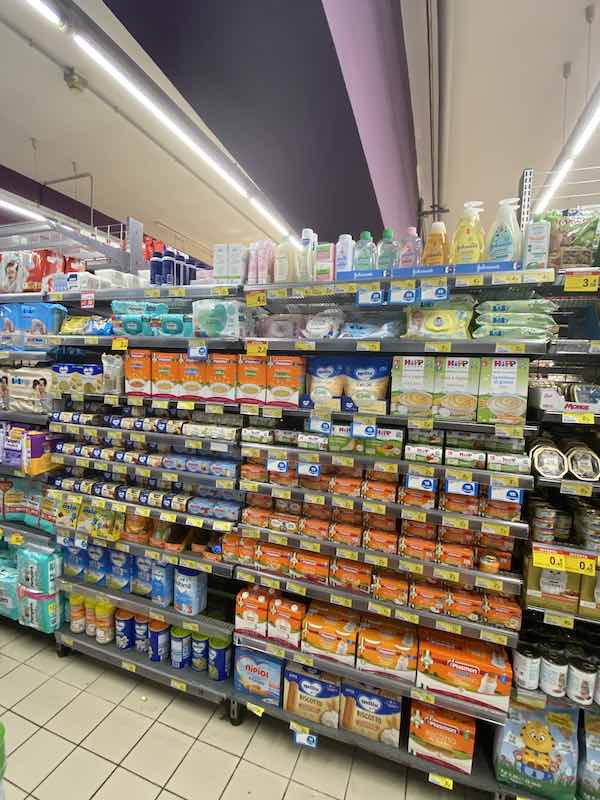 Supermarkets usually have the main aisles with all the basic food items and household items / personal toiletry that you expect, self-service fruit and vegetable, and refrigerated aisle with milk, yogurts, cheese etc. They often also have manned stalls such as deli counters and, sometimes, fish and meat stalls.
You also now very often have a 'free from' aisle with milk alternatives, gluten free pasta and allergy-friendly foods.
What you can buy in Rome supermarkets: all basic food needs fresh and dry, some gourmet options, breakfast staples, basic toiletries and house cleaning essentials, and basic baby items.
Good to know: when picking loose fresh produce from a supermarket aisle, you need to wear the disposable gloves provided. Often, you also need to weigth your purchase. Electronic scales are located in the produce aisle: when picking your product, place it in a disposable bag, then take a mental note of its scale number (taste bilancia, or just tasto). Punch that number into the scale, wait for it to produce a sticker with a bar code and stick it to your bag. This will then be scanned at checkout and added you your bill.
Food shopping at Italian alimentari – the most traditional types of grocery stores in Rome

Alimentari is the name of the traditional food shops in Rome that existed before supermarkets took hold.
Alimentari are usually local shops and tend to sell all food staples you wouldn't get at the greengrocer or the butcher, mainly bread, cured meats, cheese, pizza and basic household and toiletry items such as shampoo and cleaning products.
Alimentari still very much exist and they are fantastic for a take-out lunch or basic shopping. However, they can be expensive as often they have specialized in higher-end products to stand a chance against the competition of the big supermarkets.

Alimentari is ideal if you want fresh bread, ham, cheese and, often, fresh pasta and sauces such as ravioli, pesto and more.

Good to know: when I was little, a typical food shopping session included a stop at the alimentari, one at the butcher and one at the fruit and veg stall. So you can think of them as the different sections of a supermarket, just spread around a neighborhood!

Going grocery shopping in Rome if you don't speak Italian – essential vocabulary
You will need little to no Italian if you go grocery shopping in large supermarkets.

However, if your grocery shopping in Rome leads you to markets and smaller grocery stores, knowing Italian works for foods and some basic Italian expressions can be useful.

Grocery shopping in Rome mini dictionary:
Grocery shopping = fare la spesa
Example: I need to go grocery shopping = Devo andare a fare la spesa
Where can we go grocery shopping? = Dove possiamo fare la spesa?

How much is it? = Quanto costa?
Main staples you can buy in grocery stores in Rome and Italian names for common foods and basic household / personal items:

• Mele – apples
• Pere -pears
• Banane – bananas
• Ananas – pineapples
• Uva – grapes
• Arance – oranges
• Pesche – peaches
• Albicocche – apricots
• Fragole – strawberries
• Carote – carrots
• Melanzane – aubergines/eggplants
• Zucchine – courgette/ zucchini
• Patate – potatoes
• Cipolle – onions
• Aglio – garlic
• Pomodori – tomatoes
• Latte – milk
• Latte di soia / latte di mandorla – soy milk, almond milk
• Latte a lunga conservazione – UHT milk
• Uova – eggs
• Pollo – chicken
• Manzo – beef
• Macinato – minced beef
• Maiale – pork
• Vitello – veal
• Farina – flour
• Sale – salt
• Tonno – Tuna
• Prosciutto – Parma ham
• Prosciutto Cotto – cooked ham
• Fagioli – beans (usually plain, not baked beans English-style)
• Mais – corn
• Passata – basic tomato sauce
• Riso – rice
• Scatolette = canned food
• Carta igienica = toilet paper
• Pannolini = diapers (baby)
• Detersivi = detergents

Non-food items you can buy in supermarkets and some grocery stores in Rome
Supermarkets, and occasionally smaller Italian grocery stores, carry more than just food.
Among the non-food items you can expect in Italian supermarkets, there are:
Soap/shower gels, bubble baths etc
Toothpaste and toothbrushes
Hair care products
Deodorant
Low-budget hydrating cream
Sunscreen
Female sanitary towels and tampons
Pet essentials
Toilet paper / tissues / kitchen towels etc
Bottled water
Soft drinks
Alcohol
House cleaning products (usually detergent, not always mops or bigger items)
Laundry detergent, softener etc.
How to buy fresh produce in Italian
If you don't speak Italian, you can buy produce in supermarkets or by pointing at what you need.
However, if you want to have a go at asking in Italian, this is how you can do it:
"Per favore, vorrei" = please, I would like
or also
"Per favore, mi da'" = please, can you give me
un chilo di mele (one kilo of apples), 300 grammi di carne (300 grams of meat), quattro pesche (four peaches) etc.
To know how much something is you can ask:
'Quant'e'? – or 'quanto costa' = how much it is?
If you are not sure how to make your request polite, read here >>> how to say please in Italian.
So for example:
Per favore, vorrei un etto di prosciutto di Parma e quattro panini all'olio = Please, I would like 100 grams of Parma ham and four bread rolls
See also: 100+ useful Italian expressions for travelers
How to buy food in Italy by weight – Useful Italian measurement when food shopping
When grocery shopping for fresh produce, you are likely to encounter loose fruit and vegetables with no individual price tag.
In that case, you will need to buy them by weight, which in Italy is calculated in grams, hectograms (100 grams) and kilos (1000 grams).
This can be stressful at the start but you will quickly learn how much your family needs.
This quick table may come in handy:
| | | |
| --- | --- | --- |
| Unit in Italian | Unit in English | Equivalence in lb (approximate) |
| Un / Uno / Una | One | |
| Due | Two | |
| Tre | Three | |
| Quattro | Four | |
| Cinque | Five | |
| Un etto | 100 grams | 0.2 |
| Mezzo chilo | 1/2 Kilogram | 1.1 |
| Un chilo di | 1 Kg | 2.2 |
Conclusions: 10 tips for going to grocery stores in Rome
I trust you now know that going grocery shopping in Italy is easy!
These are just some recommendations to make the most of your grocery shopping trip in Rome:
Check prices before buying: market / small shop does not equal cheap! 
Shop around: even in the same market, you will find stalls with different quality produce. Try and change if you are not satisfied with your first pick
Go to the market early in the morning for the widest selection
Go to the market right before closing time to snap a bargain (and you are not fussed by what type of produce you get)
Chat with the stall owner or figure out delivery day at your grocery store of choice so you can get there as soon as fresh things arrive
Bring your own shopping bag, to save money and the environment
Familiarize with Italian weight measurements so you can make an accurate purchase
Bring cash and cards and sometimes only one form of payment is accepted
In supermarket, remember to wight your fresh produce and stick the relevant sticker on the bag. If you don't, the cashier will have to send you back and the line behind you won't take it kindly! 
Bonus tip: don't be afraid to take your time when picking fresh produce. Just use the disposable gloves provided so you can touch the produce in a hygenic (and legal!) way