Trova Trails app review – our review of this new fun Rome app with Rome treasure hunt for kids. What it is, who's it for, how to get it.
I am always on the lookout for new, fun and exciting ways to get my kids to explore Rome and learn more about the city.
Whenever we can, we get out and about and take tours, walks, workshops, lazy strolls, hands-on activities, classes and we always have great fun.
There is really no such thing as ever being 'done' with Rome!
You can see here >>> all our favorite activities in Rome for kids.
However, over the course of our Rome family escapades, I noticed there is one type of activity that is the most engaging for them: a treasure hunt!
My daughter in particular, who is now 10, adores scavenger and treasure hunts and is always up for sightseeing, whenever there is one available.
Therefore, I got very excited when I learned about a new kids' app for Rome with treasure hunt trails around Rome's main sights: the Trova Trails app.
The Trova Trails App is built by a local mom and promised to be a fun way to enjoy and learn about Rome attractions in your own time and at your own pace.
Available on the App Store, it is easy to download and only costs a handful of Euro, definitely worth for an afternoon of fun!
We put it to the test last weekend, when we tried it around the Colosseum.
The app turned out to be fun, engaging and informative and it also rather different from other experiences already out there, making it a rather unique idea.
We found it a great tool for those days when you are not taking a tour yet you still want to engage your children in sightseeing around Rome.
This is our Trova Trails App review. I hope you find it helpful!
Trova Trails App for kids in Rome: what it is
The Trova Trail App is a Rome app for kids with treasure hunt trails in and around the city of Rome.
Available from the App Store on your phone, the app contains 5 treasure hunt trails for kids which you can purchase individually or as a bundle.
The trails include: The Colosseum (outside), St Angelo Castle (inside, ticketed), the Capitoline Museums (inside, ticketed), the Pantheon (inside, free) and a city center train between the Navona and the Trevi neighborhood (free).
The trails are story led and fun.
At the start of each, you read a brief story that sets the scene for your hunt and challenges you with a task.
With your goals in mind, you then use the app to run around and keep your eyes peeled for the several things you are challenged to find.
Each thing is a key that allows you to answer riddles and eventually get to the final and hardest riddle of all, which then gives you your trophy in the form of a score and the satisfaction of completing the hunt!
iPhone users can download it here
Who the Trova Trails App is for
The Trova Trail App is for kids age 7 and up.
I used it with my children who are 10 and 12 and they found it it fun for that age.
Especially my ten year old really liked it!
The app has a good bit of text and has some challenging questions.
So, while it is possible to use it with younger kids too, with help from the parents, we felt age 10 or so was a good one to truly appreciate it.
I have below some tips to make the most of the app, no matter what age your kids are!
Trova Trails App for kids in Rome: where can I use it
The Trova Trails App has 5 different trails.
They all follow the same approach and game-centered idea however, since they cover very different areas, you never feel like you are doubling up if doing more than one.
A present, the trails cover the following:
Colosseum (outside) – this is the tour we review below!
The Trova Trail App treasure hunt of the Colosseum allows your kids to explore the area around the Roman amphitheater, which is fascinating and full of things to see.
In this free and beautiful space, the app leads you to investigate fantastic Imperial triumphal arches, find the ancient gladiator school, and will challenge you to find carving and symbols that are fascinating and that you are pretty sure to miss without a prompt!
The trail here requires 40 min to an hour to cover and it is a great way to complement a visit inside the theater.
For a visit inside, you can instead find here >>> our tips for visiting the Colosseum with kids
Castel Sant'Angelo trail
Castel Sant'Angelo is one of our favorite attractions for kids in Rome and one of the most comprehensive of the Trova Trails on the App.
The app follows the main visitors route around the castle and has many riddles and prompts to make you notice things and learn about the many stories this incredible monument has to tell.
During the visit, you will explore corridors, staircases, terraces, bastions and even discovering hidden passages.
This is a fun way to discover the castle for kids who may find the official audio guide too passive.
Find here >>> our guide to visiting Castel Sant'Angelo with kids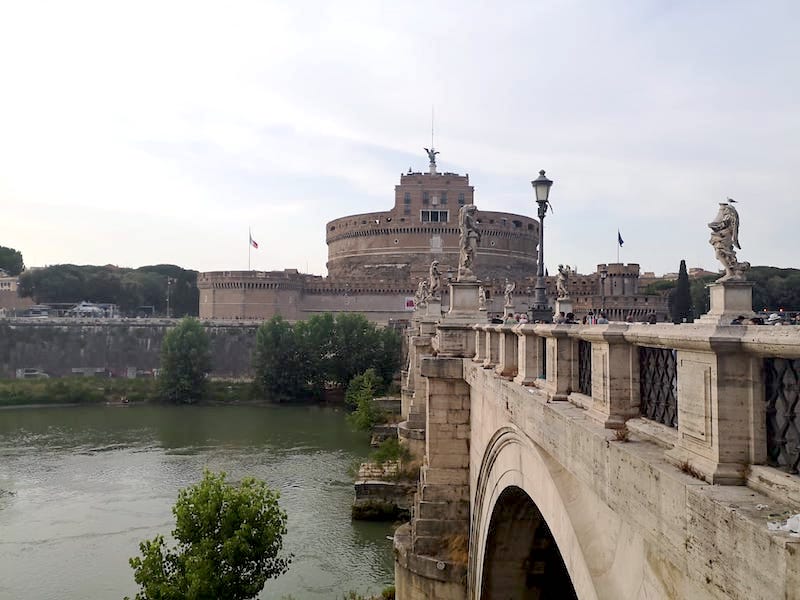 Capitoline Museums trail
The Capitoline museums are one of the best art museums in Rome for kids as they are full of peculiar pieces that can pique a child's attention.
The Trova Trail app takes you through the museum in about one hour or so and leads the children to notice both elements of the impressive building that hosts them and some of the most fascinating peaces.
You can find here >> our tips for visiting the Capitoline Museums with kids (and why we recommend going)
Heart of Rome Trova Trail
The heart of Rome Trova Trail App treasure hunt is a little different form the others as it is a trail around the city, rather than in or around a specific attraction.
The trail covers several of the most famous piazzas in Rome and it is one of the longest, requiring up to 2 hours or longer to complete.
Despite this longer length, the trail is self guided and therefore allows for many stops along the way, so it is ends up being more manageable than it may seem!
With this trail, your kids will discover Piazza Farnese, Campo de' Fiori, Piazza Navona, Pantheon and even the Trevi Fountain.
You can find here >>> our guide to Rome's most beautiful piazzas, many of which are on this trail.
Pantheon Trova Trail
The Trova Trail app for the Pantheon leads you inside a the best preserved ancient Roman building in the world, Rome's Pantheon.
The Pantheon is full of interesting things for kids; however, it is not a monument you can understand without a bit of guidance and the app is a great way to compensate this lack of info with a fun task for the children to pursue.
You can read here >>> fun and interesting facts about the Rome Pantheon
Need to know: unlike the other trails, this one comes with a complication: the fact that to enter the Pantheon you often have to queue for hours. If you go at weekends, you can usually avoid the line by booking a place in advance. If going during the week, I highly recommend you go early in the morning or sneak in if you happen to be there at a quiet time – if the line is short, make the most of it on the spot as it may not happen again during your stay!
The Trova Trail App Colosseum Treasure hunt – our review
I have been using the Trova Trail App with my kids in the last few weeks, the last time to explore the outside of the Colosseum.
So for this last part of the review, I though it could be useful to look at this one more in detail!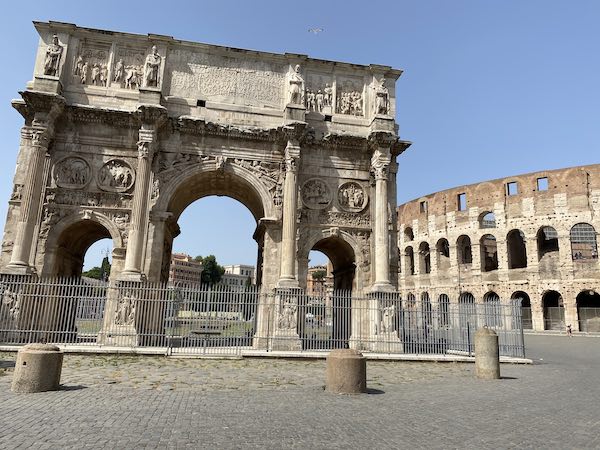 We used the app on a Sunday afternoon: the area was busy however, it wasn't significantly worst than many other times and we found we had sufficient space and time to be able to enjoy the trail.
I had downloaded the app when on wifi and entrusted my phone to my 10 year old.
She loves treasure hunts and she got immediately stuck in. We quickly discovered what we liked about this app: the fact that it is a bit challenging!
The trail gives you all the clues you need to actually solve the riddle and complete the hunt; however, the clues are not obvious and you need to move and really pay attention to find them, with is fantastic for this age and to be honest even for grown ups, as you have to spot big items but also smaller carvings you may otherwise miss.
We got most of the clues right but one really stumped us, towards the end!
However, even if you make a mistake, you can keep going, which is nice as you never feel like you are failing, only learning.
The clues are a mix of things to find, facts and questions and the last one is a more complex riddle that mixes what you learned form the app, what you saw and where you are, which is a fun way to end the experience bringing everything together.
As we fisniehd, I asked my daughter is she enjoyed it and if she would recommend it as something to do to her friends: she said yes, which is basically the best endorsement you can get from a child!
How to make the most of the Trova Trail App for kids in Rome
The Trova Trail App is a nice app, made by a mom who clearly has hands on knowledge of the city of Rome and a desire to help kids discovering it in a play-centred way.
We found that a couple of things made the experience of using it even better for us:
Have a 'treasure' with you. The app is a treasure hunt but just because of its nature, it cannot reward you with an actual treasure in the end so it is best to have a plan so your explorers can feel their efforts have been rewarded.
An easy way to do this is by promising a stop in a gelato place or a stop at a playground nearby, which is how I rewarded our efforts!
You can find help finding playgrounds and kids attractions close to the trails on the links above – each link to the attraction also covers tips with that to do nearby with children, including gelato places, playgrounds and more.
2. Have a second device for photos and maps. Especially the 'heart of Rome' trail is long and you may not want to stay without your phone for the length of it.
Also, the area is stunning so you'll want to make sure you have ways to take photos.
3. Do it with your kids. The app is for children but it has a good bit of text to go through so you may find your child may want your support.
I personally enjoyed it doing it as some of the info are not that obvious and they are fun to learn!
However, it is not an app they can use independently while you do you tour, it is more like a family game (at least, this was out experience, I know each child is different) so I believe having the right expectation is key.
I found a good way to use the app was to divide the time between moment when the kids were reading it and moments when I did.
This way, when I felt the attention ran the risk of slipping, I could just skim read to them and move to the next clue.
While some of the text is important to the hunt, other facts are optional and a nice touch if you want our kids to learn more, yet easy to skip if needed.
Overall, we enjoyed using this app and spent nice afternoons playing with it.
I hope you enjoyed this review and you give Trova Trails a go. Get it here. Have fun!