Rome in winter: all you need to know to plan the perfect winter stay in the Eternal City.
If you are planning a visit to Rome in winter, you may be wondering if and how the cold season will affect your plans for the eternal city.
Will winter affect your sightseeing? Will it rain all the time? How cold does Rome actually get, in winter?
Rome is very seasonal, so there is no doubt that a winter trip to Rome being very different from a good season one. But different doesn't mean worse: winter in Rome can be a wonderful time for visitors and, with this guide, I hope to show you how you can make the most of it!
I am a born and bred Roman and have seen over 40 winters in Rome. So when I tell you that I know how to make the most of the winter months in Rome, you know I mean it!
I hope you find this guide helpful: if this is a first trip to the Eternal City, make sure you also read >>> our guide to Rome for first time visitors.
It is full of tips and need-to-know!
This post contains affiliate links and if you make a purchase through them, we might make a small commission at no extra cost to you.
When is winter in Rome?
Officially, Rome's winter starts on the 21st of December and ends on the 21st of March.
In practice, however, Rome starts to feel like winter at the end of November and starts to feel like spring in the middle of February.
During this time, you can expect short daylight hours and cold temperatures that will make you want to wrap up in a good winter coat and scarf.
You can find here >>> our complete packing list for Rome in winter.
How cold is Rome in winter? What to expect from the weather each month
Rome's winters are cold but not freezing.
Temperatures start to drop at the beginning of October, decline steadily into November and tend to reach their lowest point during January and February before picking up again in March.
On a normal winter day in Rome, temperatures stay above zero and snow is unusual.
That said, while not freezing by any stretch of the imagination, the real feel of winter in Rome is different from what the thermometer suggests, and many get caught unprepared by how chilly it gets!
Very green, very humid, and often washed out by torrential rains, Rome can feel very cold and in winter and planning some time indoors is wise.
Despite photos suggesting snowy days in Rome, usually, it does not snow in Rome in the winter.
Here is what to expect each month:
Rome in December
December is a beautiful month to visit Rome.
At this time, the weather is cold, but it is also often bright and crisp, city life is in full swing, offering exhibitions, theater and concerts galore and the city has a beautiful local feel.
If you visiting during the Christmas period, you will also find lovely decorations, shopping opportunities and even Christmas markets!
At a glance:
Temperatures in Rome in December: Max 13C/59F Min 4C/39F
Rain: possible
Snow: very rare
Crowds: high
Travel resources:
Rome in January
January is the heart of the winter in Rome.
The days are short, the temperatures low and once the festivities are over, on the 6th of January, the city slowly settles into its most local, everyday life pace.
Temperatures in Rome in January: Max 12C/55F Min 3C/37
Rain: possible.
Snow: unlikely
Crowds: high until the 6th of January. Low for the rest of the month
Travel Resources to visit Rome in January
Rome in February
February in Rome is a month of transition.
Very much a winter month and therefore still primarily cold and with the occasional rainy day, February is also the time when spring slowly comes back to Rome and the result is surprisingly pleasant.
Blossoms start appearing on trees, the perfume of mimosa flowers fills the air and while you will still need to wrap up at least on some days and in the coldest hours of the day, you may also find yourself shedding your top layers and bask in the warming sun.
Temperatures in Rome in February: Max 12C/57F Min 3C/37C
Rain: possible
Snow: unlikely but possible
Crowds: medium
Travel Resources:
> Travel Guide to visiting Rome in February. > Carnival in Rome
Rome in March
March in Rome is a wonderful month.
This is when spring envelops the city and while the weather may well play tricks on you, with showers of rain, usually you can expect mild temperatures and bright days, perfect for sightseeing.
Temperatures in Rome in March: Max 17C/63F Min 6C/43F
Rain: possible
Crowds: medium/ high, depending on how Easter falls (easter in Rome is very, very busy)
Travel resources:
Top things to do in Rome in winter
This is my selection of the best things to do in Rome in winter to enjoy the city and protect yourself from the weather.
Visit the Colosseum without the crowds
The Colosseum is wonderful in winter.
While partly outdoors, the amphitheater has a mix of covered and fully outdoors areas and this means you are usually protected from the extremes of weather.
If you go outside of the Christmas festivities, you usually find the Colosseum in winter to be significantly less busy that at other times too.
Find here >>> my complete guide to getting tickets and how to best visit the Colosseum
Go to Trajan's Forum
Trajan's forum is part of the large complex of the Roman fora, the part of ancient Rome still visible in the centre of the modern city.
Tourists tend to visit the stretch of the forum beside the Colosseum but in winter, this open air archaeological area can be hard to take.
My advice is to go instead to the forum of Emperor Trajan, just in front.
This forum has its own entrance and ticketing system, is beautiful and has excellent information panels, which are sadly lacking in the other sections.
Impressive and informative, the Trajan's forum has both an indoor and outdoor area and also offers sweeping views over Rome city center and the archaeological area.
You can find info and ticket here
See Piazza Navona
Piazza Navona is one of the most famous piazzas in Rome and it is spectacular in all seasons, including the winter!
The piazza has some of the most beautiful fountains in Rome, the incredible Baroque church of Santa Agnese in Agone and, in January, hosts a traditional Christmas market, the most famous in Rome.
You can read here >>> all about Piazza Navona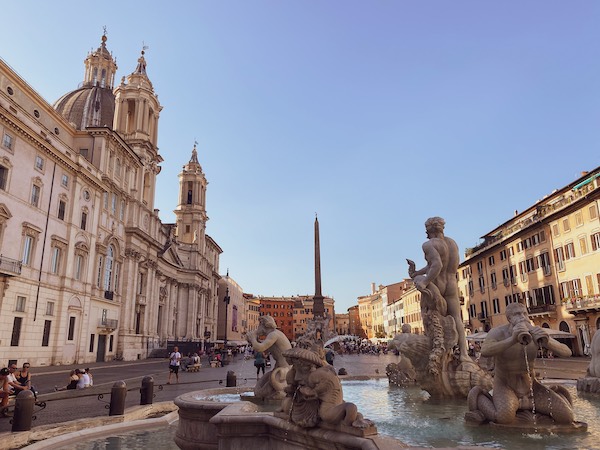 Throw a coin in the Trevi fountain
The Trevi Fountain is open in all seasons so you don't need to worry about winter getting in the way of your visit!
Actually, since winter in Rome often sees the lowest crowds, it tends to be a great time to visit the Trevi Fountain as, at busy times, this is one of the attractions receiving an excessive amount of crowds.
Read here >>> all you need to know about the Trevi Fountain in Rome
See the Spanish Steps
The Spanish Steps know no seasons and are stunning in all weather!
While in winter you will not have the beautiful flowers decorating the steps, you will be able to enjoy the magnificence of their architecture and you may enjoy the beautiful shops of this area too!
Read here >>> all you need to know about the Spanish Steps in Rome
Visit Castel Sant'Angelo
Castel Sant'Angelo is the ancient Mausoleum of Emperor Hadrian, later turned Papal Fortress and, finally, museum.
The castle is stunning and offers a beautiful and interesting visiting path across indoor rooms and terraces easy to enjoy in all seasons.
Find here >>> our guide to Castel Sant'Angelo
Go shopping
if you love shopping, the winter in Rome is a bit of a treat as in January you can enjoy sales season!
Find here >>> our guide to the best shopping in Rome
See a match at the Olimpico stadium
If you like Italian soccer, than the winter is a great time to see a match at the Olimpico stadium as the season is in full swing!
if you are not up for a match but you want to see the grounds, it is also possible to go for a tour
Visit Rome underground attractions
Did you know that Rome has many underground attractions?

They are all over the city and are way more varied and interesting than many realise: they include the catacombs, several ancient Roman Houses, the Palace of Nero (Domus Aurea) and smaller, interesting temples called Mitraea. These attractions are wonderful in winter and a great way to escape the rain!
Find info about all of them in >>> our guide to Rome underground attractions
Go to a museum
Rome has stunning museums worth visiting in all seasons but in winter their truly come to life.
You can choose between prominent museums and small galleries, or you can pick one of the many exhibitions that make their way to Rome in winter.
They are usually widely advertised around the city so all you need to do is to keep your eyes peeled for the many posters and pick the one that picks your fancy.
Some of the most exciting museums in Rome I recommend are:
Or got to church!
If you need to find shelter from the rain quickly, just head inside one of Rome's many churches.
Most of them are truly spectacular and are the home of essential works of art.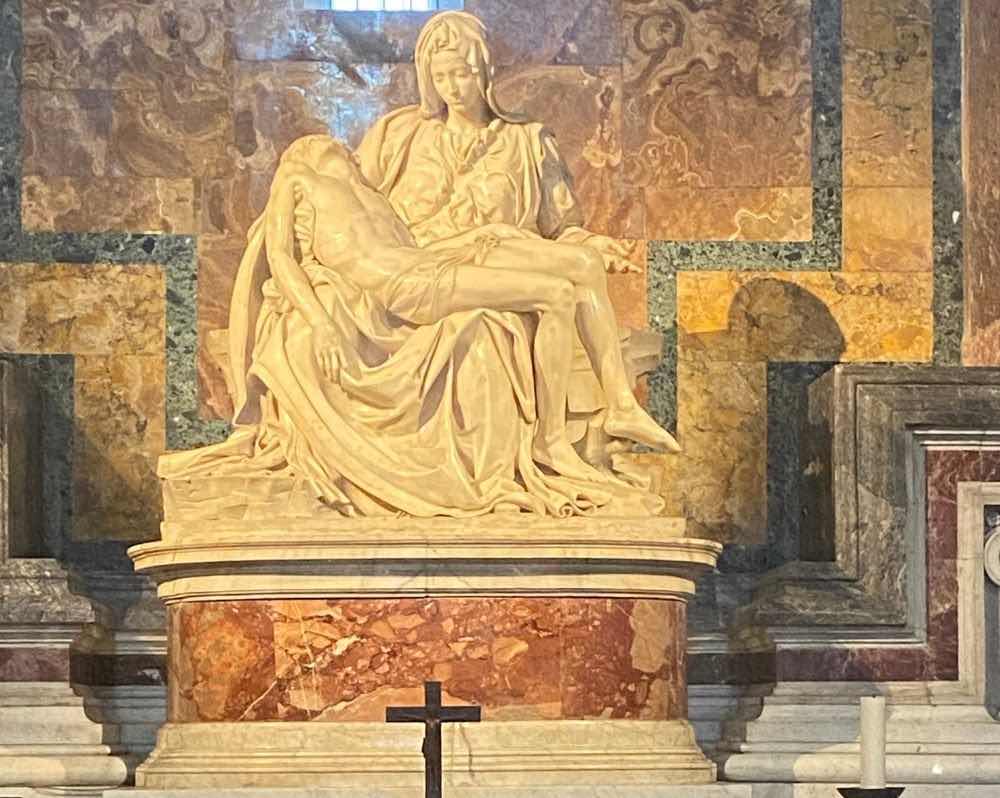 Masterpieces by Caravaggio and Michelangelo to name a couple, are not just in museums but in churches, making them one of the cheapest and atmospheric cultural stops you can have in Rome.
Some of the most beautiful Rome churches are:
San Pietro, Vatican city
Santa Maria della Vittoria, with the extasis of St Therese by Bernini.
Santa Prassede

, with wonderful Bizantine Mosaics

San Luigi dei Francesi (Caravaggio)
Have a cup of tea
Rome is more famous for coffee than tea; however, on a cold winter day there is nothing more warming and soothing than a nice cuppa and Rome has lovely tea houses where you can get one!
Find addresses in our >>> guide to having tea in Rome
Have a glass of red wine in an enoteca
If you prefer the warming properties of Bacchus, Rome is full of fabulous wine bars with cozy interiors and delicious wine and food offerings.
Enoteche are best enjoyed in the evening and can be found almost anywhere in the city centre.
Some of my favourites are 313 on Via Cavour and Cul de Sac near Piazza Navona, both very well located close to main Rome landmarks and with good quality food and service.
Go inside the Pantheon to check if it rains inside
Sightseeing is usually less fun in the rain but in Rome, there is one exception: visiting the Pantheon acquires a whole new dimension when it pours!
This ancient temple now turned Christian church is famous for having a hole in its roof and checking if it rains inside is a fun activity to turn the nuisance of the rain into a little extra perk!
Find here >>> our complete guide to visiting the Pantheon
Take a cooking class
One of the most enjoyable indoor activities we experienced in Rome was a cooking class.
There are several available in Rome and it is a lovely way to see parts of town you may otherwise miss, chat with a local, learn a new skill and of course fill your stomach with a delicious meal.
Some to consider are:
Explore Rome's bookshops
Rome has some fabulous bookshops ranging from small independent ones to large chains.
Most bookshops stock books in Italian, but a surprising number of them has also English titles.
For large selections, your best bet is the Feltrinelli chain (theythey have a large English language bookshop near Piazza Della Repubblica), but smaller ones often have at least some shelves with English titles.
One I love is Tra le Righe (Viale Gorizia, 00198 Rome) which is also close to a lovely area worth exploring called Coppede District, one of the prettiest places to see in Rome.
Go to Eataly
If you want to mix shelter, a foodie experience and possibly even stock up on food to bring home, look no further than Eataly.
Organised over 4 floors, Eataly has food shops, restaurants, bars and street food corners and is a paradise for foodies and anyone who wants to learn of even enjoy Italian food.
Close to metro Ostiense, it is easy to reach and a great refuge for rainy days.
Food to try in Rome in winter
Rome has delicious traditional food that is perfect to warm you up on winter nights.
Dishes to try when in Rome in winter are:
Spaghetti Alla carbonara (eggs, pork, parmesan cheese)
Pasta cacio e pepe (pecorino cheese, black pepper)
Trippa (tripe)
Persimmons (fruit)
Frappe and castagnole (fried carnival sweets)
If you are not familiar with Rome's cooking tradition, you can find here >>> our guide to traditional Roman dishes
Where to stay in Rome in winter
Rome buses get very crowded in winter so I highly recommend you stay in the city center so you can avoid unpleasant commuting.
How to get around Rome in winter
In the cold and wet season, the best way to get around Rome is a mix of walking, taking the bus/ metro and taxi.
What to wear in Rome in winter
As well as the month by month packing list you have found above, you can read here >>> our complete packing list for Rome in winter, including our recommendations for winter coats, scarves and winter shoes!
I hope you enjoyed this quick overview of some of the best things you can do in Rome in winter. Safe travels!
Visiting Rome in winter: travel guide. Pin this!