Learn what to wear in Rome in January with this complete packing list by a local. Rome travel essentials + how to dress for a Vatican visit, sightseeing and dinners out.
January is good month to visit Rome, blessed with small crowds and low-key atmosphere.
It is also, however, one the coldest time of the year in the Eternal City; therefore, it is important to pack appropriately, so you can enjoy Rome's most beautiful piazzas and archaeological sites in comfort.
Big winter coats, scarves, and hats are a must and you will also want an umbrella with you.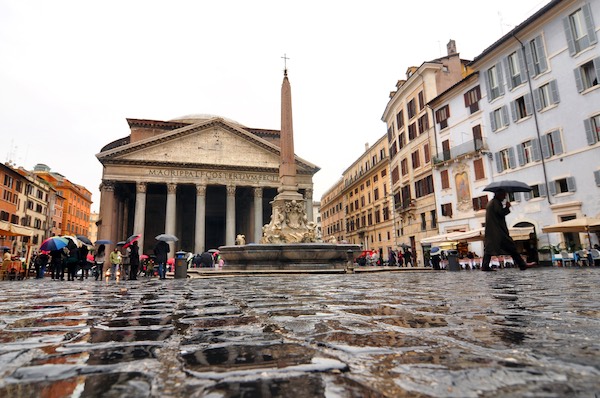 Rain is frequent in Rome in winter and while snow is rare (see below), January brings to the Eternal City the type of temperatures that makes you wonder if snowflakes might make an appearance.
Yes, it gets that cold!
As well as the weather, your packing list for January in Rome needs to consider Christmas festivities, which take place on the first week of the month.
In Rome and Italy in general, the Christmas season lasts until the 6th of January, when we celebrate the Epiphany.
This may not have a substantial impact on your clothing.
However, if you are planning on joining the celebrations may be going out for a fancy dinner or a Christmas concert, dressing for the occasion will be important.
Last but not least, you want your winter packing list for Rome to include items appropriate for visiting the Vatican.
Access to St Peter's Basilica and the Sistine Chapel are subject to abiding by a strict dress code so toward the end of this article, we have a paragraph about that too.
I have already given essential info on what to wear in Rome in this season in my guide to Rome in January.
In this guide, I am going to get even more practical and share my complete packing list for January in Rome, from essentials to nice-to-have!
Please note: this post contains affiliate links and, should you make a purchase through them, we might make a small commission.
As an Amazon Associate I earn from qualifying purchases.
How cold is January in Rome?
Rome gets surprisingly cold in January.
While Rome's location ensures temperatures hardly ever get below zero, humidity can make even a mild day feel rigid.
Especially in the late afternoons and the evening the cold can easily creep into your bones and bring your pleasant stroll to an abrupt end.
| | |
| --- | --- |
| Temperature Max / Min | Average Rainy Days |
| 12C/54F – 4C/39F | 7 Days |
To keep warm, you want a proper winter coat, a winter woolen sweater, good socks and waterproof shoes.
You don't, however, need additional items such as thermals or lined boots.
Do I need to pack for snow?
Snow in Rome is rare.
We can count on the fingers of one hand the time it snowed in the Rome in the last decade and in most of those cases snow was a little more than a light dusting, gone in a matter of hours.
However, when it does snow in Rome, it tends to happen in January or early February, so taking the forecast into account if traveling to Rome in the coldest months of the year makes sense.
My best tips for packing for snow is: don't.
Unless you know from reliable weather forecast sources that Rome is about to experience a lot of snow, you can save space in your suitcase and leave the snow boots at home.
In normal conditions, even if snow does fall, it won't be enough to require special gear and you will be ok with winter boots and a good coat.
If you can, I highly recommend you opt for rubber soles ones: they will be great in the unlikely case of snow and can be fantastic everyday boots, rain or shine.
What to wear in Rome in January: clothing essentials
From your bottom layer to the outer one, when packing for Rome in January, I recommend you bring:
Underwear and socks (you don't need a thermal layer)
Tights if wearing skirts/dresses
Long sleeve tops
Short-sleeve tops for layering
Warm Cardigan
Warm sweater – merino wool is probably enough if you are used to freezing weather. Otherwise, I recommend thicker / warmer wool types
Short sleeve woolen tops – these are common for women, worn over long sleeve tops
Winter jacket, ideally waterproof – parkas are common in Rome; for a more dressy look, you may want to opt for a woolen coat, black/ camel and red all work well in this season
Knee-length skirt/dress – suitable for the Vatican and church visits
Jeans / long pants
Button-down shirts for men
Nightwear (Pijama, nightgown: cotton or similar works well, no need for fleece but no summer pijamas either)
A blazer for men (for a smart casual look during the day or for dinner)
Proper winter jacket, rain resistant
Scarf
Winter gloves and hat
Style tips for Rome
The best type of clothing for Rome to stay comfortable, stylish and blend in, is business casual attire.
This basically involves well fitting pants/trousers pants (denim is ok, albeit most common in younger people), woolen tops, accessories and a good coat.
A popular look for women in Rome in January and one that can be comfortable and stylish for travel is to pair pants with a long sleeve top and a short sleeve sweater on top.
This is a popular day-to-night kind of look and it works well if you dress it up with a big necklace.
Italian women are fond of necklaces: paired with a simple black top, they can make an evening outfit out of a simple top, hugely simplifying your Rome packing list!
Heels are tricky on Rome's cobbles so you don't need to pack them.
The best shoes for Rome in winter are ankle boots or platform boots: they are great to be comfortable yet stylish and they are versatile enough to be your only pair of shoes, should luggage space be an issue.
Style tip for men: Rome men are fond of blazers for dressier occasions, often worn on good quality denim (younger men only), chinos or similar types of pants.
Unless you are going to an upscale restaurant, you usually do not need a tie in Rome.
A good knitted sweater, a shirt and a good accessories will comfortable and perfect for most establishments and will make you feel appropriate in most situations.
For more elegant establishment, however, a button-down shirt, tie and blazer and best as they will help you pass dress codes often enforced on these occasions.
Style tip for women: Italian women and men love scarves! I wear one all the time.
In January, you want your scarf to be pretty but also protect you from the elements: large, woolen ones are popular with Italian women.
Men also wear scarves: darker colors such as wine are popular. When looking at what to pack for Rome in January, this is a must-have!
Good to know: you can find more style tips in our article about how to dress in Rome to blend in with the locals!
Outerwear: the best coats and jackets for Rome in January
January is rather cold in Rome so I recommend bringing a proper winter coat.
Leather jackets and mid-season puffy coats are likely to leave you freezing: I recommend you go for a proper winter coat with a waterproof outside.
Parkas are common in Rome and so are warm jackets such as Canada Goose, Columbia, Barbour or Patagonia (or non-brand alternatives replicating these styles).
In terms of style, longer jackets in dark colors will make you blend in with the locals.
Overly sporty items are popular with the younger crowds, while people 40 and above tend to opt for dressier looks and more subdued shapes and coolers.
For dressier occasions, woolen coats work well for men and women but be careful with the rain: in Rome, when it rains, it buckets down!
The best shoes for Rome in January
I have talked extensively here >>> about the best shoes for Rome and these are my top tips for packing shoes for January in Rome.
You don't want to weigh down your luggage with too many pairs of shoes; however, January in Rome can be rainy so it is paramount to have dry shoes you can change into, should your main pair need time to dry.
In particular, I recommend you pack:
One pair of good, broken-in walking shoes like sneakers or ankle boots
A second pair of shoes should the first one get soaked
A third pair of evening shoes, such as ballerinas, for a night out: I am fond of foldable ballerinas for travel: they are cute and occupy very little space!
For men, I recommend fashions sneakers or Camper style walking shoes for walking
A second pair of suit shoes for dinners out
I also recommend you bring a pair of flip flops or anyway indoor shoes for the hotel.
Good to know! For men, a pair of Camper-style shoes may be sufficient to bring you day to night, depending on the exact style you go for. For women, folding ballerina shoes can be an easy addition to your Rome packing list and will allow for easy evening outfits.
What to pack January in Rome: essentials, gadgets and tech
Travel documents (Passport, visa if needed)
Vaccination cert / negative test result
Travel insurance
Essential medications and prescriptions (translated or with the name of the generic active principle – Commercial names in Italy tend to be different for abroad)
Copy of all your reservations/tours
A crossbody bag
Purse with money and cards
A reusable water bottle (foldable ones like this one work amazingly well!)
Your phone and charger
Camera, if different from your phone + extra photo cards
Italian phrasebook – Top tip! You can find here >>> a comprehensive, very useful list of basic Italian expressions for travel (free)
Portable travel umbrella
Wet/dry bags
The best luggage for Rome in January
The best luggage for Rome is spacious enough to keep safe your bulkier winter clothes and shoes yet light and resistant enough for you to safely manoeuvre it in airports and, if walking, on bumpy cobbled streets.
In terms of larger bags, I recommend:
In terms of purses and day bags, the best type of day bag to carry with you in Rome is a crossbody bag.
Opt for one that is not so big to cause strain on your shoulders but that is big enough to have your essentials, including phone and water bottle.
Good to know: You do not need an anti-theft bag, unless it gives you extra peace of mind to know you have one: a bag with a proper closure, carried in front of your body, is enough to keep your things safe.
Accessories and nice to have
Accessories are the easiest way to dress an outfit up or down and to make you feel together even when living out of a suitcase.
The best accessories I recommend for Rome are:
Sunglasses – January can still be really bright and lovely, especially in the morning.
Necklaces to dress an outfit up or down: Italian women love necklaces!
Earrings, again a popular Italian fashion statement
Scarf – for warmth and look
Eye mask for the plane
Travel pillow for the plane
Technology and electronics to pack for Rome
Phone
Charger
Headphones for the plane if using
Portable battery pack
Camera, if different from Phone,
Spare memory card for camera
Laptop/tablet if using
Toiletries
I like to keep all my toiletries in a travel toiletry bag that I can hang in my hotel bathroom.
Toothbrush, toothpaste, floss
Shower gel / soap (I recommend solid soap for travel)
Shampoo and conditioner
Deodorant
Tweezers
Comb and brush
Face and body moisturizers
Sunscreen, especially if you have very fair skin
Lip balm
Women sanitary supplies
Perfume / skin scent
Make up
Shaving cream, blades and accessories
Hair ties
What to pack for Rome in January with kids
If traveling to Rome with kids, I recommend you check out our family guides:
Tips for visiting Rome with a toddler
Complete family guide to planning a trip to Rome with kids
Rome can get cold and wet in January so I recommend you wrap up well especially young babies and pre-walkers, who may not be able to warm up by running around.
My must-have for January in Rome are:
Baby carrier – you probably do not need a carrier cover however, if you own one, it can come in handy on rainy days.
Cobbled-street ready stroller
Rain cover for the stroller/ pushchair (some good options are here)
Winter suit/warm pants and jacket
Blanket
A change of shoes for rainy days
Well stocked baby changing bag
Baby Nightwear
Baby Daywear
Hat
Sippy cup – Good to know! Rome has many drinking fountains with delicious tap water
Soother
Teether
Travel-ready toys (stacking cups, sticker books, magic boards etc.)
Cuddly toy/ teddy
What to wear to visit the Vatican in January
The Vatican has a strict dress code that applies all year round and that calls for modest clothing.
The dress code applies to St peter's Basilica but also to the Vatican Museum, since they include the Sistine Chapel, which is consecrated.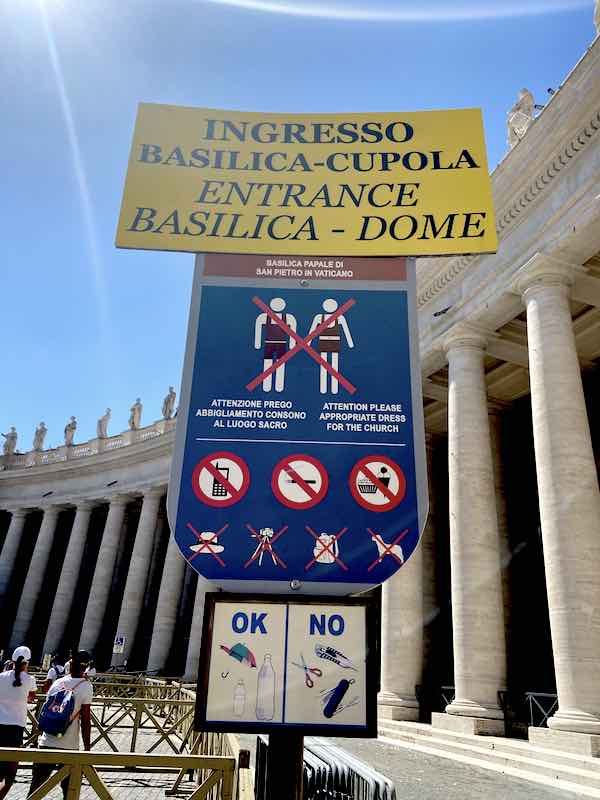 Dressing for the Vatican in January, however, is not hard as the season is on your side!
To make sure you are allowed in choose long pants or below-the-knee skirt with tights.
Avoid plunging necklines and any item of clothing that can be considered offensive – this may include see though and revealing items but also sweater with certain slogans, etc.
Visible tattoos they also can be a reason to be turned back, should the message they send may be deemed inappropriate by the Church.

You can find here >>> my practical guide to understanding the Vatican Dress Code
What to wear to visit the Colosseum and Ancient Rome in January
The Colosseum, the Roman Forum and the Palatine Hill are outdoor attractions and can get very cold in winter.
To stay warm and comfortable, I recommend you wear a good coat, a scarf and good walking shoes with a good sole for the uneven terrain of this area. Avoid high heels.
In case of rain, a waterproof jacket is paramount and a small umbrella can also come in handy.
While a large umbrella can be tempting, these are not allowed in as they pose a security risk: opt for a small travel umbrella instead.
There is no dress code for the Colosseum as such: comfort is king here!

You can find here >>> my practical tips for visiting the Colosseum.
I hope you found this packing list helpful and it helped you get clarity about what to wear in Rome in January. Happy Rome travel planning!
What to wear in Rome in January – pin this