Fun and interesting facts about Rome Italy: make the city come to life with these Rome facts perfect for Rome enthusiasts and visitors. Includes tips on where to learn about them in the city!
One of the things I love the most about Rome is the endless number of stories the city holds.
The grand ruins of its past speak of official history, of conquest and power, its churches tell us about art, religion and belief but its smallest streets, dirty corners and people also hold keys to the city.
I have learned about the city in school, in University (I am a Roman History Graduate from the University of Rome), from taxi drivers (they are the best for stories!), grandparents and guided tours.
In this article, I collected some of the most interesting facts about Rome and fun facts about Rome: I hope you enjoy them!
In this article, we include facts about Rome location and geography, facts about Rome history and curiosities about the city.
Rome is in central Italy, Europe.
Rome's geographical coordinates are 41.9028° N, 12.4964° E which means Rome is on the Central Western part of Italy, in the region of Lazio, of which is capital.
Find Rome's exact location and how to reach it from Italy and abroad in our guide where is Rome?
Rome is the capital of Italy
Rome became the Capital of Italy in 1871, after Turin and Florence.
Rome is the most populous city in Italy
In 2020, the city of Rome had a population of 2.8 million people.
Rome is near the sea
Rome is close to the Tyrrhenian Sea: Rome's beach is called Ostia and can be reached by car or metro in about 30 mins from the city center.
In Rome, people speak Italian
People in Rome speak Italian.
English is reasonably widespread as a second language especially in tourism establishments although visitors should not expect fluency.
In Ancient Rome, the language of Rome was Latin.
Rome is a UNESCO World Heritage Site
Rome city center was declared Unesco World Heritage site in 1980 and additional sites were added in the 1990s.
Rome was originally built on seven hills, nowadays still visible in the city center.
Some was built on 7 hills: Palatino, Campidoglio, Aventino, Quirinale, Viminale, Esquilino, Celio or, in English: Palatine, Capitoline, Aventine, Quirinal, Viminal, Esquiline and Caelian Hill.
Some are important for visitors as home to some of Rome's most interesting and beautiful landmarks.
You can find here >>> my complete guide Rome's 7 hills here.
Rome has an exact birthday
Rome has a specifici date of birth, the 21st of April 753BC.
This date is still celebrated in the city and it is called 'Natale di Roma'.
The founder of Rome is called Romulus: he built the ancient city on top of the Palatine Hill and became the city' first of seven kings of Rome.
You can read all about Rome's birthday here.
On this day, several events take place in the city to mark the occasion including concerts, historical representations, talks and parades.
You can learn about this and more about Rome in April here.
The symbol of Rome is a she wolf
The symbol of Rome is a she-wolf: you can see her in the Musei Capitolini but also in other locations around Rome as well as the jersey of the Rome football team!
Legend tells us she rescues Romulus and his twin brother Remus, at the origin of the foundation of Rome.
The she-wolf is one of the most important statues in Rome and is always represented standing on her four legs with the two babies taking milk from her.
She is also one of the most important characters in Roman mythology.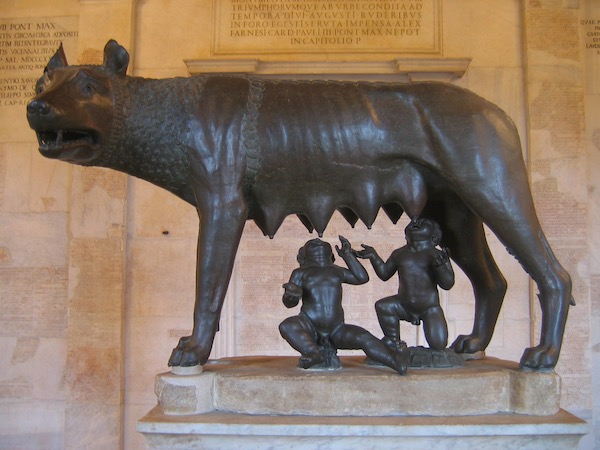 Rome has two Patron Saints
Rome has two patron Saints: Peter and Paul.
They are celebrated on the 29th of June which is a city holiday and, for the occasion, the ancient Statue of St Peter in the main nave of St Peter's basilica gets dressed in elegant Papal paraphrenalia.
This is a great day to be in Rome as, in the evening, you can usually see fireworks from Castel Sant'Angelo.
You can learn more about visiting Rome in June here.
Rome is said to have over 900 churches
Rome is a city of churches: it is believed that Rome has over 900 of them!
Not all are open to the public and not all are as interesting but many are out of this world beautiful: you can find our ever expanding list of the best churches in Rome here.
The many churches of Rome have different shapes and sizes and some of them are round!
The round shape of churches is a rarity and can be seen best in three churches:
The Pantheon, an ancient temple to Roman Gods and Goddesses then turned into a Christian Church
Basilica di Costanza (Aka Santa Costanza), part of a complex dating to the time of Constantine the Great
Santo Stefano Rotondo, a stunning ancient church on the Caelian Hill.
Rome has been continuously inhabited since Roman times
In the city, you can see architecture from ancient Rome (the Colosseum and the Forum only being the most famous sights among many), the Middle Ages (many streets, houses and churches), the Renaissance (e.g. Campidoglio), Baroque art (many churches, Piazza Navona etc), art deco (Coppede' district), fascist architecture (Eur) and contemporary one (auditorium)!
The Colosseum is one of the most visited sites in the world
The Colosseum receives each year more than 6 million visitors and it one of the most visited attractions in the world. 
Tickets tend to book out weeks in advance but they are worth getting as the amphitheater is impressive outside and inside. You can learn how to book a visit to the Colosseum here.
Did you know? The Colosseum has many stories to tell: find fun facts about the Colosseum here!
Rome has the biggest ancient thermal baths in the world
Ancient Romans loved to go to the spa and thermal baths were a popular leisure activity in Ancient Rome.
In Rome, we can still see two such structure, the Baths of Caracalla and the Baths of Diocletian, the biggest baths in the world!
One architect is responsible for many of Rome's most famous sites
Rome has been shaped by centuries of history and the hands of many architects and artists however, the look Rome has today, with its grand monuments and statues, is in large part due to master architect Bernini.
He operated in Rome in 1600 and is responsible, among other things, for the creation of Piazza Navona as we see it now and St Peter's square.
You can see learn about his most famous creations and where to see them in Rome in my article about Bernini in Rome here.
Piazza Navona was used as a lake
Piazza Navona is one of the most beautiful and famous piazzas in Rome and has a peculiar history.
Piazza Navona was originally a Roman stadium built by emperor Domitian: the original shape of the stadium is still well visible is looking at the square from above, for instance from the 2nd floor of palazzo Braschi (now a museum)
Piazza Navona used to get flooded to allow for community games.
This happened regularly between 1652 and 1865, when the square got remodeled to allow rainwater to flow away more easily. You can see images of the Piazza Navona lake in the Museum of Rome at Palazzo Braschi, which overlooks the square.
Rome has a keyhole that holds a secret view
The Aventine is also home to one of Rome's most peculiar attractions, a keyhole guarding a secret: if you peek through it, you see a fantastic view of St Peter's dome!
You can read how to find the Aventine Keyhole here.
In Rome, science and church clashed dramatically
Rome was theater to very dramatic moments in the history of science vs church.
Here, Giordano Bruno lost its life at the stake for heretical ideal about the nature of the universe (you can see his statue in Piazza Campo de' Fiori), while Galileo saved his life at the cost denying his discoveries about the functioning of the solar system.
Rome has over 2000 fountains
Rome has a staggering amount of fountains, some monumental and some small and delivering fresh, delicious drinking water.
The city is said to have over 60 monumental fountains and hundreds of drinking fountains, for a total of over 2000 water points, the highest in the world!
You can find a list of the most beautiful fountains in Rome here.
The Trevi fountains collects over 3000 euro each day
The Trevi Fountain is one of the most visited landmarks in Rome.
Legend says that if you throw a coin in its waters, you will come back to Rome: it is estimated the fountain collects about 3000 Euro each day from tourists.
The money collected from the Trevi Fountain goes to charity.
All roads actually lead to Rome
The saying all roads lead to Rome is correct or rather: it was!
Rome was the starting point of many very long, important roads some of them still in use today: Via Appia for instance connects Rome to Brindisi (Apulia) and Via Aurelia connects Rome to France.
Rome's food is world famous
Rome has special foods that originated in the city: some are not world-famous like carbonara but others such as Roman Style Gnocchi are less known yet delicious such as artichokes!
You can find my selection of the best places to eat in Rome to taste traditional Rome fare here. prefer pizza? then find the best pizza place in Rome on this list!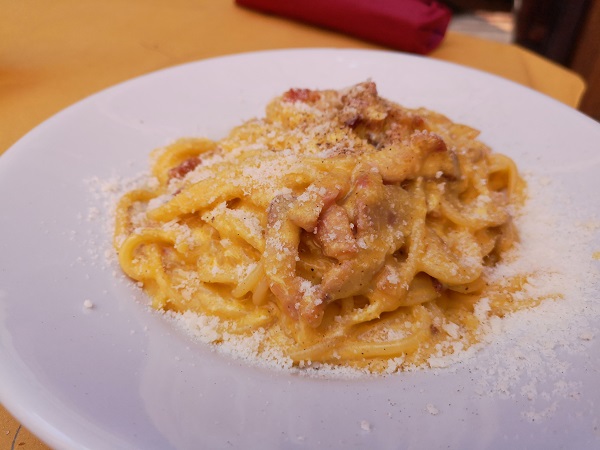 Rome does magic tricks
Rome is a beautiful but loves to trick the eye of its visitors.
If you stand in the center of Piazza San Pietro (St Peter's Square), the columns disappear the galleria Spada has a forced perspective and you also have the false dome of St Ignazio!
Rome has a special law that protects stray cats
Rome has a special law that protects stray cats: they have the right to live undisturbed in the place they were born and this means that in several parts of Rome you have 'cat colonies', protected and often well cared for by volunteers.
One of the most scenic and pleasant to visit is within the Protestant Cemetery of Rome, a beautiful leafy monumental cemetery in the area of Ostiense. You can read all about Rome cats here.
Rome has a pyramid
Rome has a pyramid! It dates back to the Ist century AD and was built by C. Cestius, a tradesman who fell in love with Egyptian style, very much in fashion in Rome at the time.
The pyramid is still visible and can be visited on specific days with the aid of a local guide. You can find our guide and curiosities about the Rome Pyramid here.
Rome is built on many levels
Over the course of the centuries, new buildings were built on top of old ones, and this means nowadays Rome develops over several levels.
One of the most impressive and interesting places to see this interesting fact about Rome in action is the church of San Clemente.
The church has 3 levels: the oldest dating back to pre-Christian times (underground) and the most recent immediately below the current street level.
You can read here >>> all about underground Rome
Rome has catacombs that are 20km long
Rome has impressive catacombs, underground tunnels used by early Christians to bury their dead. The Rome catacomb run below a huge section of the city and are said to be over 20km long!
You ca read here >>> all about Rome's catacombs
The first film in history was made in Rome
The 'First film in history' didn't happen in a theater in Hollywood but on marble in Rome!
The Trajan's column, in Rome city center, is decorated with sculptures that develop like a ribbon, climbing up the column and telling the story of Trajan's conquests in Dacia.
The columns was the first of its kind although it has been then replicated several times in Rome and abroad. Maybe the most unexpected of all facts about Rome!
The streets of Rome tell the story of their origin
Out of all the fun facts about Rome, this is maybe my favorite as it taps into the more intimate, less glamorous side of Rome that is such a large part of this city's character.
Some of Rome' city center street take the name for the tradsment who worked there.
Via dei cestari has basket makers 'cesto= backet) and via dei sediari (sedia=chair) was the road where the carriers of the Pope's chair operated!
Rome has the oldest shopping mall in the world
Rome had the First shopping mall in history: Trajan's markets.
They date back to the II nd century AD and they are open to visitors: they offer an incredible insight into the architecture of that time and also host a beautiful museum about the history of the Roman Empire expansion.
Good to know: the markets of Trajan are one of the sites that now offer Virtual tours! You can find a list of the Rome museums offering virtual tours you can take from home for free here.
Rome has the biggest university in Europe
Rome has several universities including La Sapienza, which dates back to the 1300s and is the biggest university in Europe.
Rome hides a secret passage
There is a secret passage between St Peter and Castel Sant'Angelo: it is called 'Passetto' and was used by the Pope to find refuge in the fortified castle in case of an attack against the Vatican.
The passage is currently closed but it is still visible from the outside (rather, you can see it if you know it is there!) and you can see its access if visiting Castel Sant'Angelo.
Rome is the only city in the world with another city inside it
Rome entirely surrounds the Vatican, an independent State nestled within the city of Rome.
Entering Vatican City from Rome is under all respects crossing an international border however, there is no customs nor passport control to go from one to the other.
The lines you often see are due to the security checks to enter St Peter Basilica or the museums, both inside Vatican city, but not the city itself.
You can find lots of fun facts about the Vatican here.
Rome's statues can talk
Or at least, some of them can or could in the past!
At the times of te Popes, when there was no freedom of speech in Rome, people used to express discontent sticking their grievances against statues in the streets of Rome.
These statues took the name of 'talking statues' and some are still visible (and somewhat in use today): the most famous is Pasquino, near Piazza Navona.
The site of Julius Caesar's murder is now roamed by cats – maybe the most unexpected of all facts about Rome!
More cat related facts about Rome!
You may expect the site of Julius Caesar's murder to be somewhat marked in Rome but this is not really the case.
The archaeological area where he was killed is closed to the public and freely roamed by stray cats, who now have a shelter just beside the ruins, under the eves of a Roman temple! You can visit the cats for a cuddle or even adopt one, in Rome or long distance!
Rome has been the set of many movies
Rome has inspired poets, writers and film makers who have captured different sides of the city's personality.
It is not usual to walk around the city and feel like you are on a movie set.
Piazza Navona, Trastevere, Castel Sant'Angelo, Trastevere and of course Trevi and the Spanish Steps are also some of the most popular but the list is so vast, we could go on with both Hollywood blockbusters and Italian movies that never arose to international fame but portray the city is its beauty and complexity.
You can find some of the best movies set in Rome here.
Rome's famous cobbles are called 'sanpietrini'
Rome is famous for its cobbled streets and its cobbles are known as 'Sanpietrini'. This name comes from that of Piazza San Pietro (Vatican City's main square) where they first used.
I hope you enjoyed this quick list of fun facts about Rome and they entertained you for a while!
Rome has the first paved road in Europe
Romans were great engineers and they are said to have built the first paved road in Europe: Via Appia, still in use!
Rome has fountains that offer free drinkable water
if you are thirsty in Rome, you don't need to spend money! Rome has many free drinking fountains that provide free and delicious drinking water.
They have a long spout that makes them look like they have a nose, so they are called nasoni (big noses, in Italian).
You can read here >>> all about drinking water in Rome
Fun and interesting facts about Rome Italy: Pin this!