Full packing list for Rome in November. What to wear in Rome in November, travel essentials, how to dress for a Vatican visit, sightseeing and dinners out
November is a lovely month to visit Rome but comes with some changeable weather that can prove tricky when planning to pack for a Rome trip. 
In November, you can expect Rome to have mild temperatures and a mix of sunny days and rainy ones, and to be wearing an overcoat on and off: usually, the middle of the day can see you taking it off entirely but the evening will demand a jacket and possibly a scarf.
When packing for Rome in November therefore I recommend you look at two things: layers and a change of shoes.
Layers will be handy on those long days out when you are not going back to your hotel between sightseeing and dinner and a change of shoes will be invaluable when Rome's rain soaks you to the bone.
In Rome, it doesn't rain very often but when it does, it pours! So having an extra pair of shoes at your accommodation to wear while the first one dries off will be invaluable.
Please note: this post contains affiliate links and, should you make a purchase through them, we might make a small commission.
As an Amazon Associate I earn from qualifying purchases.
Weather in Rome in November at a glance
Max temperature: 17C/63F
Low temperature: 7C/45F
Rainy days: 9
Is it cold in Rome in November? No, November in Rome is a fall month with mild temperatures.
You will need a jacket and a light scarf expecially for the evening but overall you are unlikely to feel cold, especially on a dry day.
Is it hot in Rome in November? No November is not a summer month and you will not be able to wear shorts or summer clothing.
What to wear in Rome in November: clothing essentials
From your bottom layer to the outer one, when packing for Rome in November I recommend you bring:
Underwear and sock (you don't need a thermal layer)
Short-sleeve tops (for layering or under a cardigan)
Long sleeve tops
Cardigan
Mid-season jacket, ideally waterproof
Tights if planning on wearing a dress/skirt
Knee-length skirt/dress 
Jeans / long pants (cotton or chinos work well)
Long sleeve shirt for men
Polo neck for men
Long pants for men
Nightwear (Pajama, nightgown: cotton or similar works well, no need for fleece but no summer pajamas either)
A blazer for men (for a smart casual look during the day or for dinner)
A light scarf – Italian women and men love scarves! I myself wear one all the time. In November, you are unlikely to need a very warm woolen one but you will want a lighter one both to protect yourself from the weather and as a fashion statement! When looking at what to pack for Rome in November, this is a must-have!
Style tip for women: a popular look for women in Rome in the fall and one that can be comfortable and stylish for travel is to pair pants with a long sleeve top and a short sleeve sweater on top. This is a popular day to night kind of look: if you choose cute long sleeves this can make you comfortable and dressy at the same time.
Good to know: you can find more style tips in our article about how to dress in Rome to blend in with the locals!
Style tip for men: Rome men are fond of polo neck shirts for downtime and blazers for dressier occasions, on chinos or similar type of pant. Unless you are going to a very elegant restaurant, you usually do not need a tie in Rome.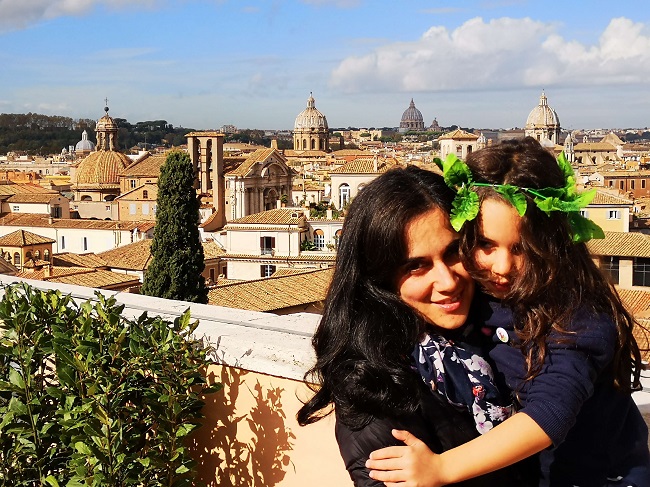 Outerwear: best coats and jackets for Rome in November
November is very tricky when it comes to choosing a coat as the temperature and the rain seem to demand different items.
In terms of temperature, the best type of coat for November in Rome is a lather jacket or a mid season puffy jacket.
In terms of rain, you will need some form of poncho (too cold on its own) or a proper winter rainproof jacket (too warm for the weather).
The easiest way I have found to strike a balance between temperature and rain when packing for Rome in the fall is layers.
I usually wear a leather jacket or puffy jacket, both excellent for travel as easy to fold small, and then I carry a mac that I can wear on occasion when the rain strikes.
The best shoes for Rome in November
You don't want to weight down your luggage with too many pairs of shoes but I have more than pair on this packing list for Rome in November as I believe you will be happy to change from one pair to another.
In particular, I recommend you pack:
One paid of good, broken-in walking shoes like sneakers or ankle boot
A second pair of shoes should the first one get soaked
A third pair of nicer shoes, such as ballerinas, for a night out
For men, I recommend fashions sneakers or camper style walking shoes for walking
A nicer pair of shoes for dinners out
I also recommend you bring a pair of flip flops or anyway indoor shoes for the hotel. 
You can find here >>> my full guide to picking the right shoes for Rome
What to pack November in Rome: essentials, gadgets and tech
Travel documents (Passport, visa if needed) – please remember that in 2021 you need to be in possession of a valid proof of vaccination / negative test / valid green pass to enter Rome's cultural venues and indoor dining.
Travel insurance
Essential medications and prescriptions (translated or with the name of the generic active principle – commercial names in Italy tend to be different for abroad)
Copy of all your reservations / tours (many operators require a paper copy)
A crossbody bag (find a good selection of crossbody bags for travel here)
A reusable water bottle
Your phone and charger
Camera, if different from your phone + extra photo cards
Wet/dry bags
Accessories, toiletries and nice to have
Accessories are the easiest way to dress an outfit up or down and to make you feel together even if living out of a suitcase. The best I recommend for Rome are:
Sunglasses – November can still be really bright and lovely
Light scarf – for fashion and those chillier hours of the day
Hair ties
Necklaces to dress an outfit up or down: Italian women love necklaces!
Headphones
Toiletries (toothbrush, toothpaste, floss, body/hair wash and conditioner / deodorant / tweezers / comb and brush / face and body moisturizers / sunscreen / women sanitary supplies / perfume / make up / shaving cream, blades and accessories etc)
What to pack for Rome in November with kids
I always recommend you bring a stroller and a carrier for your toddler.
Even if cobbled streets can be hard on the wheels of your pushchair, you will walk a lot in Rome and being able to not have your baby on you all the time is likely to make the experience less tiring!
You can find here >>> my tips for visiting Rome with a baby or toddler and
here >>> my complete guide for visiting Rome with kids
At a glance, your must have for November are:
Baby carrier
Cobbled-street ready stroller
Rain cover for the stroller/ pushchair
A change of shoes for rainy days
Well stocked baby changing bag
Nightwear
Daywear
Hat (for the sun as well as the cold)
Sippy cup
Soother
Teether
Travel ready toys (stacking cups, sticker books, magic boards etc)
Cuddly toy/ teddy
You do not usually need particularly warm clothing for kids at this time but I do find a warm sleeping bag for the stroller can be useful, especially in the later hours of the day or early in the morning.
What to wear to visit the Vatican in November
One of the biggest worries when deciding what to wear in Rome comes with a visit to the Vatican.
The Vatican does indeed have a dress code and it is enforced: people who do not abide by it do get sent back, regardless of them having tickets or having queued a long time.
Please be advised that the Vatican Dress Code applies to the Museums too (and of course the Sistine Chapel)
Dressing for the Vatican in November, however, is not hard as the season is on your side.
To make sure you are let in, choose long pants or below the knee skirt with tights, avoid plunging necklines and any item of clothing that can be considered offensive by the Church (sweater with certain slogans, skin tights clothes, see thought materials etc).
Be careful with slogans on clothing too and tattoos as they also can be a reason to be turned back.
Aside from this, being respectful in the Vatican in November is much easier than in summer when the weather makes it tempting to wear much more revealing clothing!
I hope you found this packing list useful and it helped you get clarity about what to wear in Rome in November. Happy Rome travel planning!